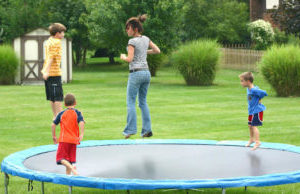 Finally, you have given in to pester power and agreed to
buy a trampoline for your kids
.
Maybe secretly you are happy with your decision as you wouldn't mind doing some trampolining yourself?
Deciding to buy a trampoline is only the first of several decisions you now have to make.
Before you go ahead and buy your first trampoline, you will need to decide which size of the trampoline will be best for you and your family.
There's plenty of choices!
Trampolines start small and then have a range of sizes up to 25ft across. Most trampolines bought for family use are in the range of 8ft to 17ft in diameter.
Big trampolines tend to be found mostly in trampoline parks and it is unlikely that you will have space for a giant like that.
There is a range of sizes available for use in gardens or yards. So, choosing the right size for you means taking a few factors into consideration.
What do I Need to Consider?
Before buying a trampoline give some thought to the following:
1.

Who Will be Using the Trampoline
Perhaps you are buying it for your kids to have fun on warm, sunny summer days. Or maybe you want it for the adults in your family to get some exercise.
2.

Ages of the Children Using the Trampoline
If you only have one child, then you can buy a trampoline that is a suitable size for their age group. If you have several children of a spread of ages, then your decision is more difficult.
3.

Available Space
Whether you set your new trampoline up in your yard or your garden, the available space is going to influence your decision. Not only will the size of the trampoline matter, but its shape will also have to consider.
4.

Storage
If you have limited storage space available for overwintering your trampoline, then size is again a factor. Most trampolines can be folded ready for storage, but some take up more space than others of the same diameter.
5.

Price
Very few of us have unlimited funds, so the price has to be a factor to consider when choosing a trampoline. Larger trampolines will cost more, and there is always a judgment to be made between the quality of manufacture and cost.
What Factors are Related to Size?
Some factors that you must consider are directly related to the size of the trampoline you choose.
✔ Bounce
The smaller the trampoline the less bounce it will give. This is because the smaller trampolines have fewer springs and so don't respond so well as larger ones that have more springs.
✔ Number of Users
Number of children (or adults) that can bounce at the same time. If you have more than one child then you will need to accept that you will have to buy a larger trampoline.
✔ Purpose
If your children want to practice gymnastic moves or trampolining skills, then not only will you need to buy a larger size, but also a rectangular trampoline.
Suitable Sizes for Each Age Group
The ages of your children will be a huge factor in your choice of trampoline size.
| Age | Standard Size | Indoor / Outdoor |
| --- | --- | --- |
| Under 3 Years Old | Toddler / Mini Trampoline | Indoor |
| 3-4 Years Old | Mini Trampoline / 4.5ft | Indoor & Outdoor |
| 5-6 Years Old | 6ft Trampoline – 10ft Trampoline | Outdoor |
| 7-9 Years Old | 8ft Trampoline – 12ft Trampoline | Outdoor |
| 10 Years Old | 12ft Trampoline – 14ft Trampoline | Outdoor |
| 11-13 Years Old | 12ft Trampoline – 16ft Trampoline | Outdoor |
| 14-16 Years Old | 14ft Trampoline+ | Outdoor |
| Adult (Gymnast) | 10x17ft | Outdoor |
| Adult (Fitness) | Mini Trampoline / Rebounder | Indoor |
If you only have tinies, that is, under 3 years of age, you will need a toddler trampoline. These are small, well-padded and come with padded handlebars for safety.
If your children fall in the 3 to 4 age range, then the next size up from a toddler trampoline is a mini trampoline. These are usually less than 4.5ft in diameter.
Most 4 year-olds would find a 6ft trampoline just right for them, but some smaller-stature 4 year-olds will still be able to use a mini-trampoline.
Once past 4 years old children generally will find both 6ft and 8ft trampolines big enough to play one. Once you get to considering trampolines that are 8ft in diameter, then space becomes an issue.
How Big is Your Yard or Garden?
Can you accommodate a trampoline of 8ft or larger? You may want to buy one that is as large as you can afford so that you won't need to change it for a bigger model after a year or so.
Once your children reach 6 years of age they should be able to cope on a larger trampoline of 8ft or 10ft. Children begin to get much more confident as they grow older during the years between 6 and 11.
Indeed, up to age 11, they will begin to try tricks and stunts that might be a little bit dangerous. Trampolines should have enclosures by this age.
By the time your children reach 11 years of age they will want the largest trampoline that you can fit into your garden or yard. This could mean investing in a 16ft or 17ft trampoline.
Measuring a Site for a Trampoline
It will benefit you to measure carefully the space you have available to accommodate a trampoline.
If you are fortunate to have a large garden with open grassy areas, then setting up a trampoline will probably be no trouble for you.
However, if you have a small garden or a cramped yard, then measuring will help you make an informed decision.
If you are going to buy a square or rectangular trampoline, they do have the advantage of making the best use of available space. The trampoline can be fitted into a corner without wasting any space.
Round trampolines, on the other hand, need more space as you should allow space all around them. Whatever happens, if you place a round trampoline in a corner, you will lose some bouncing space to the gap left in the corner.
Also remember that if you have an enclosure fitted to your new trampoline, you will need a room above it. You will need to allow enough height for the enclosure to stand on top of the trampoline.
If your trampoline is standing in your yard do not be tempted to ignore an enclosure. They are vital safety features, especially if a kid only has a hard concrete surface to land on!
Spring Count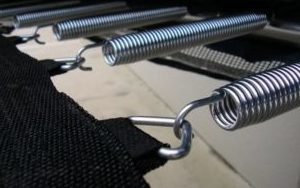 Before we conclude this investigation into choosing the correct size of trampoline, let's just consider the springs.
The number of springs fitted to a trampoline is important as the more there are, the better the bounce will be.
Also, larger trampolines have more springs and so will give a higher – and therefore more satisfactory – bounce.
Conclusion
When choosing a trampoline, get the largest you can afford and find space for. However, buy with the ages and number of your children in mind.
Also decide if any adults are going to be using the trampoline.
Buying a larger trampoline at first will save you having to upgrade to a bigger size as your children grow up.
Buy the best quality you can afford as the resale value will be higher when you do come to sell it. The whole point of a trampoline is to have fun so don't forget that when you buy one.