Looking for cheap mini trampolines for kids, that are actually not cheaply built?
Today we are serious about trampoline safety. Below you will not only find cheap mini trampolines, but cheap small trampolines that are well built, and will be safe and fun for your children.
Trampolines are a great way for your kids to get some exercise, disguised as fun!  With the right trampoline, they will gladly change the TV or computer for exercise, especially during the winter.
Trampoline for kids provides much needed fun to children, as well as ensures physical fitness and conditioning for better growth.
They are quite a in demand nowadays as they offer a constant medium of enjoyment for the whole family. Thus, it is very important to know all the factors attached to a decision to buy a trampoline.
With a view to save you plenty of time, we've handpicked the 5 best trampolines for kids. Each trampoline has been discussed in-depth to help you make an informed choice as a buyer.
Of course, a thing to keep in mind is that these are mini trampolines intended for small children, and will be outgrown in a short time. They are not intended to last a lifetime. That's why these are cheap trampolines.
This small trampoline is very safe. Besides a full safety net, a foam tube can protect your child from injury.
The entrance door with zipper control is specially designed to facilitate children to enter the enclosure and reduce the risk of a foot injury.
The inside of the trampoline is made of galvanized steel pipe, which is firm and stable to ensure stability. Galvanized surface rust, improve strength, durable.
This small trampoline can be disassembled into a compact size, which makes it easy to store in your cabinet to save your space when not needed.
At the same time, carry trampoline, convenient for children to carry out outdoor sports in time.
Parents like it because:
Kids get 55″ of jumping space for under $70 plus free shipping (click image for details)
This Airzone Trampoline can be used indoors or outdoors
Has a patented zippered entrance for added safety
Has a trampoline enclosure and padded support poles
It's easy to assemble
This cheap small trampoline with enclosure is intended for children from 3 to 7 years old.  It has a weight capacity of 100lb.
And it is equipped with a 360 degree padded handle to help children stay stable while jumping. The enclosure net is directly sewed on the jump pad to eliminate the gap.
These mini trampolines are designed for indoor use at home. Use elastic band instead of spring to protect children's joints. It has a muted palette that you and the kids will love.
Pros
For about $60, they got a well built mini trampoline
It has a trampoline enclosure and padded support poles, for added safety
It has a 360 degree handle, which helps little children while they develop their balance
There are no gaps between the trampoline enclosure and the frame
No springs = safer design
Cons
Instructions are not too clear.
Special about ATIVAFIT 36 -in. Kids Mini Trampoline is that the kids will have so much fun bouncing, they will not even realize that they are getting a good, healthy exercise!
Now, the kids can bounce safely indoors, no matter what the weather, and reap the proven health benefits of jumping while they have a blast. This is a great way for them to burn off some of that pent-up energy.
The mini trampoline is an excellent way for children to improve their proprioception – a sense of where their body is in space. Bouncing also helps them build muscle strength, stamina, balance and coordination.
ATIVAFIT 36 Mini Trampoline Kids in using bungee cords to improve security.
A soft, colorful cover featuring fun, bright graphics covering the frame and the springs. Plus, padded, easy-grip handles are there to give your little ones a helping hand when they need it.
Pros
This cheap trampoline can be used indoors or outdoors
Their children are having a lot of fun (and exercise) with it
It doubles as a learning toy.  It has games for counting, sound recognition, music and rhythm, and memory.
The pads are easy to clean
The iBounce and Rompy Roo Adventure Series has won many awards such as the prestigious Mom's Choice Awards, Dr.Toy children's Best Vacation Products and others. So that makes JumpSport iBounce Kids Trampoline be the best choice for your children.
This small trampoline has a triangular shape made ​​of a steel frame and elastic strap that has a weight limit of 75 lbs which made ​​for children aged 2-5 years. This small trampoline is very light so it can be easily moved.
Tablet Mount is one of the unique features that are included in this JumpSport iBounce Kids so your child can follow along with interactive exercises featuring a kangaroo RompidyRoo or other programs on your tablet.
The Mount is specifically designed to hold your tablet securely while allowing full access to the buttons on the side and onto the screen.
Tablet Mount features :
Suitable tablet device up to ~ 10 " ( 255mm ) high
Compatible with iPad, all lit ( DX Landscape only), Nooks, and more.
Adjustable viewing angle
It is easy to assemble
Secure locking mechanism
Little Tikes Bouncer mini Trampoline with Handle Bar covered by an oversize frame pad to keep little feet safe. This mini trampoline has a folding handle for easy storage. The frame is made of rust resistant galvanized steel frame.
This mini trampoline has 5 legs than four feet trampoline owned by others. Have a bar that is fully padded and made ​​for little hands to hold on to. Adjusted so that the bar can be moved as the children grow. There is a weight limit of 55 lbs, so the Little Tikes Bouncer Trampoline is really geared for elementary school or younger children.
Pros
The Little Tikes has 5 legs which makes it sturdy than models that only have four.
Little Tikes is the perfect size for an indoor trampoline.
The bar is attached to the trampoline to support fully padded
Trampoline allows for a good jumping
Cons
It's too hard to disassemble
No springs on this trampoline
4 Tips on Buying the Cheap Mini Trampolines For Kids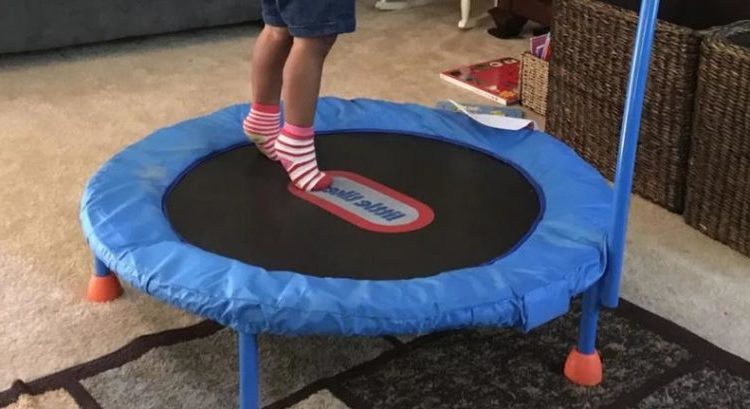 Trampolines for kids square measure a good thanks to enhancing your children's play space.
If you have got determined to shop for a trampoline otherwise you square measure considering shopping for one, the chances square measure you'll not make certain that sorts or sizes square measure the most effective trampolines for kids.
There square measure many selections in jumping joy for youths and also the costs vary from deeply discounted to rather dearly-won. In order to form the proper getting call, you have got to contemplate many factors as regards trampolines for youngsters which is what this text deals with.
#1- Check that the trampoline you get is suitable for the aim.
It is essential that any trampoline for children's use work the scale of the children. In different words, a nipper may wander away on a 14ft trampoline, while a bigger a lot athletic kid may notice a mini-trampoline too restrictive or can be too significant for a few trampolines for kids.
#2 – Make sure you have a decent area for the trampoline you're thinking of buying.
Garden or children's playground instrumentation ought to have adequate space for placement which includes a region around the trampoline that should be away from any obstructions like trees, bushes, chairs or different objects.
There ought to be adequate overhead clearance for a children's trampoline. Therefore, some trampolines for youths might not work inside smaller garden or grounds areas. Take a decent inspect the area on the market before selecting any trampoline, as you would like this to be safe similarly as fun for your kids.
#3 – If you are shopping for younger children have faith in interesting handles.

Trampolines for smaller youngsters will embody a handle or grip that the younger kid might hold on to and feel safer.
Trampoline enclosure (usually manufactured from the netting of some kind) square measure accustomed to keep the kid on the trampoline jumping surface and cut back the chance a lot of energetic kid may bounce right off.
#4 – Light-weight aluminum frames square measure best.
Trampolines for youngsters of all ages as well as adults ought to be manufactured from durable and light-weight material for the frame.
Often aluminum is employed for gymnastic apparatus frames attributable to its light-weight and resistance to weather.
The jumping surface on a trampoline ought to be manufactured from sturdy and versatile material and in fact, the kid's trampoline ought to be placed on tier space.
Do you know of any other safe, cheap trampolines?  Share below!  Thanks