Do you know how many activities you can do witha trampoline?
Jumping is not only a kind of fun, it can also bring many benefits to the body by adjusting and strengthening muscles and releasing accumulated tension.
A trampoline is perfect to use outdoors and during summertime (children will love it) but also indoors and during the cold season (if you need to relax after work).
If you have enough space in your garden to put on a trampoline, you should buy one to have fun with your family and keep fit at the same time!
In this guide, we will also talk about the best trampoline for those without space in the garden and are looking for an indoor trampoline.

Everyone is happy when there is a trampoline!
There are many trampoline models available on the market in various sizes and with a variety of features. There are professional models and ones that are for the exclusive use of children.
What Features to Consider When Choosing a Small Trampoline
There are some features that must be evaluated before proceeding with the purchase of a trampoline.
Of all the features, we have selected the main and the most important for those considering buying such an item.
Choosing a trampoline with the right features is important to make sure it is used in the safest and most responsible way possible, without the risk of hurting ourselves.
Size: how big should a trampoline be?
Size is the first aspect to be assessed when choosing which model to buy.
The diameter of some models varies between185 cm for smaller ones up to 460 cm for the large ones. Sometimes, the same models of trampolines are available in different sizes.
There is not much to say about this: if the trampoline is intended for inside home use, it will not be possible for it to exceed the dimensions of the available space!
But if you plan to place it outside, you can orient yourself toward a larger product specific for outdoor use.
Weight supported
There are trampolines intended for adults or children, and this affects the weight they can bear.
Generally, children's trampolinesusually support a maximum weight of 40 kg, while adult models go up to 150 kg.
Consider this function when purchasing. Because if you
buy a trampoline for children
, it is likely that the weight will not be too high, so adults may damage the trampoline when using it.
Personally, if you have the space available, I recommend the ones for adults that allow a wider use and can be enjoyed by all family members.
Structure
Trampolines areusually circularbut there are also versions with a square shape, such as the springboards that are used in school gyms.
The material the frame is made from is very important for the quality of the trampoline itself.
To ensure safety and high performance, frames must be made with robust materials that go well to support the vibrations. They are usually made of metal with a thickness of at least 2 mm, although they are generally larger.
In the case of only external use, the frame must be coated with products that prevent rusting, which would compromise its stability.
The various parts that make up the frame are welded together.
Make sure that your children do not put their fingers in the spaces around the springs, because they could get hurt.
Springs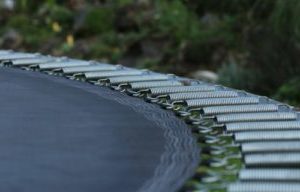 The springs are the base of the functionality of a trampoline.
During the jumps on the elastic surface, the springs connect the carpet to the frame allowing the movement to be amortized.
The springs are made of metal and are of different sizes, depending on the type of carpet on which they are to be used.
Their function is to allow the elastic surface to always be tense and ready to accept the weight of those jumping.
When these springs start to give some problems due to wear, it is possible to replace them. In fact, every trampoline has compatible replacement springs for sale. To avoid coming into direct contact with the springs during the jumps, these are covered by padding that protects us from dangerous shocks.
Safety
This is one of the most important aspects to evaluate when it comes to elastic carpets.
Safety is known to always be at the center of our attention and that is why it is good to choose the best trampoline that offers the maximum in terms of protection.
To offer maximum safety, a net should be mounted between the jump mat and the springs, thus going to prevent coming into contact with the area where the springs are located.
The safety net opens and closes by means of a zip, which allows easy access to the area where the elastic structure is located. The height of the net, made of a retina in plastic material, must be about 180 cm in height.
In order to not have to worry about anything else, the safety net is accompanied by padding. The elastic cloth of the carpet is fixed to the frame by means of springs and hooks, but these must be covered with something that prevents us from touching them and getting hurt.
This padding, which can also be bought separately if the original gets damaged over time, cover them completely with a soft material that adapts perfectly to the frame structure.
Main Types of the Trampolines
You have seen what are the most important features to look at to find the best trampoline for you.
Now, we will explain what the main types are so you can choose the one that suits your needs.
There are different types of trampolines: outdoor trampoline, children trampoline and fitness trampoline.
They all have the same concept but are intended for types of people very different from each other.
In fact, even sizes vary a lot between them.
Let's take a closer look at what we are talking about when referring to all these variations of trampolines in order to understand which is the best choice to make.
Outdoor Trampoline
Adults and children love it!Outdoor trampolines are large structures characterized by the presence of a security structure that surrounds them completely, allowing both children and adults to jump and have fun.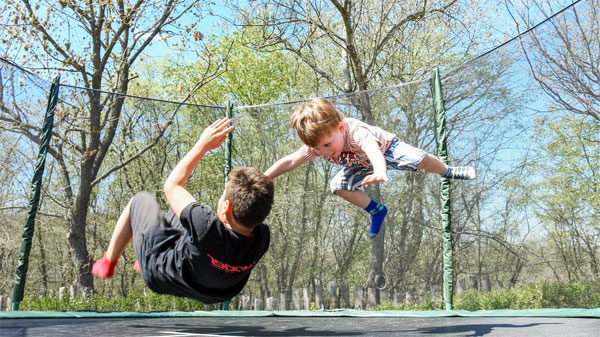 Do not be fooled by the image: not only kids will have fun with one of these!
When the outside available space is not a problem, the outdoor trampoline is certainly the best choice. Those lucky enough to have a beautiful garden always want to make the most of it.
They come in several sizes, more or less large, but they are always objects that allow everyone in the family to have fun in the garden.
Outdoor trampolines are all characterized by a ladder, which allows access to the carpet, and by a protective net that can be opened and closed by means of a zip.
Their prices vary, but if you are not looking for a professional product, they are accessible for all budgets. Since these products are designed to be outdoors, pay particular attention to the materials used for the construction of the frame in order to avoid deterioration over a short period of time.
These are objects that will certainly appeal to children but can also be used by us adults. This way, we can keep fit while having fun by simply going out into our backyard.
Garden trampolines have particular characteristics that are good to know in order to buy the best-suited one for our specific needs and, at the same time, have a safe carpet for us and our little ones.
These are objects that are easily found on the market, so don't think it's difficult to find the perfect model for you.
Children Trampoline
For our children, playing is a very important moment, which takes up most of their day when they are not busy with school. It is important that they can have fun and stay away from the dangers at the same time.
This can give us, adults, some peace of mind as well.
One of the children's favorite playing types of equipment, which in addition to being fun also allows you to practice a little 'healthy exercise', is the children's trampoline.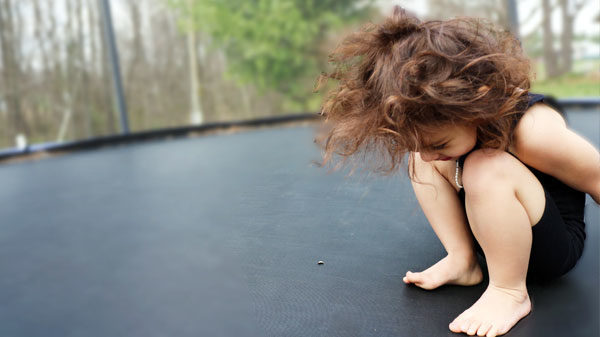 This product is available in different shapes and sizes, in order to satisfy the greatest number of people.
In fact, if the larger models are for the exclusive use of those who have a garden or a large space where they can use them, these types of trampolines are smaller versions that can also be used at home.
They are different not only with regard to the measurements, but they also have a whole series of options that are not present in the most compact models. The trampoline is rather easily found on the market, both online and in physical stores, at fairly affordable prices.
Fitness Trampoline
Fitness trampolines are the smallest and most economical type of trampolines on the market. Our site specializes in professional trampolines for use by children and adults. The characteristics described here are the same that must be evaluated when you want to buy a fitness trampoline.
Fitness trampolines are small, round, flexible mats that rest on a metal frame. They are fairly low because they must be used in the gym and often require getting off and back on them during exercise.
They are also the easiest trampolines to find on the market.
Given their small size, usually no more than 100 cm in diameter, they can also be used at home, perhaps with some physical therapy to bring new flexibility to the joints.
An interesting aspect of fitness trampolines is that when they are not in use, the claws can be folded towards the elastic surface so that they can be stored in any corner of the house.
Trampoline Prices
Here we are at the most important part, am I right?
Now that you have a clearer idea of ​​what a trampoline is and if you need an object of this type, you can consider the cost of these products. This varies a lot, in fact, it is influenced by both the size and the type of the mat and the various options that come with it.
In fact, costs vary from simple rugs without a protective net that is used for training in the gym which costs around 35$ and can reach up to 70$. The ultra-accessorized models of very large dimensions, such as the garden ones, have a much higher cost. We are talking about figures that start at around 300$, but that can even reach 1000$+!
Conclusions
You now have all the elements you need to choose the best trampoline for you and your family. We showed you the most important features that the object must have. Other sites focus on other aspects but they are not very significant and only make you waste time!
Choose what you need (a child or adult trampoline?) and then evaluate the most important features: size, weight supported, structure, springs, and safety.
For those who want the best, we recommend an outdoor trampoline, but if you do not have enough space, do not despair because there are home versions that, even if not exactly the same, are equally valid. Prices vary, depending on size and type.
These kinds of products truly are within everyone's reach. Their great versatility makes them a game, an exerciser, and a professional product at the same time.
We have also selected for you the best trampolines and the best offers on the market for those looking for a quality product. Have a look at them and let us know what you think, your opinion is important to us.