Trampolines are some of the most enjoyable things that you can get for your home. They can quickly turn an empty backyard into an exciting zone that everyone in your household will love to be in their free time.
If you have space, a 15 ft trampoline is a perfect choice.
This size will provide enough space for a few kids or a couple of adults to safely have a blast. It will offer ample room for a lot of physical activities without hitting someone else or getting injured from bumps.
Being the largest available size for trampolines, you can be sure to enjoy a myriad of activities with this outdoor equipment. It may be made for bouncing around, but with just a few tweaks, it can be a major component to a whole new fun and unique activity.
Top Things to do on a Large Trampoline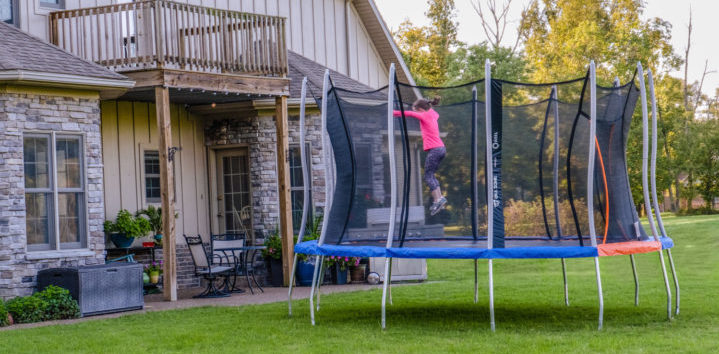 Cardio with a Twist
Do your cardio workouts while bouncing and get a whole lot more fat burning out of your time on the trampoline.
Refreshing Summer Fun at Home
Add some refreshing twist to your bounce time with the kids in the summer by introducing some water to your trampoline. You can use a sprinkler or hose to get the water onto the trampoline where your kids can continue bouncing to their hearts' content.
Throw a Dance Party
Blast some music while you jump around and get to enjoy moving your body more to the beat.
Top Five 15 ft Trampoline
With so many fun things to do on a large trampoline, you might already be itching to get your hands in the best one. To help you narrow down your options, here are five of the best trampolinesin the 15 feet category.
1.

Skywalker Trampolines 15-Feet Round Trampoline
Skywalker trampolines are some of the most popular options today, thanks to their excellent quality and friendly price. This is why it shouldn't come as a surprise that this list starts with one of their products.
The 15-feet Round Trampoline and Enclosure with Spring Pad is one of the best selling items from the brand, so naturally, it gets a spot on this list.
What to Like:
It's ideal for ages 6 and up with a 200 lb weight capacity.
It has padded sides to cover the springs so you can be comfortable anywhere you step on its surface.
It has a special safety net that is attached to the trampoline with a unique buttonhole feature. This ensures that there won't be any gaps in between where feet can slide off and get trapped in.
It's very stable as it is designed with additional reinforcements to effectively bear weight and impact.
It comes with assembly tools to ensure that you'll be able to set the whole thing up with ease.
What can be Improved:
Its 200-lb weight capacity is pretty limited, especially for its large size.
It's also not for professionals who intend to use a home unit for training at home.
2.

TÜV Approved Zupapa® 15FT Trampoline
Zupapa products may not be widely distributed yet and are only available online as of the moment but it doesn't stop this brand from being a good pick for a large trampoline.
Their 15 ft trampoline is a highly recommended pick by many for homes that are looking for only the best products in the market.
What to Like:
This product takes pride in being TÜV Certified. TÜV is an independent German organization that tests products for their safety and quality. Being certified means that this product has passed rigorous safety inspections, making it a good choice for households.
It's made with a heavy duty steel frame that is rust resistant. This means that you can leave this equipment outdoors and you don't have to worry about it wasting away.
It has longer net poles that also double as reinforcements to the legs, ensuring more stability.
It has a weight limit of 375 lbs so more kids and at least 2 adults can have fun in it.
What can be Improved:
Securing the net enclosure can be a hassle as it requires you to weave a string through the net and the unit's springs. This can take a while to do and will be a hassle to re-do.
3.

Skywalker Trampolines 15-Feet Jump N' Dunk Trampoline
Dunking on trampolines is one of the most popular activities that you can do if you own such equipment and you want to do more than just bouncing around.
For this purpose, Skywalker created a product that will let you enjoy such with its Jump N' Dunk Trampoline.
What to Like:
It's a nice step up from just a regular trampoline as it comes with an easy attach hoop with a breakaway hoop. This design will minimize the dangers of playing hoop on a trampoline and ensure that it won't damage the unit in any way.
It comes with padded poles so even if the game gets quite rough, you can be sure that no one gets seriously hurt.
Skywalker's patented enclosure ensures zero gaps to keep little toes and fingers safe.
What can be Improved:
This trampoline only has a 200 lb limit, so make sure to limit the jumpers on it at any given time.
4.

ORCC 15FT 12FT Trampoline
If you live in a relatively high wind area, any outdoor equipment you own should be safely secured to the ground.
For a trampoline, you might need to opt for one that you can use wind stakes with so this ORCC product might be a good choice for you.
What to Like:
This product is made convenient for those who worry about their units being outside and exposed to the elements. It comes with a set of wind stakes and a rain cover so you don't have to buy separately and worry about compatibility anymore.
Ease of use is another great offer by this unit. It comes with a ladder so you don't have to struggle to get in and out.
With 108 springs for the 15-ft variety, you get more bounce than other products in the category. This spring count is way more than what other units have, so it offers superior performance.
It has a 330-lb weight limit so even adults can comfortably enjoy bouncing on it.
What can be Improved:
Its net enclosure goes outside the trampoline which means you can land on the springs while bouncing about.
Some may have qualms with its use of plastic clamps to secure the safety net to the trampoline.
5.

Exacme TUV Approved Trampoline
For those with safety and convenience as their priorities, this Exacme product is worth considering.
Not only did it pass several safety testings, but it also comes with a lot of extras so additional purchases might not be necessary anymore.
What to Like:
Aside from a TÜV certification, it also passed GST and UV Testings. This guarantees that this unit was made with your safety in mind.
It has a weight limit of 375 lbs which is a lot more than most products on the list. This will let more folks get in on the fun in this unit.
Its poles are padded, so even if you bump into them, you won't get too hurt.
It comes with a ladder so you can easily get in and out of the trampoline.
Made with rust-resistant heavy duty galvanized steel tubings, you can be sure that this product is built to last.
What can be Improved:
The safety net has gaps but it shouldn't come as an issue since it wraps around the outer perimeter of the unit.
The spring's covering is not padded, but it's made of high quality material so it shouldn't be a major issue.
How Much Does 15 ft Trampoline Cost?
The average price of a 15 ft trampoline is $450-$600 (depending on the brand and type). Most models range from $400-$500.
It's easier to decide on a purchase if you have a budget in mind before visiting the store.
Keep in mind that with an average lifespan of 5 years, it may be worth investing more money into a quality product now.
Is It a Good Choice to Buy a 15 ft Trampoline?
When you're considering the pros and cons of buying a trampoline, you're thinking about what size trampoline you should buy. You want to get the best size trampoline for your family.
If you only need a smaller trampoline, you can buy a smaller trampoline, but there are a few things to consider before you buy one.
1. Make sure you have enough space in your yard or backyard to accommodate a 15-foot trampoline. If not, then you need to consider how much space you have and whether you can move things around to make room for a larger sized trampoline like the 15-foot model.
2. Contact your insurance company before purchasing a 15-foot model trampoline to make sure it will be approved by them for homeowner's insurance coverage.
3. Measure out the area where you intend to place the trampoline to ensure that it will properly have enough room for children to jump on both sides of the trampoline without bumping into each other.
4. Consider how many people will be using the 15-foot trampoline at the same time, and if it will be used by adults as well as children, and if so, how many adults can use it at the same time.
Final Verdict
When it comes to outdoor leisure equipment, a 15 ft trampoline is definitely one of the best options available today. They offer a wide array of fun activities so you'll never run out of ways to have a blast by having it in your backyard.
It's also great for folks of all ages and can provide great exercise. With these, having a huge trampoline can easily be one of the best ways to have fun at home.
Choosing the right one, however, may be the trickiest part of getting a trampoline. As you will know, there are tons of options but not all of them will suit your needs. You have to be very discerning in which unit to get as the wrong one can be an utter waste of money.