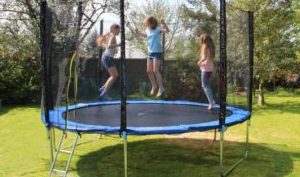 It's no secret that
bouncing on a trampoline
is enjoyable for everyone. No matter what your age is, you'll have a blast jumping around.
The sense of freedom and unique sensation that comes with bouncing up and down tends to make the activity so exhilarating.
The fun is even amplified by being with friends and loved ones, so an outdoor trampoline can really be a great addition to any backyard.
If you're wondering what exactly an outdoor trampoline is, the answer is pretty simple and straightforward. These products are the larger trampoline varieties.
They're the ones that measure 14 feet and bigger.
Depending on your preference, you can find them in 16, 18, and 20 ft sizes. They're also available in rectangular and even hexagonal shapes.
With their size, it's easy to see why some people are on the fence about getting one. They can easily take up a lot of room in your backyard, so you must want to know if they're worth it.
To help you decide, we're counting all the ways why and how the best outdoor trampoline can be a good investment for you.
Why You Should Buy an Outdoor Trampoline
This is possibly the first, and most important, question that needs a good answer.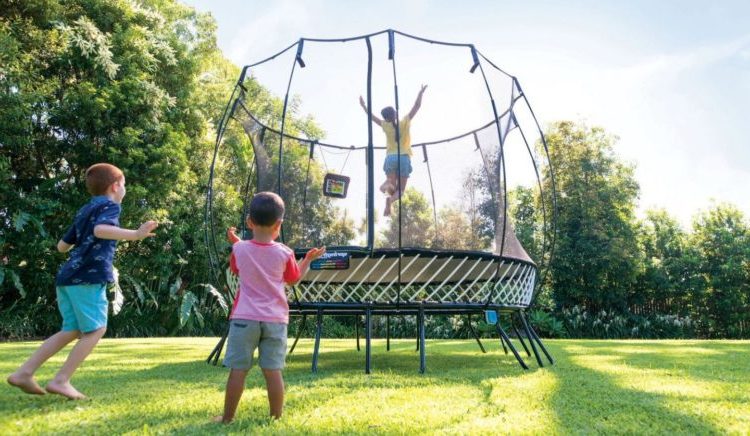 Here are a few of the best reasons that might just explain why you need an outdoor trampoline in your backyard:
1. It offers a fun activity for the whole family.
There's a good chance that every parent today has dreamed of having atrampoline in their backyardas a child. Now that you're an adult and have kids of your own that might want the same thing, why not give it a shot?
The best outdoor trampoline can definitely accommodate kids and adults alike. They will be large in size and capable of holding a lot of weight, so everyone can spend time bouncing on them safely.
This also makes it an excellent tool for an enjoyable shared activity for all family members.
The best part? You don't even have to leave the house to have a blast with the whole family. Even if the upfront costs are relatively high, it will surely pay for itself eventually.
The fun it brings is priceless but you also get to save money by not having to go on family excursions all the time.
2. They can be safer for kids.
Most experts say thatlarge trampolinestend to be safer to use. Why?
Here are a few reasons:
● Larger jump space
The bigger jump mat lessens the chances of landing on the springs or falling off the trampoline altogether.
● Higher weight limit
As bigger trampolines are designed to be used by bigger kids, they also tend to have a higher weight capacity. This can better guarantee that they won't buckle under your kid's weight.
● Smaller chance of the trampoline moving or tipping
Because of all the movements done on top of a trampoline, it's also prone to moving or tipping over, especially when it's not secured to the ground.
A larger unit won't easily move or lean to one side because it can be more stable than smaller ones. This, again, makes it safer to use.
3. They can offer a good workout.
As bouncing on a trampoline will really make your body move, it can also be considered as an exercise. Those who do it on small trampolines (rebounders) are said to enjoy many health benefits.
As bouncing on a trampoline puts less pressure on the knees, they can be a good alternative to running if your joints can't take a beating.
You can still do all of these on an outdoor trampoline. It can even make your workout sessions more exciting and enjoyable. However, it's important to pay close attention to proper form and execution to avoid injuries and make the most out of your efforts.
4. Physical activities foster kids' development.
Letting your kids play on a trampoline is also a great way to get them to exercise. Keeping your kids physically active canhelp them develop accordingly. So getting fun and exciting recreational equipment can really be beneficial for their health.
5. They'll let your kids create great memories with their friends.
If you're going to get the best outdoor trampoline, you should also expect to be the most popular house in your neighborhood – at least among the kids.
Thanks to its size, this equipment will also let your kids play with their friends on it. With so many different activities that they can do on top of a bouncy surface, you can be guaranteed that they'll have hours of fun with it.
Our Picks of 5 Best Outdoor Trampolines
If you're getting recreational equipment of this sort, you might be wondering what can you expect from the best outdoor trampolines on the market today. To give you a better understanding of what are the products like, here are five of our top picks:
If you're looking for a product that can offer great value for your money, the Skywalker Trampolines 15-Feet Jump N Dunk Trampoline is a solid option. It already has everything you need and more from this kind of recreational equipment.
Not only does it come with a safety enclosure, but it also has its own Safe Play Basketball Hoop and Ball. These give you more ways to have some outdoor fun without the need to purchase extra accessories separately.
Its design is also worth noting as it is made with your safety in mind. Not only is the safety enclosure equipped with padded poles but it also comes with a no-gap design between the jump mat and springs. This lessens the chances of getting in contact with the springs, minimizing its risks.
Features:
15' Diameter
96 6.5" Rust-Resistant Springs
Patented No-Gap Safety Enclosure
Padded Enclosure System
Reinforced T-Bracket Construction
W-Shaped Legs
Woven UV-Protected Propylene Jump Mat
Safe Play Basketball Hoop and Ball
Dual-Enclosure System
200-lb Weight Limit
2. Merax 14-Feet Round Trampoline
Planning on using the outdoor trampoline, as well? Then a product with a higher weight limit will be a better choice. The Merax 14-Feet Round Trampoline can be a good pick as it has a 330-lb weight limit.
Aside from its significantly generous weight capacity, it also has everything you'll need on a trampoline. It already comes with a durable and sturdy safety enclosure, so you don't need to add extra safety features to it.
It also comes with padded spring and pole covers, guaranteeing that it has your safety in mind. Made with materials that are weather and rust resistant, you can also expect this product to last a long while.
Like the Skywalker Jump N Dunk, the Merax 14-Feet Round Trampoline also comes with a fun extra. Its Safe Play Basketball Hoop is a nice addition that will let you make the most out of this recreational equipment.
Features:
14' Diameter
72 5.4" Galvanized Steel Springs
PP Mesh Jumping Mat
Waterproof PE Pad
Safety Enclosure
6 W-Shape Legs
4-Step Galvanized Steel Ladder
Safe Play Basketball Hoop
330-lb Weight Limit
3. Giantex Trampoline with Safety Enclosure Net
Another low-priced option with a decent 300+ lb weight limit is the Giantex Trampoline.
This product is available in different sizes starting from 8' to 16', giving you ample options for an outdoor trampoline.
While it has a relatively basic design, it delivers where it counts. The fact that its safety enclosure sits in the outer perimeter of its frame makes it stand out, for one.
Its heavy duty T-section construction combined with its U-shaped legs also guarantees stability and sturdiness.
Features:
Galvanized Steel Frame
T-Section Construction
U-Shaped Legs
Safety Enclosure with Foam Sleeves
Padded Spring Cover
2-Step Ladder
Dual Net Closure System
Available in 8', 10', 12',14', and 16' Sizes
4. Skywalker Trampolines 12-Feet Round Trampoline
If you want to fully observe safety measures when bouncing on your trampoline, the Skywalker Trampolines 12-Feet Round Trampoline can be a good choice.
While it's not exactly a large outdoor trampoline, the limited space can force you to observe the precautions experts recommend. Only one adult or two children can fit inside this trampoline, so there will be fewer chances of hitting someone while bouncing.
The safety features of this equipment are also noteworthy. Its safety net goes around the jump mat minimizing the jumper's contact with the springs.
It also interlocks with the mat, so there are no gaps between the mat and the springs. The safety poles and springs are also covered with padding, so even if you hit them, you'll be cushioned from the impact.
Features:
12' Diameter
Heavy Gauge Galvanized Steel Frame
Reinforced T-Socket Construction
Stay-Put Safety Enclosure
Padded Poles
W-Shaped Legs
UV Protected Spring Cover with 1" Padding
5. Zupapa 15ft trampoline
If your idea of the best outdoor trampoline is the most convenient and safe option, then the Zupapa 15ft Trampoline is a good choice for you.
This product is TUV approved, which means it has met select German standards in its production. This guarantees quality construction and reliability.
Also available in 12', 14', 15' sizes, the Zupapa trampoline also has everything you'll need. Aside from having a safety enclosure, it also has a padded spring cover. Its extras are very useful as well as it comes with a set of wind stakes to anchor the unit to the ground and a rain cover.
Topped off with an affordable price and a great set of convenient and safety features, it can really be a solid pick for most households.
Features:
15' Diameter
Galvanized Steel Frame
W-Shaped Legs
Safety Enclosure
Padded Spring Cover
2-Step Ladder
Wind Stakes
Rain Cover
10 Benefits of Using Outdoor Trampoline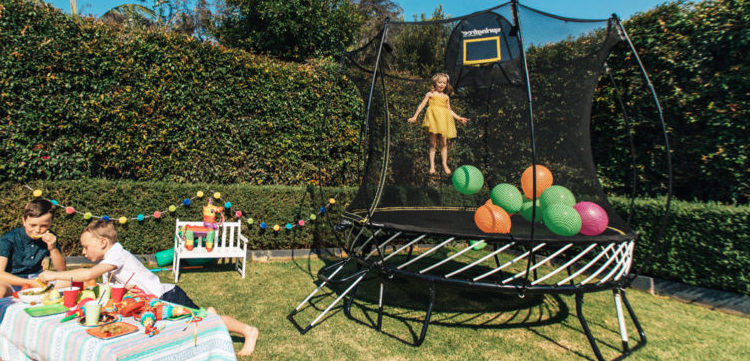 In addition to the five reasons given above, the actual benefits of owning an outdoor trampoline might also convince you that getting one of these items is a good idea.
#1 Everyone can enjoy a family-sized trampoline.
Due to its large size and high weight capacity, everyone in the household can use an outdoor trampoline. You don't just get to watch your kids have fun with this recreational equipment but you also get to have a blast on them as well.
This is a pretty unique feature that not a lot of products can offer. There is not a lot of recreational equipment that will accommodate both kids and adults with the same intensity as a trampoline. This alone already makes it a great addition to any backyard.
#2 They offer a great way to get your kids to exercise.
Again, trampolines are really fun, but they also come with a good deal of hard work. They can really get you sweating in no time, making it an excellent way to exercise your little one. The best part? They'll enjoy it, too, so you can be sure that they'll stay in good shape without getting stressed about having to exercise.
#3 They can double duty as workout equipment for you.
If your kids can get a good workout on a trampoline, so can you. All that jumping will get you sweating it out without having to strain your joints. However, it's very important to know what to do so you can really lose weight or tone some muscles on a trampoline.
#4 They can turn an empty backyard into a highly attractive one.
Not everyone wants to turn their backyards into gardens or barbecue party spaces. However, leaving it bare can be a bore. Adding a trampoline is a great way to liven it up. You won't even have to wait long before your kids and friends turn it into their favorite hangout spot.
#5 They can help you keep your teenagers at home.
With something fun and exciting to do at home, a trampoline can also make your teenager stay home more often. This might come with the caveat that their friends will stay more in your home as well. If you like entertaining anyway and you don't mind having more kids around, this can still be a very good deal.
#6 Your kids can explore their creativity and imagination with its help.
There are lots of unique games and activities that your kids can play with friends on a trampoline. They can even camp on these things – just don't forget to set up a tent or attach the trampoline cover on the enclosure to keep them covered.
#7 Need a quick pick-me-up? Your trampoline can help you out.
Again, there's something about bouncing around that can instantly help improve your mood. Whether it's the momentary weightlessness or the feeling that you're leaving your body behind for a split second, it's a refreshing sensation that you won't get often. Try it when you're feeling down and your mood will surely turn around.
#8 It gives your kids a fun reason to unplug.
A trampoline can also provide your kids something else to do aside from tap, click, and scroll on their devices. Having one in your backyard can give your kids a reason to unplug and just enjoy some time outside which is also good for their health and development.
#9 You won't have to worry about your kids outgrowing the trampoline right away.
Outdoor trampolines are often big in size. So if you can bounce on them, your child will surely be able to play in them comfortably for years to come. With the best outdoor trampoline, you don't have to buy new recreational equipment every year. They'll be able to accommodate your kids for years to come, especially since they're made well.
#10 They'll help create fun memories for your child.
With all of the fun activities that your child can do on a trampoline, there's no doubt that they can also help your child create great memories. The play times they spend on the trampoline can stay with them over the years. Whether it's spent with you or their friends, you can be sure that they'll be able to have fond childhood memories with an outdoor trampoline.
Things To Consider Before Buying Best Outdoor Trampoline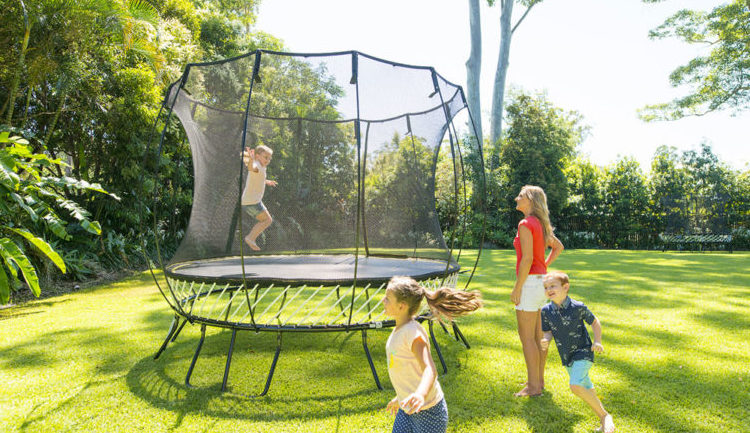 Convinced that the best outdoor trampoline deserves a spot in your backyard? Here are a few points that you should think about and remember before heading out to buy one:
Your Backyard's Size
It has been said a few times before, but it still bears repeating that outdoor trampolines are often large. They will take up space, so you have to make sure that your backyard can accommodate them.
Keep in mind that you should never try to squeeze a trampoline into a tight space. You don't want to bounce off a fence or a wall as that can cause an injury. There should be at least 2 feet of empty space between the trampoline and the nearest structure or fixture in your yard to ensure safety.
The Activities You Wish to Enjoy
You also have to think about the things you want to do on the trampoline before getting one. Some products are designed for more specific purposes like training, so you have to take note of that as well.
The activities you wish to do might also affect the shape of the trampoline that you should get. Some folks might find rectangular ones more suitable to their needs while circular ones can also be good options for many households.
Local Climate
Because trampolines are outdoor equipment, you should also consider the kind of climate you have locally. If you're going to subject the unit to inclement weather or extreme weather changes, you should look for products that are well-equipped to handle the harsh elements. It should also clue you in on how you should anchor your unit to keep it safe.
The Users
Who are the people going to use the outdoor trampoline? Answer this and you'll be able to determine the weight limit you need to look for. The users' preferences can also help out in choosing the right unit.
Safety Measures
The most important thing that you need to know before buying a trampoline is the safety measures that you should enforce with its use. You need to know that this recreational equipment is not the safest there is. So to avoidserious injuries and accidentsthat tend to naturally come with, you have to be fully aware of the precautionary actions that you need to take to ensure every user's safety.
Final Verdict
Despite the overwhelming number of options, finding the best outdoor trampoline is possible to do with the help of the right knowledge. We hope this quick guide serves as such for you so you can turn your backyard into a magnificent play space for the whole family to enjoy.