Are you looking for a camping tent but are unsure of where to start, and what to look for?
With all of the gear that is available on the market today, it is a complete minefield especially for the beginner. That being said choosing a good tent that is right for your needs is paramount however daunting it may be from the outset.
When it comes to it, you've got to decide is what you are planning. This is going to help you in your decision-making process. Unfortunately, one size doesn't fit all. They all serve their unique purposes so it is vital that you buy the right one that best suits your needs.
Size – Small or Large Camping Tents
One of the first considerations is how many people will be going on a camping trip, hence the number sleeping in a tent.  The way this is measured is by the "number of persons".
As a general rule of thumb the formula is to look for one with the capacity of 2 persons higher than you need. So, for instance, if you are a family of 4 the recommendation would be for you to get a 6 person tent. The reason behind the extra size is so that you can fit all your gear in as well.
You may feel you want to go slightly bigger for more room, but remember you'll run into other issues like weight (if backpacking) and keeping it warm in the winter months with the extra size.
Campsite or backpacking Tents?
Knowing what you are planning to do has a major impact on the type and size of your tent. Obviously it is common sense but you don't want to break your back if you are backpacking with a tent that weighs a ton of bricks.
If you are backpacking there are some important things to think about which will determine how much you'll need to spend.
It is a balancing act here. You want something that gives you enough space to move around when you are asleep, whether it is just you or you're traveling with someone. Obviously the more capacity you need, the bigger budget you might need to keep the weight down but you'll get some extra features.
Also, you'll need to consider when you are traveling and the type of weather conditions you'll likely face.  This will determine whether you get a 3 season or a 4 season tent.  Unless you are going to face severe wintery conditions, a 3 season tent will suffice especially as it is lighter.
On the other hand, if you are going to a campsite for a week, you'd most likely be looking to get a family camping tent instead. This has become very popular where families go on vacation and either use it as a base for all the pursuits nearby or they stay on site.
With car camping weight is not an issue; you don't have to walk miles with the tent on your back. Your car is only a short stroll away from where you'll be pitching your tent.
Unlike a backpacking one, there is plenty of room (depending on what size you get), in fact you can even stand up in the middle. The only downside to this is that on those cooler days like in the fall it will take longer to warm up.
Camping Tent Features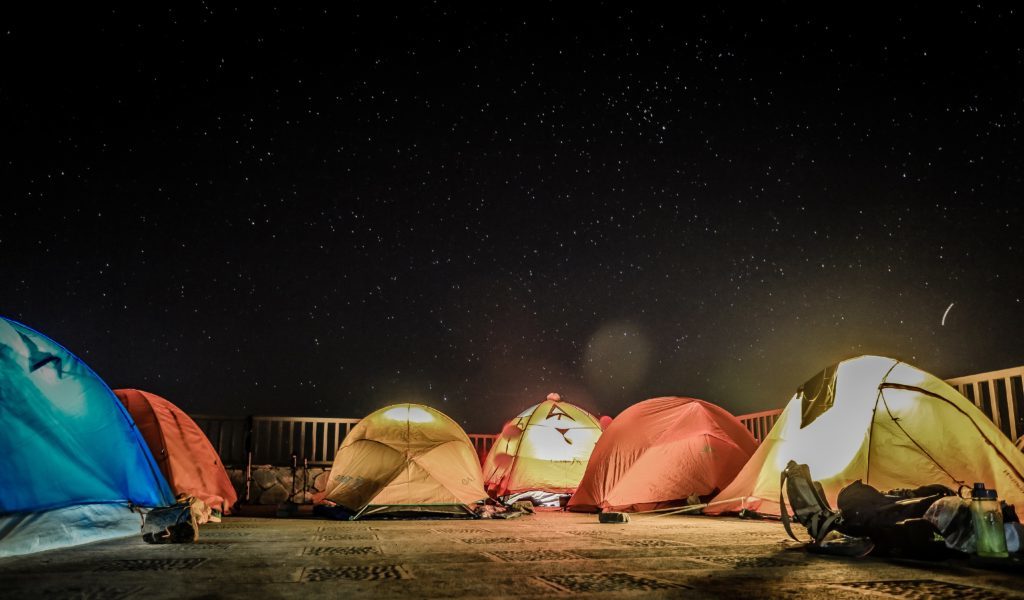 When it comes to groundsheets they are abrasion resistant and made water resistant so they can keep the tent dry. However, you do have two choices, either the standard or the sewn in groundsheet.
Standard has drafts coming in and the possibility of insects
Sewn in groundsheet prevents drafts and insects getting in but there is the issue with condensation
An essential feature not to leave home without is the flysheet, which goes on top of your tent so that you can keep the rain out. You don't want leaks coming through the seams and vents. Most tents come supplied with one, but on occasions the manufacturer doesn't include it for example the Coleman Instant Tent.
Having a vestibule is very useful as it is an additional feature to the main part of the tent where you can keep your gear. This is great when you've come back from a walk where it has been raining and you're all wet with muddy hiking boots. Therefore, you can keep your boots separate from the sleeping area.
Finally, you'll want to look at is the doors, windows and vents. One of the most important points to remember with ventilation is it will help reduce condensation. So, if you decide on a sewn in groundsheet, ventilation becomes more of an important factor.