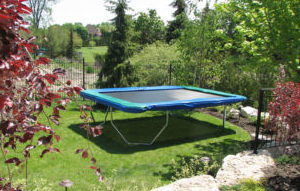 When the time comes to choose a trampoline, you will find your choice essentially limited to either a round trampoline or a rectangular one.
Although there are a few other shapes – like octagonal or oval – on the market, there are many more round and rectangle ones to choose from.
Factors to Consider
Before making a choice, consider the following factors that relate to rectangular trampolines.
· Space
If you only have a limited amount of space then a rectangular trampoline will fill it with no wasted space.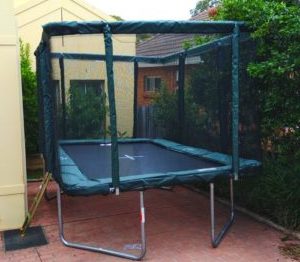 Round trampolines are great where there is open unlimited space, but in a smaller space, you will waste some of that space.
If you are going to put your new trampoline in your yard, then around one will need to be placed out in the middle.
A rectangular one will fit more easily in a corner or a narrow site.
Take some measurements first so that you know exactly how much room it is available.
· Bounce
Rectangular trampolines allow for higher bounce and the same bounce wherever you stand on them. This is due to the way the springs are distributed around the trampoline.
On a round trampoline, all the springs work when someone bounces. On a rectangular trampoline, only some of the springs will work on each bounce. This also means that the springs will probably last longer.
· Safety
If you choose a rectangular trampoline, then you should also purchase a safety enclosure net. Most rectangular trampolines come with these as standard.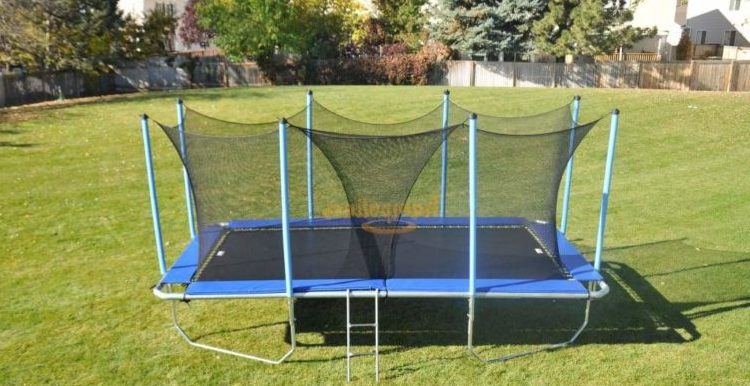 Round trampolines tend to be a bit safer as they don't give such a big bounce.
· Strength of Construction
There is nothing to choose between the strength and sturdiness of both round and rectangular trampolines.
Both types are built to last and to be used frequently over a number of years.
It is best to choose a galvanized steel frame whichever type you buy.
· Maximum Weight
Generally rectangular trampolines will accommodate higher weight limits. If you need a trampoline that will allow higher limits then a rectangular one is the best choice.
Some rectangular trampolines allow a weight limit of up to 800 pounds.
· Usage
What will your trampoline get used for?
Just fun for the kids?
Or do you have a budding trampoline professional in your family?
Rectangular trampolines are better for gymnastic work and for bounce tricks. They are good for adult fitness work too.
NASA has discovered through various studies that trampolining is better exercise than jogging!
· Price
Rectangular trampolines do tend to be more expensive due to their being bigger. A good quality, a strong rectangular trampoline can be pricey but is more likely to last longer so is a better investment.
· Assembly
Most rectangular trampolines are just as easy to assemble as round ones. The larger rectangular trampolines may need two people to assemble them.
Best Rectangle Trampoline 2021
This rectangular trampoline comes with a safety enclosure as standard.
The enclosure has a flexible top pole that gives extra stability. Construction is strong, using galvanized steel poles that have been powder-coated for rust-resistance.
The mat is made from polypropylene mesh and has 8 rows of stitching for added security.
Easy to assemble. Easy to store. The poles and spring cover comes in blue and yellow.
Expect to pay between $800 and $950.
The Jumpking Rectangle Trampoline also has a safety enclosure as standard.
The enclosure net is rigid around the top to give greater security.
Sturdily made as are all Jumpking trampolines it is easy to assemble and easy to store.
The poles and the cover for the springs come in blue with a yellow step at the entrance.
Costs between $480 and $520.
Skywalker is respected manufacturers of trampolines and offers
a range of sizes, styles and prices.
This model is an excellent moderately priced trampoline that will be fun for kids and also provide great exercise and gymnastics for older children and adults.
There is no gap between the enclosure and the springs – a unique feature of Skywalker trampolines – which adds to the safety of the unit.
The poles supporting the enclosure curve inwards at the top, but are not padded nor is there a rigid top pole.
Expect to pay about $600 for this model.
This is a smaller trampoline specially designed for younger children.
The frame is strengthened by a cross-piece at each corner and has 56 x 6.5 inch galvanized springs. The bounce is good but not too scary and the enclosure poles are padded as are the rigid top poles.
There is a zippered entrance and a ladder.
The material used for the mat is UV protected and is both waterproof and fade resistant.
Assembly is straightforward and a tool is provided to help fix the springs. This is one of the best rectangular trampolines for kids.
Costs about $450
At the other end of the scale Outdoor Heights produces a superb rectangular trampoline specially designed for use by gymnasts.
This comes with a safety enclosure and a ladder. At 8ft x 14ft it is a decent size for a gymnastic workout.
Sturdily built, this trampoline will give years of reliable service.
It has been designed with safety in mind and has padded poles supporting the enclosure net, thick padded covers on the springs and cross-braced corners.
As this is a top-of-the-range trampoline expect to pay over $1,000.
This is a super little rectangular trampoline for little ones. The metal parts are either covered with plastic or foam for safety. The four corner poles support curved rigid enclosure poles.
The mat gives enough bounce to excite tinies but still keeps them safe. The great added feature is a swing that is hung from the two curved top poles.
The mat surround and cover are blue, with the skirt' having a cute dinosaur design.
The enclosure is accessed by a zippered entrance that has additional clips for extra safety. This will make a lovely first trampoline where the little ones can gain some confidence as well as having great fun.
Construction is simple and can be done easily by one person. This also makes storage easy. Because of its design and build it can be used both indoors and outdoors.
You should be able to buy this little trampoline for less than $300.