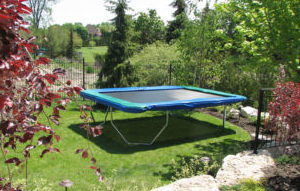 When the time comes to
choose a trampoline
, you will find your choice essentially limited to either a round trampoline or a rectangular one.
While there are some other shapes on the market – such as octagonal or oval – there is plenty of round and rectangular ones to choose from.
So if you want to buy a good rectangular trampoline for your backyard, you've come to the right place.
Factors to Consider
Before making a choice, consider the following factors that relate to rectangular trampolines.
· Space
If you only have a limited amount of space then a rectangular trampoline will fill it with no wasted space.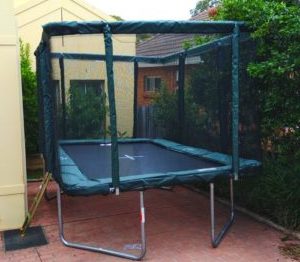 Round trampolines are great where there is open unlimited space, but in a smaller space, you will waste some of that space.
If you are going to put your new trampoline in your yard, then around one will need to be placed out in the middle.
A rectangular one will fit more easily in a corner or a narrow site.
Take some measurements first so that you know exactly how much room it is available.
· Bounce
Rectangular trampolines allow for higher bounce and the same bounce wherever you stand on them. This is due to the way the springs are distributed around the trampoline.
On a round trampoline, all the springs work when someone bounces. On a rectangular trampoline, only some of the springs will work on each bounce. This also means that the springs will probably last longer.
· Safety
If you choose a rectangular trampoline, then you should also purchase a safety enclosure net. Most rectangular trampolines come with these as standard.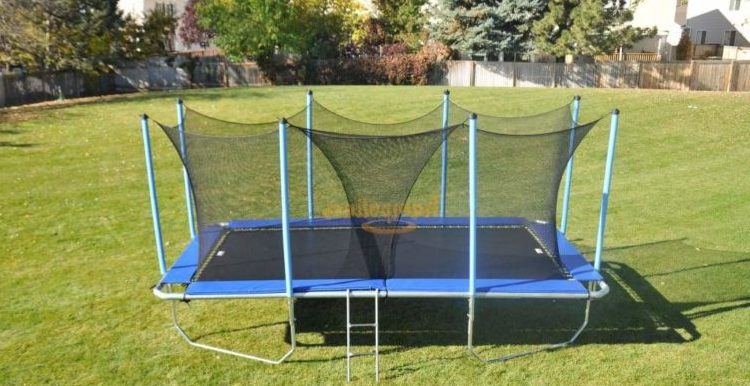 Round trampolines tend to be a bit safer as they don't give such a big bounce.
· Strength of Construction
There is nothing to choose between the strength and sturdiness of both round and rectangular trampolines.
Both types are built to last and to be used frequently over a number of years.
It is best to choose a galvanized steel frame whichever type you buy.
· Maximum Weight
Generally rectangular trampolines will accommodate higher weight limits. If you need a trampoline that will allow higher limits then a rectangular one is the best choice.
Some rectangular trampolines allow a weight limit of up to 800 pounds.
· Usage
What will your trampoline get used for?
Just fun for the kids?
Or do you have a budding trampoline professional in your family?
Rectangular trampolines are better for gymnastic work and for bounce tricks. They are good for adult fitness work too.
NASA has discovered through various studies that trampolining is better exercise than jogging!
· Price
Rectangular trampolines do tend to be more expensive due to their being bigger. A good quality, a strong rectangular trampoline can be pricey but is more likely to last longer so is a better investment.
· Assembly
Most rectangular trampolines are just as easy to assemble as round ones. The larger rectangular trampolines may need two people to assemble them.
Best Rectangle Trampoline 2021
This rectangular trampoline comes with a safety enclosure as standard.
The enclosure has a flexible top pole that gives extra stability. Construction is strong, using galvanized steel poles that have been powder-coated for rust resistance.
The mat is made from polypropylene mesh and has 8 rows of stitching for added security.
Easy to assemble. Easy to store. The poles and spring cover come in blue and yellow.
Expect to pay between $800 and $950.
The Jumpking Rectangle Trampoline also has a safety enclosure as standard.
The enclosure net is rigid around the top to give greater security.
Sturdily made as are all Jumpking trampolines it is easy to assemble and easy to store.
The poles and the cover for the springs come in blue with a yellow step at the entrance.
Costs between $480 and $520.
Skywalker is respected manufacturers of trampolines and offers
a range of sizes, styles and prices.
This model is an excellent moderately priced trampoline that will be fun for kids and also provide great exercise and gymnastics for older children and adults.
There is no gap between the enclosure and the springs – a unique feature of Skywalker trampolines – which adds to the safety of the unit.
The poles supporting the enclosure curve inwards at the top, but are not padded nor is there a rigid top pole.
Expect to pay about $600 for this model.
This is a smaller trampoline specially designed for younger children.
The frame is strengthened by a cross-piece at each corner and has 56 x 6.5 inch galvanized springs. The bounce is good but not too scary and the enclosure poles are padded as are the rigid top poles.
There is a zippered entrance and a ladder.
The material used for the mat is UV protected and is both waterproof and fade resistant.
Assembly is straightforward and a tool is provided to help fix the springs. This is one of the best rectangular trampolines for kids.
Costs about $450
At the other end of the scale Outdoor Heights produces a superb rectangular trampoline specially designed for use by gymnasts.
This comes with a safety enclosure and a ladder. At 8ft x 14ft it is a decent size for a gymnastic workout.
Sturdily built, this trampoline will give years of reliable service.
It has been designed with safety in mind and has padded poles supporting the enclosure net, thick padded covers on the springs and cross-braced corners.
As this is a top-of-the-range trampoline expect to pay over $1,000.
This is a super little rectangular trampoline for little ones. The metal parts are either covered with plastic or foam for safety. The four corner poles support curved rigid enclosure poles.
The mat gives enough bounce to excite tinies but still keeps them safe. The great added feature is a swing that is hung from the two curved top poles.
The mat surround and cover are blue, with the skirt' having a cute dinosaur design.
The enclosure is accessed by a zippered entrance that has additional clips for extra safety. This will make a lovely first trampoline where the little ones can gain some confidence as well as having great fun.
Construction is simple and can be done easily by one person. This also makes storage easy. Because of its design and build it can be used both indoors and outdoors.
You should be able to buy this little trampoline for less than $300.
Is Rectangle Trampoline Better than Round One?
If you are buying a trampoline for the first time, you may be presented with a list of different items when making your choice. Hopefully, safety is paramount, but size, storage materials and extras will also play a role in your decision. It's not easy, is it?
Weight Limit
The shape seems to be an unimportant consideration.
But really?
In fact, it may be more important than you think. One of the key reasons is the weight limit. When choosing weight limits, you always want to have a big margin of error. Of course, there is a big safety factor, but for me, it makes sense to give myself some breathing space.
A rectangle trampoline provides this. At an equivalent size, it can offer a weight limit that is actually fifty percent higher!
For example, a ten foot round model will usually have a limit somewhere in the region of 250lbs. This seems pretty comfortable, but it isn't really miles over a heavy teen or even an adult.
An equivalent rectangle trampoline of competition quality is usually rated somewhere in the region of 400 pounds! This is similar to a 16ft round model.
Size
This is also important when you consider the size. You can actually go smaller when you go round. If you go rectangular, make sure you choose something big enough. 14 feet is about right to really start to enjoy things.
Price
Of course, these two options also tend to come in at a different price point. This isn't very surprising when you think about it. A basic circular model is going to be cheaper to produce, simply because the frame isn't going to need as much support. This means that the frame can be made slightly less sturdy. It is also why it is far easier to find a huge range of models, brands and prices.
A rectangular trampoline for home use won't be quite as easy to find. There are some great models out there that offer a quality option, but you will pay more unless you know what you are looking for.
Safety
Those gymnasts on TV are incredible, but they got there through years of training in a safe environment. Telling you to go out and get this type of trampoline if you are a beginner looking to have fun would be completely irresponsible. Whichever model you get, we believe in safety first.
You can certainly make your rectangular model safe though. Make sure that you get a safety net. Don't just put up some lightweight mesh and hope for the best. Get the correct net for your model and make sure that it is securely installed. If you do this, you (and your kids) are set for hours of jumping fun, whatever the shape.
The Performance Factor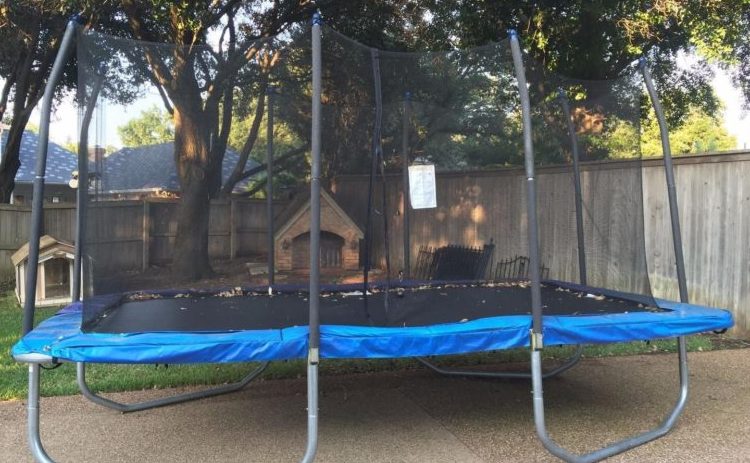 A rectangle trampoline is better when it comes to performance. This is the reason why it is mainlyused by serious gymnasts and athletesfor training purposes.
Round trampolines simply can't match these when it comes to performance. You will also be able to achieve better andmore responsive bounceswith these trampolines because the make of the springs are different.
These trampolines have longer and softer springs in comparison to round trampolines. It is needless to say that the rectangles ones are also more durable.
Skill
A round trampoline simply can't absorb the forces that are involved when you are looking to do something a little more technical than dunking that basketball! It also won't actually allow the jumper to get high enough to perform any gymnastic moves safely.
Of course, using a rectangle trampoline requires more skill.
A round trampoline is designed to send the jumper back towards the center all the time.
This isn't the case with a rectangle.
The jumper can use different parts of the surface to go higher or lower and give themselves more space for doing tricks. This makes it far more interesting for the accomplished user, but not quite as forgiving or reassuring for someone who is just looking to bounce around in the backyard. This is also why rectangular models tend to be very heavily padded.If you are coming down off-center from any height, you want to have some protection!
Purchasing Tips
When it comes to purchasing you have to keep the requirements in mind.
If you want to buy atrampoline for your kids, you really don't need a rectangle one. A good quality round trampoline will serve that purpose.
However, if you want one for training and other purposes, a rectangle one is the ideal choice. You should also consider safety when you make a choice.
Choosing a rectangle trampoline with an enclosure will ensure more safety.
Choosing the right brand is also important.
There are plenty of options such as Skywalker trampoline to choose from. You just have to ensure that you pick the right one.
You can look through the Internet for more options that are of good quality and are also affordable at the same time.
Conclusion
Getting a rectangle trampoline does have some definite advantages. It will be good for more than just playing and will let your kids discover one of the most enjoyable sports around. Who knows, maybe the next stop for them might be the Olympics?