Are you looking for a trampoline suitable for young kids but you want one that's compact because you have limited space in your yard? Then consider getting the Little Tikes 7′ Trampoline.
This affordable midsize trampoline is rated for young children from age 3 to 10. It'sdurable and safe, and it's also surprisingly easy to assemble.
The typical Little Tikes 7′ Trampoline review mentions all these advantages, but perhaps the most common feedback is that their kids love it.
Very Affordable
Kids can change their minds pretty quickly, so it's not always a good idea to buy them an expensive toy. Many parents spend hundreds of dollars on a particular toy for their kids only to realize that they're no longer interested in it after a month or two.
The nice thing about trampolines is that most children love to use them a LOT, so it's a good gamble for your money. And even if they grow tired of it, buying the Little Tikes 7' trampoline won't be such a big deal because of its low price tag.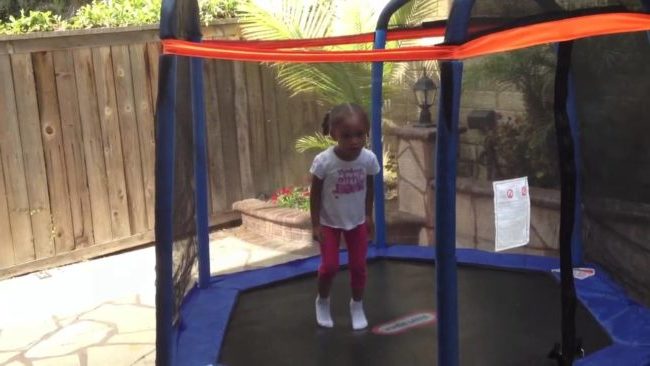 A Midsize Trampoline
This trampoline measures 7.5 feet on each "side" with an overall height of 6 feet. That means you really don't need a lot of space in your backyard for it. It's not so high up from the ground (1 foot and 5 inches in height) so children can get on it unassisted.
It's also rated to support children up to 100 pounds in weight, even though it only weighs 75 pounds so moving it from place to place is not a problem.
Durable
Its ability to support a hundred pounds of unbridled enthusiasm is made possible by the high quality of the materials used in the trampoline's construction. It's made of high quality steel and durable blow-molded plastic.
It's also for outdoor use. And it comes with a durable pad protector to cover the springs to keep your children from getting injured.
Every part of this trampoline was made with durability in mind, since this is rated for outdoor use, after all.
Enclosure
The height of the net measures 3 feet 10 inches, and that's sufficient to catch errant jumps. Small kids can jump higher than you may think, and there's always a chance that they don't jump straight up. The netting will make sure your kids stay in their proper place.
The netting is made frompolyethylenenetting, which is strong enough to keep kids from jumping out.
Attached Shoe Holder
A trampoline lasts longer if children don't use their shoes when they jump. The attached shoe holder is a constant reminder for users to remove their shoes first before they jump.
This feature is also very convenient, as kids won't have to spend a lot of time looking for their shoes when they are done playing.
Now they always know where their shoes are. With children running around the trampoline, the shoe holder also gets the shoes out of the way to avoid tripping.
Watch the video review here:
The Little Tikes 7′ Trampoline offers several outstanding advantages as outlined below:
PROS
It provides excellent safety features. The netting is particularly impressive, as it offers a nice enclosure height that actually works not just in keeping children safe but also in alleviating parental concerns. Other models have netting that isn't high enough.
The frame is nicely padded, and the materials are strong enough to support young children. And what's more, the trampoline is kept low to the ground, so again they don't have to jump too high up in the air. That even helps independent kids get on the trampoline by themselves without any help from mom or dad.
Its size is just perfect. Because it's not really a big trampoline, it's more affordable, and you also need not worry about where to put it. You get a nice jumping area of 21.65 square feet, so there's a lot of space for your kids to play in it. Its size also makes moving and storing the trampoline much easier, as the weight is very manageable for just two people.
Most people say that the assembly is simple and easy to do. The instructions are very clear, and the setup is almost intuitive. You shouldn't have any trouble at all in setting up this trampoline in your backyard.
CONS
Even though it's affordable, it still costs $200 or so, so it's still a sizable investment for what's essentially a children's toy. There's a risk that your child may only have a passing fancy for trampolines.
A few people still have trouble with the assembly. Or more specifically, they don't have enough strength to put the springs into their proper place. So you may need a beefy neighbor to help out.
Frequently Asked Questions (FAQ)
How much is the price for this trampoline?
That depends on where you buy it. Some sellers may actually offer it for $260, but it's easy enough to find other sellers who will sell it for no more than $230. Some even offer a lower price than this.
How do I keep my children safe while playing with it?
First of all, they should jump barefoot all the time, and they should only jump one at a time. Make sure to remind bigger kids weighing more than a hundred pounds not to use it—you'll need a bigger trampoline for them. Finally, your kids should only use it when an adult is around to supervise.
Final Verdict
The Little Tikes 7′ Trampoline is the perfect toy of its kind for your kids to grow into.
It's a great compromise between getting a smaller trampoline for children that they may quickly outgrow, and a regular size trampoline that may be too expensive and too big for your yard.
As shown in this Little Tikes 7' Trampoline review, we absolutely recommend this product.