Do you have a young son or daughter who likes torun all over the placewhen you're not looking?
Then it's time for you to check out theLittle Tikes 3′ Trampoline. It can certainly help your little ones vent off some of that pent-up energy.
The typical Little Tikes 3′ Trampoline review raves about this trampoline, and you're likely to feel the same way about it too.
Features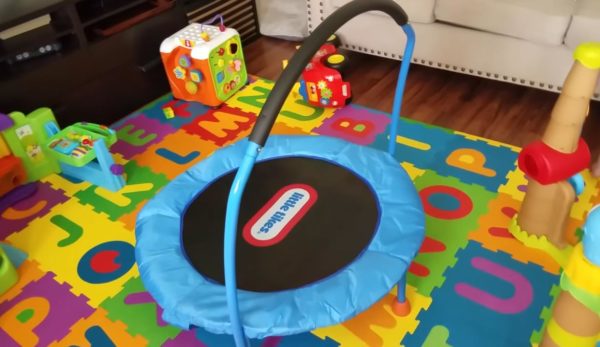 Designed for Indoor Use
Many trampolinesare supposed to be able to withstand the elements when they're placed in your yard, but it's a sad fact that – save for a handful of superb exceptions – they don't usually last all that long outdoors.
But this Little Tikes trampoline is designed for indoor use, and that makes a difference when it comes to longevity. Since it's not exposed to the rain or sun, it can really last for a very long time.
You can put it in your living room or bedroom, and your child can use it even in thewinterwhen it's cold outside.
It's the Perfect Size
It only measures 3 feet in diameter, which is great for two reasons. One is that it can ably accommodate one child at a time. This is important because many trampoline accidents are due to children bumping into one another when they jump together on a trampoline.
But because of its size, such accidents won't happen at all. Secondly, because it's quite small, you only need very little space in your home for it. It even weighs no more than 13 pounds, so moving it from one location to another won't be a problem.
It Can Accommodate Up To 55 Pounds
It's rated for children ages 3 to 6, as long as they are within the weight limit. So if you have a small child now, you don't have to worry about getting another trampoline in the next year or two.
It's Inexpensive
Every toy is a gamble for parents. Everyone who's ever bought toys for kids knows how fleeting a child's interest can be.
They can be terribly passionate about a toy for a week but totally forgot about it the following week.
So when you buy expensive toys, you might only be wasting your money.
But at least with this Little Tikes trampoline, you're not risking too much of your money at all. Some of the bigger trampolines can cost as much as $500, which can really break your heart when you realize your child no longer likes to use it after a few weeks.
Durable Handle for Added Safety
Sometimes with bigger trampolines children can get hurt because they think they can do somersaults. But with the Little Tikes 3, they won't be able to do that because they'll need to put both hands on the handle.
Also, the handle makes sure that your child jumps and lands at the center of the trampoline instead of at the edge. It's very reassuring for children to have something to hold on to when they're playing.
It also minimizes the risks of accidents and injuries.
Here are some of the advantages of this particular Little Tikes model: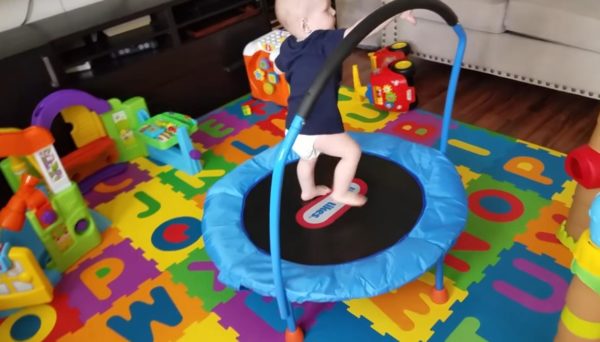 PROS
It's very affordable. Many households these days have tight budgets, and sometimes expensive toys are out of the question. But this trampoline is actually easy on the pocket. It's the perfect gift for birthdays and Christmas.
It's easy to use. What can be simpler to use than a trampoline with a handle to hold on to? Even little children instinctively know how to use one safely. Just as long as they keep both hands on the handle, they're safe, and they're also going to have lots of fun.
Setting it up is a breeze. That's not always the case with most trampolines, and sometimes it can get very complicated. It also doesn't help that some manufacturers have poorly written manuals. But with Little Tikes, the process is pretty easy anyone can do it. You can get it done real quick too.
It's durable. The fact that it is just for indoor use means you don't have to worry about it getting damaged anytime soon, as it doesn't have to weather the elements over the years. That's often the primary reason why trampolines break down. Besides, it is made of tough materials to withstand normal wear and tear.
Here are some of the drawbacks you need to be aware of before you buy the Little Tikes 3:
CONS
You can't fold it for easy storage. One Little Tikes 3 review complained that it looks like a bulky contraption when you store it. What's really annoying is that it actually says in some packages and instruction manuals that you can fold it up. Sadly it's not true at all.
It's often out of stock. This is a common problem when you want to buy a product that's very popular. Then again, you can always check online for sellers that have it in stock.
Frequently Asked Questions (FAQ)
What happens when a child does not use the handlebar?
That's the sort of thing that leads to accidents. Sometimes a child may jump up and not land on the trampoline, and this can cause injury. That's why before you let your kids use this trampoline there should be an adult present to make sure they use the handlebar.
Can bigger children use it?
It's not recommended for bigger children. It can tip over when they use it, even if the materials on the trampoline can accommodate their weight.
Final Verdict
The Little Tikes 3′ Trampoline is great for young kids, as well as for small 6-year olds. If you also have older kids at home, you should warn them not to use it since it's not suitable for them. For those who are on a budget, buying this particular trampoline is definitely a wise choice.