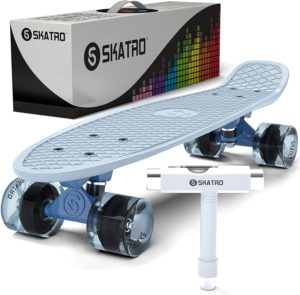 Are you searching for a mini skateboard for cruising?
Do you want to purchase a less expensive mini skateboard instead of the penny board?
Do you want to purchase an easy to ride andmini skateboard for your kid?
Are you finding a less expensive mini skateboard for learning skating?
Don't panic, there are so many questions but only one perfect solution for all of you. Yes, I am telling you about the Skatro Mini Cruiser Skateboard.
This significant mini skateboard is ideal for cruisers, beginners, and kids.
You can realize its importance after reading this informative article. So start skating through this article before going to shop or Amazon.com.
Specifications
| | |
| --- | --- |
| Type | Directional |
| Deck | Plastic |
| Board Dimension | 3 x 6 x 22 inches |
| Wheels | 59 mm urethane Skatro wheels |
| Bearings | ABEC 7 Skatro bearings |
| Trucks | 3 inches aluminum trucks |
| Item weight | 4.7 pounds |
| Shipping weight | 4.98 pounds |
| Color | Single |
Exclusive features of thisSkateboard
The 22×6 inch flexible mini deck is made of plastic.
It contains 59 mm urethane Skatro wheels.
The wheels include ABEC 7 rating Skatro bearings.
It comes with 3 inches aluminum Skatro trucks.
The skateboard weighs 7 pounds only.
Available in 4 different single colors (Black Rainbow, Mint Bliss, Purple Paradise, Blue Ocean, White Panda)
Includes a color matching T-tool.
Contains Kicktail.
Themostinteresting featureof this board is that Skatro makes its parts. They don't use any parts from another source in this skateboard. So this skateboard is designed and assembled perfectly and provides better performance than any other brands. More: Best Skateboard
Best Benefits
Its flexible plastic mini deck is suitable for cruising and carving. It is suitable for all ages, especially for kids and novice riders.
It is the same as the penny board, but it is twice cheap as the penny.
The 59 mm wheels are enough for the 22-inch deck which is suitable for kids and novice to control the deck.
It is very lightweight (4.7 pounds). So it is very easy to ride and control. You can also carry it anywhere with you.
The wheels contain ABEC7 Skatro bearings which provide fast speed and more stability.
The deck contains a kicktail which helps the cruisers to do smooth and perfect tricks and provides a lot more fun.
Other Benefit
The Skatro Mini Skateboard comes with a T-tool. You can replace or tune up the parts like wheels, trucks easily with it whenever you want.
Who and when need it most?
As it is a mini and lightweight skateboard like a penny board. So it is suitable for cruisers, beginners, and kids. Plus, it is super stable and very easy to ride and control. Cruisers can get a lot more fun with this skateboard by doing a lot of tricks. You can also choose it for your kid as it is more suitable for kids considering their small shape.
Customer reviews
This Skateboard hits the market. Most of the customers said that this product is less expensive for them and they bought it instead of the penny board. The major customer bought this product for their kids and they said that kids can ride and control it easily and loved it so much. The customers are completely satisfied with this skateboard.
Pros
Very easy to ride and control.
You can carry it everywhere.
Twice cheap than a penny
The kicktail helps to do a lot of tricks.
Perfect for kids and beginners.
The 59 mm wheels provide more stability.
Cons
There is a funny complaint against this skateboard. One customer said that when she opened the box, it smelled of cigarettes.
Frequently asked questions (FAQ)
What is the weight limit of this skateboard?
Answer:This skateboard can hold up to a 220-pound weight.
What is the softness of the wheels?
Answer:The wheels are really soft and you can get a soft ride.
What kind of bearings does the skateboard come with?
Answer:ABEC7.
Conclusion
You can save your money if you purchase Skatro Mini Skateboard. Because it is less expensive than the penny board but provides the same performance as the penny. Now, the decision is totally up to you.