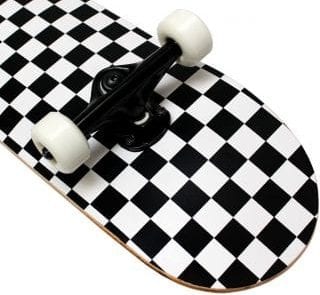 Are you a skate lover?
Do you want toride a skateboard as your wish?
Do you want a well-controlled skateboard?
So why are you waiting?
Order today and get yourself on the KPC Pro Skateboard Complete and start your smooth journey with KPC.
No more fear of imbalance for the bad quality board. You can experience a firm ride with this skateboard as it has smooth Krown graphic wheels. You can have a better turning with the help of assorted havoc trucks with assorted colors. It comes with a black grip tape.
This ultimate skateboard is ready to fulfill your wish and already gained high customer satisfaction.
Let us know thespecifications
| | |
| --- | --- |
| Graphic | Ace, Black and white checker, Black and red checker, Blue flame, Heartagram, Red and white checker. |
| Deck | Canadian Maple Construction |
| Dimensions | 3.9 x 7.7 x 31.5 inches |
| Weight | 7 pounds |
| Type | Bidirectional |
| Shipping Weight | 8.2 pounds |
| Size | 31.5-Inch |
Exclusive features ofthe KPC Pro Skateboard Complete
Its 31-Inch stiff deck is made of Canadian Maple construction.
Contains assorted havoc trucks with assorted colors.
This skateboard contains 52 mm Krown Graphic Wheels.
The wheels contain ABEC 5 rated bearings.
The deck comes with a black grip tape.
Themost interesting featureof the KPC Pro skateboard complete is that its sturdy deck can hold heavy weight. The deck is strong enough for a 200+ pounds rider. So you can get an enjoyable riding experience without any risk of bending.
Best benefits:
It comes with a beautiful combination of various deck graphics like Ace, Black and white checker, Black and red checker, Blue flame, Heartagram, Red and white checker which provide a wide variety of choices.
Its ABEC-5 bearings along with 52mm Krown Graphic wheels will give you the smoothest riding experience.
Its high-quality black grip tape ensures better traction on your feet with the skateboard and you must get a mind-blowing journey.
And its 7.75-inch wide deck is wide enough for tall riders. So, you can get better positioning on this skateboard.
Beginners can learn skateboarding with this skateboard quickly and easily. Because it is very easy to control.
Other Benefit
This skateboard is thick and lightweight but more durable. You can carry it everywhere with you because of its great thickness and lightweight. Plus kids and beginners can get extra control with this skateboard.
Who and when need it most?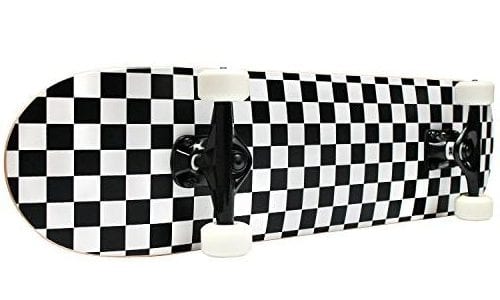 KPC Pro Skateboard is made especially for both beginners and pro riders. You can use it for cruising or travel. It can be easily controlled. If you want to have fewer bumping rides on the road, this skateboard is perfect for you. Its perfect shape and size allow you to stunt swiftly, stop perfectly and have a better grip.
Customer reviews
Most of the customers said that this is awesome and the company is true to its words. They are enjoying their riding time with this significant skateboard. Most of the people recommended it as a gift for under-aged riders.
Customers also said that it is smooth and perfect for running and turning because of the suitable trucks and wheels. This skateboard got a huge positive response for its less weight also.
Pros
Low-cost ownership.
Well-designed shape.
Easy to carry because of its lightweight.
Marvelous graphics design.
Provides smooth and perfect riding.
Less a bumpy eve on a rocky street.
Cons
Its grip tape can be tear if you don't use it with care.
Frequently Asked Questions (FAQ)
Do the wheels of the skateboard slide perfectly without bending?
Answer: The board is made of Canadian maple wood so it's strong enough to carry a sufficient load. So it won't bend. Moreover, the wheels are soft enough to slide perfectly.
What is the weight limit?
Answer: Manufacturers said according to the experiment that it can carry 200+ pounds without any problem.
Is it a complete one?
Answer: Obviously this is a complete one for your smooth and firm-riding.
Conclusion
If you want something luxurious and perfect for skateboarding or searching for any marvelous gift for anyone at a cheap price, KPC Pro Skateboard Complete is the best option for you. So don't be late to be an owner or buyer of such a great longboard with a lot of color and design.