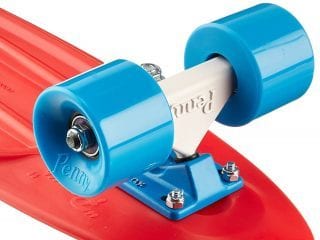 Do you take very little care of your things?
If yes, then you must like to get a skateboard which requires very little maintenance.
Penny graphic complete skateboard is a lightweight and plastic skateboard that is constructed with secret penny plastic formula. Because of its lightweight, it becomes easily portable for persons with less weight.
Specifications
| | |
| --- | --- |
| Dimension | 3.94 × 4.72 × 22 |
| Shipping weight | 4.3 pounds |
| Sport type | Skate |
| Long | 22 inches |
| Construction | Secret Penny plastic formula |
| Bearings | Penny ABEC7 |
| Wheels | 59mm 78A penny wheels |
| Kicktail | Yes |
The outstanding features of the Penny Skateboard
This skateboard includes a kicktail.
It has 59mm softie 78A bearings.
Thispenny boardcomes with 3.125 inches hanger trucks.
There is a wide range of colors on this skateboard.
It does not need any grip tape.
Themost interesting benefitof penny graphic skateboard
It comes in a huge range of colors so that you can choose your preferred one. This feature makes the board stylish and spectacular.
Best Benefits
The reasons for being best seller skateboard on Amazon are illustrated below-
You can easily carry this compact and lightweight skateboard anywhere you want.
There is a deep crosshatch design over the top of the penny complete skateboard which can be used as a grip tape. You can also attach a grip tap over the crosshatching.
There are so many options to choose from the penny skateboard of different designs. You can choose either molded design or painted. If you are worried about the scratch over the board, then you can choose the molded design.
Like most high-performance skateboard, it comes with ABEC7 bearings to maximize the performance of the wheels.
Its soft wheels can bite the uneven road easily and make your ride smooth.
Other Benefit
You will get all replacement parts of the skateboard from penny.
Who and when need it most?
It's a great beginner's skateboard, especially for children. This tiny and featherweight board is super easy to carry for children, women and men with less weight.
You can use this plastic board roughly since it needs very little maintenance. You can steer it easily over sidewalk cracks. This skateboard is good for cruising and carving. You can use it for going to school or daily cruising.
Customer Reviews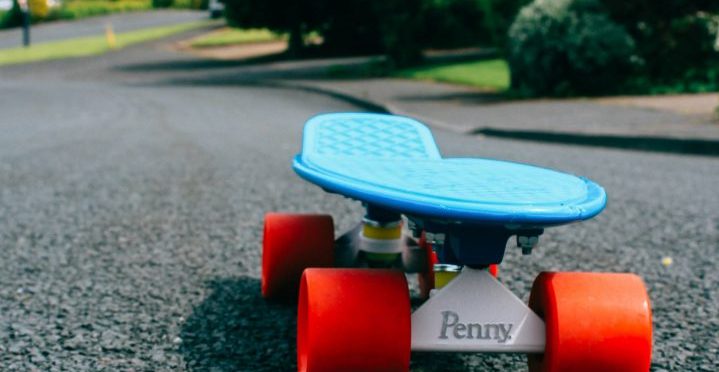 Customers of this mini skateboard are almost satisfied with the performance of the skateboard. They find it as a long lasting skateboard. The speed of this board is fast. They are happy with the stability and flex of the board.
Pros:
Though this one is a cheap skateboard, it's not the cheapest board.
For easy control, this skateboard includes a kicktail.
This complete skateboard comes fully assembled.
Since it is made of plastic, so it's lightweight with a 4.3 pounds weight.
Its large wheels provide you a smooth ride over cracks and bumps.
Cons:
You may find the colors of the skateboards are a little bit different from the color shown in the picture.
Frequently Asked Questions (FAQ)
Is it easily portable for children or thin persons?
Answer: Yes, the children of 6 years and any thin persons can carry it easily as its weight is only 4.3 pounds.
Can I steer it on sidewalk cracks?
Answer: Yes, it's made of high-performance bearings and soft wheels so that you can easily steer it on a rough surface.
Does it come with any grip tape?
Answer: No, it doesn't come with a grip tape. But you can easily carry it since it comes with a crosshatch design on the top of the board. You can also add a grip tap over the crosshatch.
Conclusion
Penny graphic skateboard is a lightweight as well as a durable skateboard. You can enjoy your skating at great speed if you are skating with this one. If you like to have low maintenance board, then you can use it. It is a long-lasting and high-quality plastic board from Australia. But you have to be sure before buying that you are buying the real penny board from Australia.