Do you have a passion for down hilling and carving?
If your answer is yes, you can take the longboard from Yocaher.
This 41-inch longboard is easy to operate for beginners and professionals. You can carry this lightweight longboard anywhere comfortable. Heavy-duty trucks, Q-ball wheels and high-quality bearings ensure easy and smooth driving. After going through this Yocaher longboard review, you have to say – "it's a great longboard."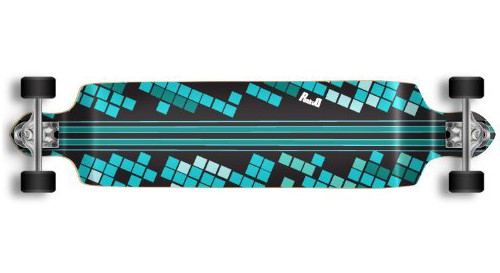 Let us know the specifications
| | |
| --- | --- |
| Dimension | 41.25 × 9 × 5 inches |
| Weight | 8.51 pounds |
| Concave | High |
| Trucks | HD7 |
| Hanger | 180 mm |
| Bearings | ABEC 7 |
| Deck | 9-ply maple |
| Wheel base | 33″ |
| Grip tape | Premium grade 80A |
| Flex | None |
Salient features of the Yocaher drop down longboard
The length of this longboard is 41.25 inches.
Yocaher longboard has heavy duty trucks HD7.
It comes with a 180 mm hanger.
Yocaher drop down longboard comes fully assembled.
Its deck is made of 9-ply Canadian maple.
The most interesting benefit of the Yocaher drop down longboard is that its Q-Ball wheels are better than other wheels to ride at high speed safely. This one has 70 × 52 mm Q-Ball wheels.
Best Benefits
This Yocaher longboard ensures smooth riding as its wheels are shocked and stain absorbing. Its low center and extended deck are also helpful to ride the board comfortably.
Since it's 41.25 inches long, so you can control the board easily. You get enough place to become attached to the board.
If you are looking for stability as well as high speed in a longboard, then this one is best for you. Its hard deck allows you to cruise at high speed with stability.
Most of the high-performance longboard have good quality bearings as the functionality of the longboard rely upon the bearings. It comes with ABEC7 chrome bearings.
You can maneuver this drop down longboard at high speed as it has 70 x 52 mm Q- Ball wheels of 78A hardness.
Other Benefit
Although it is made for the professional rider, beginners can also ride the Yocaher drop down longboard.
Who and when need it most?
As the name suggests this Yocaher drop down longboard from Yocaher is made for professional riders. It is constructed considering the needs of professional riders. But beginners also find this longboard easy to ride.
You can use this board for carving, down hilling and town cruising.
Customer reviews
Customers recommend it for down hilling and cruising on the flat surface. Some of them told that they are using it for 2 to 3 years. They think it is a high-quality longboard at a cheap rate.
Pros:
Since this board is non-flex and includes drop down mount feature, so you can use it for speed boarding.
Its ABEC 7 chrome bearings ensure a smooth ride and increased durability.
For a heavy person, this one is perfect since it can carry a weight of up to 300 lbs.
You can use it for downhill riding at the speed of 35 miles in an hour.
As the hardness of the wheels of this board is 78A, so it ensures better stability.
Cons:
You may hear about this Yocaher longboard that its bearings are not high-quality. If you lubricate it, then it will perform very well.
Frequently Asked Questions (FAQ)
Can I use it for down hilling and carving?
Answer: Yes, you can use this yocaher professional longboard for carving and down hilling at high speed.
Do I need to assemble this board?
Answer: No, the Yocaher drop down longboard comes fully assembled. So you don't need to assemble it.
How much weight can carry this longboard?
Answer: It can carry a person for 300 pounds.
Conclusion
This Yocaher longboard is specially made for those who like to do skateboarding professionally. You can go anywhere at high speed since its features ensure smooth riding. As its deck has drop down feature, so this longboardis easy to ride.
By changing some parts of this board, you can make it suitable for the starter. After being the expert on riding the board, you can use it professionally.