With great fun comes great responsibility. At least this is true forgood trampolines. If you want to make the most out of this leisure equipment, you have to make sure that it's safe to use. Learning to stake down a trampoline is one of the best ways to do that.
Some insurance companies actually require that trampolines are tied down to the ground to provide home insurance coverage. It makes perfect sense, really, as these things can pose lots of dangerwhen lifted off the ground. Their size and weight can really wreak havoc under the right circumstances.
How do you do it, though? Here are a few tips and considerations for doing so.
Things To Consider about How to Stake Down a Trampoline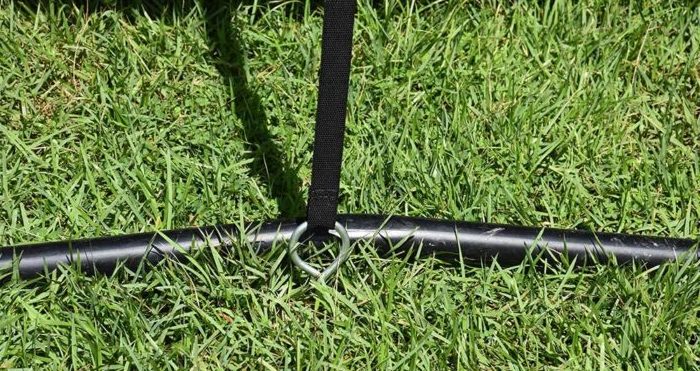 Why You Need to Stake Down Your Trampoline
Most first-time trampoline owners' common mistake is delaying the necessary work required to anchor the equipment on the ground. With the size and weight of these things, it's easy to see why some homeowners don't feel the need to do this.
The following reasons might just help you change your mind, though.
1. Safety From Injuries and Property Damage
You don't have to own a trampoline before or have a neighbor with one to know that these things can fly. Just a quick online search about thedangers of trampolines will tell you that tying them down is the best way to keep your kids, property, and neighborhood safe.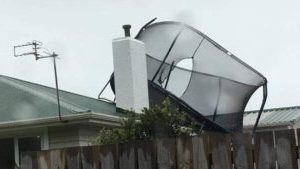 For one, trampolines can be easy to push upwards at the right angle or with some
safety nets
up. Once they do, they can get caught in and crash on things. In some cases, they even caused fatalities. Such occasions can lead to serious and costly property damages.
Bouncing on a trampoline can also cause it to move. This can then cause jumpers to land on the springs and frame of the trampoline. As this usually leads to injuries, it's a serious matter that you should also try to prevent.
The first people who are at risk of getting hurt or damaged are the trampoline owners. This makes anchoring a must to protect your family and property. You can look at this task as a part of being a trampoline owner so you'll feel even more compelled to get it done.
2. Theft Protection
Learning to stake down a trampoline can also help you prevent theft. Because this leisure equipment is valuable and enviable, it's not surprising that they'll be targeted by thieves. They've left outside of the house anyway, so they become easy targets for burglary.
Anchoring them to the ground can deter such crimes, though. So even if you don't live in a region that experiences typhoons, hurricanes, and strong winds, you'll still benefit from securing your trampoline to the ground.
3. How to Stake Down a Trampoline?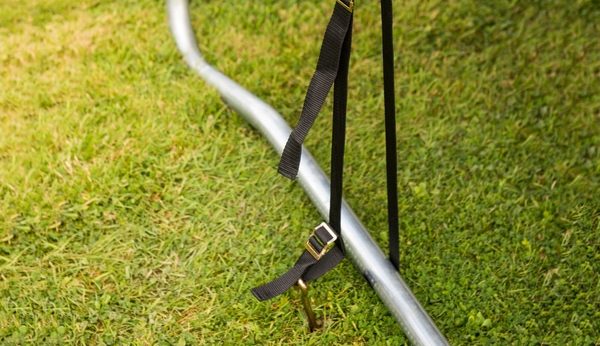 Securing a trampoline to the ground is relatively easy. You have a few different options to do it using various tools. So to learn how to get the job done, you should also be aware of all of them. This way, you can choose which one will work for your needs. These options are:
4. Permanent vs Temporary Anchoring
Burying down earth anchors is deemed as a temporary method of securing trampolines to the ground since you can still take them out. Some will be difficult to unearth, especially if they're buried nicely and if they're designed to have a good grip on the ground. They're still possible to take out, though, so they're still pretty temporary.
If you wish to permanently stake down a trampoline, you'll need some cement to secure the tool you'll use to anchor the trampoline too. Instead of burying your anchor to the ground, you'll sink them in a cemented hole in the ground to ensure that they'll stay in place.
Choosing between the two should depend on the local climate and whether you're willing to maintain your unit all year round. Homeowners in more temperate climates can leave their trampolines out all year, so a permanent fix can be a good choice. Those who experience inclement weather for a good portion of the year should have ways to easily pack away their trampolines.
5. Choosing the Right Tools
You also need to use the right earth anchors to get the job done. Staking down a trampoline to the ground will let you use a few different kinds of tools.
These are the following:
Traditional Stakes vs Auger-Style Stakes vs U-Shaped Stakes
Traditional stakes are the very poles with loops on one end and a pointy end on the other. These straightforward earth anchors are easy to put into place and can work with any kind of soil. They're also relatively easier to remove.
Auger-style stakes are true to its name as it features a helical shape that provides a good grip on the ground. They're basically screws, so they guarantee a secure hold and proper anchoring for trampolines. They can be challenging to put in place, though, so you have to be quite patient with them.
U-shaped stakes are different from the two as they will hold your trampoline's feet down. It's designed to go on top of the width of your tube steel so they can effectively keep the trampoline in place. However, their length can determine how easy they are to take out. Choose ones with long pins so they'll be harder to take out.
Stakes aren't the only thing you need to secure your trampoline down to the ground. In most cases, you'll also need some heavy duty straps to attach the frame of the trampoline to the earth anchors. These items should be highly durable as well so they won't rip and tear easily.
Final Verdict
Securing your trampoline on the ground may seem overly complicated, but it's actually quite simple. Most of the work you'll need to do to learn how to stake down a trampoline is finding the right tools, so once you cover that, you won't have a hard time.
Of course, proper execution is also very important. But with the right tips and tricks, this won't be a problem. We hope our guide gets that covered so you can get to enjoy your trampoline in no time.