Children of all ages love to jump, and that's the reason why they're enamored with trampolines. Trampolines also have health benefits, so that's another reason why you should encourage your kids to use them.
If you're concerned for their safety, a safety net for the trampoline should set your mind at ease.
Why Trampoline Safety Nets are Important
The main concern of parents is children on trampolines may fall off. This concern is magnified if the trampoline does not have a handlebar, as is the case with models for older children. With a safety net, you don't have to be concerned as there is protection around the trampoline.
These nets come in different forms, but all of them share certain features. They all have a secure entryway, and the net is made of durable materials to ensure their durability. Some of these nets are also bundled with pads to provide extra protection.
The trampoline pads provide cover for the springs, reducing the possibility the child will hit the springs. Together with the safety net, the two elements provide safety. Both features are common not just in children's trampolines but also for some adults. As a safety feature, it is hard to match.
Of course, a lot of trampolines for adults do not have any net enclosures, as they have better control and balance. For kids' trampolines however, a safety net is almost mandatory. If the safety net that came with your trampoline does not look durable, you can always look for another one online.
Trampolines with No Net Enclosures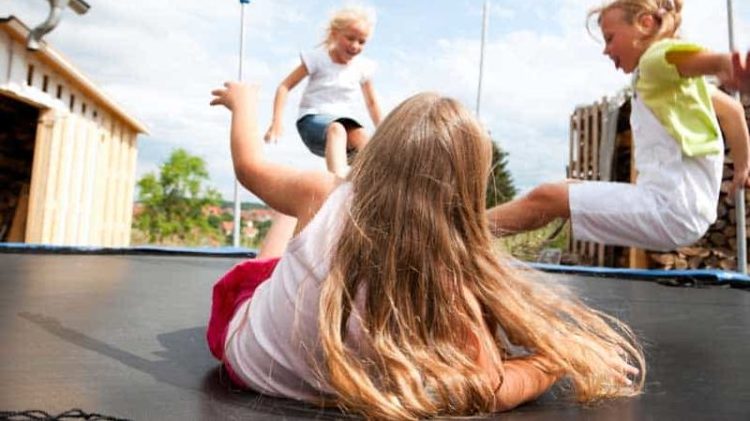 A safety net for trampoline makes a lot of sense, but not all have it. If your favorite trampoline doesn't have one but you don't want to give it up, you can always buy one. When shopping for a safety net, make sure it is made of high quality materials and from a reputable company.
A safety net is sufficient for children's trampolines, but you can always add a handlebar to make jumping even more convenient. The choice is up to you, but if you have to choose one, it needs to be the safety net. When a safety net is installed, there's less chance your child would get injured in case they fall.
Another benefit of a safety net is you can let older kids play freely. Even if your kids are experienced, the sight of them jumping on trampolines without safety nets still makes some parents nervous.
With a safety net in place, you can be confident that your children are safe in the trampoline. A safety net is no excuse not to supervise toddlers when they play. However, the presence of these nets will go far in giving you peace of mind.
Trampoline Net Assembly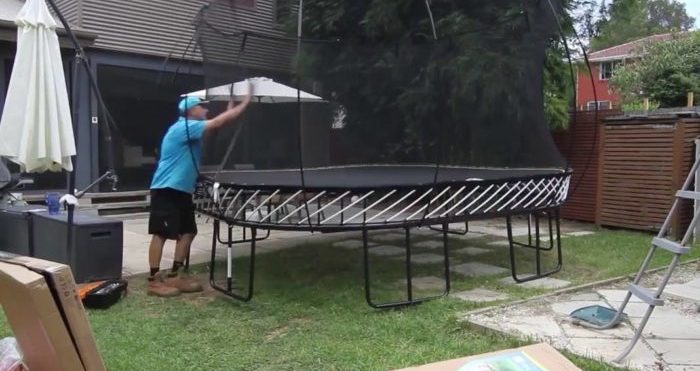 Trampoline safety nets have to be assembled, but this is easy to do.
If the safety net came with the trampoline, you just need to follow the directions and you will have it up in minutes.
The process varies depending on the model. Usually though you just need to put the bars together. These bars are responsible for keeping the net up. Once the bars are set, you use nuts and bolts to set them over the trampoline. Lay the netting, hook up to the posts and it is set.
When shopping for one of these units, don't forget to assess the installation process. A lot of the problems that arise from safety nets are from improper installation. As long as the safety net is correctly installed, the trampoline will hold up fine. Before letting your child use it however, inspect the bars to ensure they are secure.
Trampolines have become easier than ever to assemble, but you still need to follow the directions to avoid problems. The slightest mistake can affect the integrity of the safety net, making it dangerous. If there is a defect or problem with the assembly, don't let anyone use it.
Features to Look for
A well-made safety net is made from dense polyethylene or other heavy duty materials. You need to use a heavy duty net so it won't rip apart in case of a child bumps into it. The stronger the material, the more practical it is to use. Net materials used on kids' trampolines may not be made of polyurethane, but make sure that's it is still solid.
The safety net doors have to be durable and secure so there is no opening by accident and causing an accident. There should also be attachments on the top and bottom of the net for extra safety. The net should also have fortified threading along with the buckles, straps and seams.
You also want a safety net that has been crafted well. If the net is tightly woven, it is going to last longer. If you are buying a replacement for the original net, make sure it's compatible.
Other Considerations
Whenever possible, buy a trampoline with a safety net built in. Yes, it is possible to buy a new net, but it is more convenient if the safety net is already bundled with the package. Now all you have to do is assemble the trampoline and your child can go ahead and play.
Don't let young children play on the trampoline without someone watching over them. Yes, the net provides protection, but you still have to be careful and not leave anything to chance.
Once your child is in the trampoline, inspect the door and make certain that it is securely latched. Don't just focus on the safety net as you also have to look at the other parts and make certain they are as in working condition. After the trampoline has been used for some time, look for signs of damage and have it fixed immediately.
Trampoline Net Repair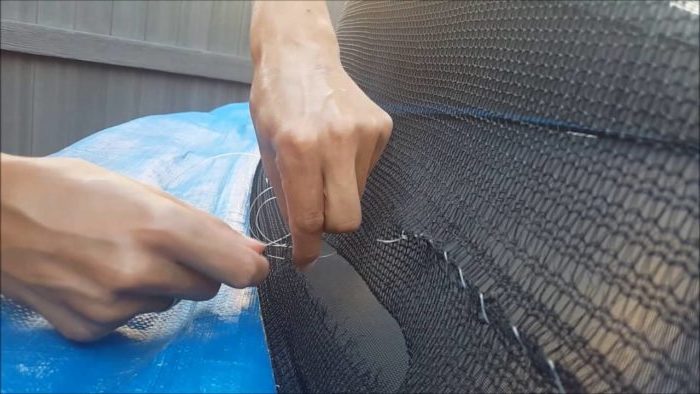 The trampoline net or enclosure is crucial for your protection
Thesafety net or enclosure is made of soft but high quality material. It is woven to provide protection to the jumpers and often extends as high as six feet from the base of the trampoline. And it is held together by poles and foam sleeves and keeps jumpers, especially children, from sustaining injuries while playing.
It keeps them from falling off or over extending as well as protects the jumper from coming into contact with the solid parts of the trampoline. When in use, it is important to keep the safety net or enclosure zipped up. Not doing so will cause the fabric to be loose in some areas.
The repaired trampoline net should be inspected prior to use
The net is made of synthetic materials that make it firm and durable. The material itself stretches just a little bit. The only way to check the quality of the net is to look for any frayed threads. This can lead to stretched portions which can further weaken with use.
Like any fabric, tiny holes might develop. These holes in themselves do not pose an immediate risk, or have any appreciable effect on the trampoline's performance.
However, tiny holes can become larger holes, and when this happens, it would be necessary to replace the whole net. Other areas of concern would be the hooks connecting the net to the springs and the trampoline frame.
When getting your net repaired, consider installing trampoline accessories
Some accssoriesprovide added safety for the users, especially for children. These accessories include anchor kits, pads, and springs. The anchor kits provide additional support for the trampoline.
The trampoline pads are placed around the trampoline, specifically on the metal frame to protect against any injuries that might occur when the user hits the side of the trampoline.
These accessories are add ons to the original package. However, if you are considering buying a new trampoline, get one that already comes with an enclosure and safety pads.
Trampoline Net Replacement

The material
When shopping for a replacement net, make sure that you choose a net made of Polyester or Polyethelene. These materials are widely used in recreational consumer trampoline manufacture and are considered the safest material for trampoline enclosures.
This material however is not the same material used in the circus, nor in Olympic competitions. They need much sturdier ones.
Correct measurements
When replacing your trampoline net, you need to measure it properly to fit the frame of your trampoline. Use a measuring tape, measure across the mat while it is installed on the trampoline, and from one ring to another ring directly opposite.
Do this twice at least to get the correct measurement. Count the number of rings, and the distance from one ring to its neighboring ring. You only need the width of the trampoline and the number of rings when ordering.
Once delivered to your home, check the item to see if it is the size you ordered; if not, request a replacement right away.
Choose a high net
Most trampoline nets or enclosures extend up to six feet high.
However, this is not the optimal size for protection – this is only the minimum for kids. If adults are the ones jumping on the trampoline, then a higher trampoline net enclosure would be needed.
While there is no exact measurement required for adults, you can gauge how high the net should be based on the average height of the people using them. The enclosure should be higher than the person while he is jumping on the trampoline.
This way, even if he hits the edges of the enclosure he will not be hitting solid parts which could lead to serious injuries.
6 Best

Trampoline Safety Nets
1.

Upper Bounce Trampoline Net
The replacement net which we are speaking about now is available in different sizes. That is why; finding one compatible with your trampoline is easy.
With the help of terelyne quality, it is incredibly durable. You need not worry about wear and tear.
Additionally, it is easy to install as well. That is why you will not have to spend a lot of time installing it either.
With a zipper and buckles, it becomes easier to get in and out of the tent. It has a dual entry mechanism as well.
The weatherproof design means that you need not worry about any weather impacting the net.
With all these features on offer, you certainly cannot go wrong with this trampoline safety net.
Pros
Heavy-duty quality
Easy to install
Dual entry mechanism
Weatherproof design
Cons
Color representation can be better
2.

Sportspower Replacement Net for 14ft Trampoline
The net which we are highlighting now is suitable for a trampoline of 14 feet. That is why; it is compatible with the large trampoline as well. This feature makes it a perfect trampoline net replacement for your large trampoline.
Not only that, the net is such that you will not have to worry about any weather. You can put it on the trampoline outdoor and let it be. And you will not have to worry about the wear and tear of the net.
You get installation instructions along with it as well. That is why, even if you haven't installed the trampoline safety net before, you will be able to install this one easily.
With the essential features, you can't ignore this trampoline safety net.
Pros
Easy to install
Compatible with trampoline of 14 feet
Weather-resistant
Instructions included
3.

Skywalker Trampolines Round Enclosure Net
With three size options available, this enclosure and is suitable for a variety of purposes.
The weight of the tent is just 6.65 lbs. That is why using it is not going to be a problem.
The rectangular shape of the tent ensures that it is compatible with most trampolines.
When you look at the material, it consists of UV-resistant polyethylene material.
The three latch clips that it comes along with ensures that you can secure the enclosure quite easily.
It offers you 8 enclosure poles, pole caps, as well as 76 V rings. With all these accessories, installing it on the trampoline is not going to be a problem.
Since it abides by the ASTM standards, you can be sure that it is safe to use. It will also last for years together as it complies with the standards.
Polyethylene material which it uses can handle any weather as well. That is why, when you have installed the net outdoors, you can use the trampoline easily for months to come.
Thus, if you're looking for a trampoline safety net that comes along with accessories, you can go with this one.
Pros
Lightweight design
3 different size options
Weather-resistant
Includes accessories
Cons
The quality of accessories can be better
4.

ULTRAPOWER SPORTS Trampoline Replacement Safety Enclosure Net
With numerous size options available, you cannot go wrong with the trampoline safety net, which we are speaking about now.
The PE material means that the net is entirely safe.
It is UV resistant which is another reason to go for it. Apart from that, it is non-toxic and designed as well.
The safety seat buckles ensure that it becomes easier for you to install it on the trampoline.
The height of the net is 1.86 meters. That is why; it can keep the adults as well as children inside.
It is compatible with 8 straight poles or 4 arched support trampolines.
The installation is easy. The construction is also non-toxic.
It means that it works with most trampolines.
The high-density mesh means that it does not suffer from extensive wear and tear. That is why; it becomes easier for you to use it for months together.
The heavy duty mesh structure certainly helps it stand out.
Pros
Heavy-duty PE material
High-density mesh
Compatible with numerous trampolines
Excellent height
5.

Replacement Trampoline Safety Net
The replacement net which we are speaking about now is available in different sizes. That is why; all you need to do is choose it in your trampoline's size. Once you do so, selecting a compatible one is easy.
With space for 6 safety enclosure poles, you can be sure that it is compatible with most trampolines.
The antibacterial coating ensures that you will not have to worry about bacteria or fungi or infesting the net. That is why; it will not result in any allergy or any other problems.
The reinforced triple stitching means that wear and tear are not going to be a problem.
It consists of adjustable straps which allow you to attach it to any trampoline. The UV coating means that you will not have to worry about the rays of the sun.
The zippered doors mean that getting in and out of the tent is undoubtedly going to be easy. The reinforced construction, along with all these features, makes it a good choice.
Pros
The antibacterial coating on offer
UV resistant
Excellent compatibility
Adjustable straps on offer
6.

JumpKing Trampoline Safety Enclosure Net
The polyester construction of the safety net is its highlight. The polyester construction also means that wear and tear are not going to be a problem.
The weight of the net is just 7.38 lbs. That is why it is easier to handle as well.
The four arch closing ensures that it is compatible with most trampolines.
There is a zippered entrance on offer. The zippered entrance makes it easier for you to get in and out.
With the help of detailed installation instructions, it becomes easy for you to install it.
You can connect it to the bottom of the net, which means that the net will always remain in place.
It is compatible with 15 feet trampoline, which ensures that you can use it with the larger trampolines.
The extra snug fit ensures that once you install it, there is nothing to worry about. Besides that, it consists of only the UV resistant material, which is another reason to go for it.
Thus, when looking for a polyester trampoline net, you should consider this one.
Pros
Polyester construction
Lightweight design
Compatible with 15 feet trampoline
Easy to install
Cons
Zipper can get stuck occasionally
Final Verdict
A safety net for the trampoline is crucial for obvious reasons. Even if you have an older child, a safety net is still recommended as it minimizes the risk of accidents.
Finding the right one can be difficult with hundreds if not thousands of options available. Hopefully, this guide helps.
Watch This Video: