If you're like most parents, you're probably getting as excited about purchasing a new best trampoline as your kids are.
When you see the fire in their eyes, it's hard not to get caught up in the heat of the moment. Let's face it. If you have a big enough trampoline, you'll probably spend some time bouncing around on your own.
But there are some great trampoline accessories that can enhance your experience, and it's a good idea to make yourself aware of them as you review your options.
Here are some trampoline accessories you should be aware of:
Trampoline Accessories
Adding accessories to your basic trampoline can turn it into a play paradise for your children. You might like to consider these accessories:
1. Safety Enclosures
If you purchase a basic trampoline, then you might need to buy a safety enclosure net kit too. The net is erected on poles around the trampoline and prevents accidents by stopping kids from bouncing off the trampoline.
Safety enclosure kits come will poles and fittings. Usually the net will have an opening to let users on to the trampoline. This can be closed with a zipper or just be a flap that drops down over the opening. Zippered or clipped openings are much safer to use.
2. Trampoline Sprinklers
Turn your trampoline into a waterpark by simply adding a trampoline sprinkler.
Basically, a trampoline sprinkler is a length of special hose with perforations that are attached to the top of your enclosure safety net. Most sprinklers come with universal fittings so that they can be attached to an ordinary garden hose.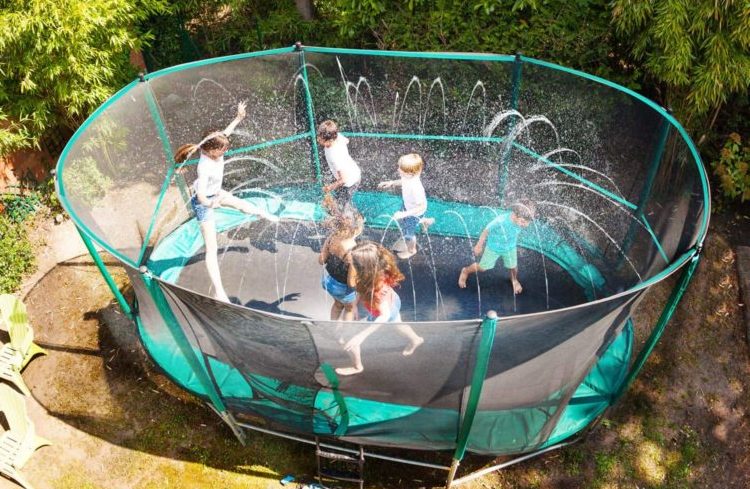 Kits come with plastic ties so that attaching the sprinkler to the top of the net is quick and easy.
Usually made from a stronger material than a normal garden hose, the sprinkler will last for years if properly cared for. Just turn the water on and your kids have a waterpark all of their own.
A trampoline sprinkler will keep the kids cool on warm summer days and give super opportunities for play. Not only that but you can also use the sprinkler hose for watering your garden and as a lawn sprinkler.
3. Basketball Hoop
A trampoline is a great place to practice basketball skills in a fun way. Hoops that fit onto the safety enclosure netting are just one type of hoop.
Some will fit onto the poles that hold the net in place. It is also possible to get basketball hoops for trampolines that a freestanding and stand outside the safety net with the hoop and backboard over the top of the net.
Most hoops are made to break away when kids slam dunk their ball. It is possible to purchase sets that include the hoop and one or more basketball. These are often foam rather than inflatable, but some manufacturers do supply inflatable balls with their sets.
4. Tents
Trampoline tents come in a variety of sizes and styles. Some look like normal camping tents while others are taller and colorful and look as if they escaped from a Disney movie.
Some tents work as enclosure net covers, and you just slip them over the enclosure to create your tent. Other tents require you to remove the enclosure before erecting them.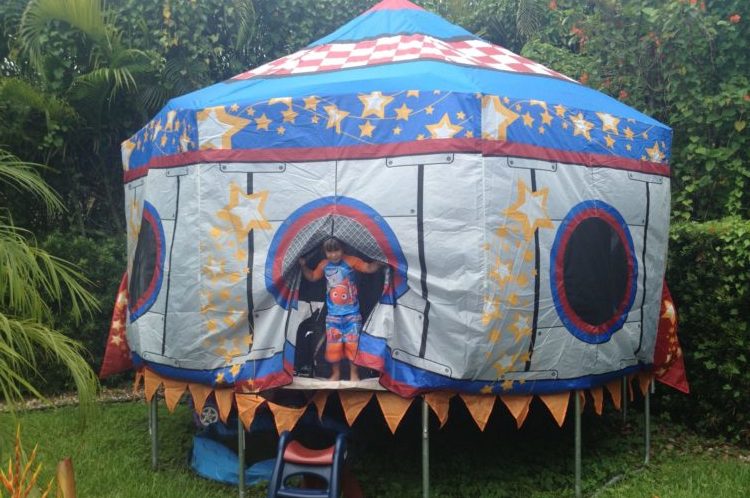 Tents can be great fun for kids, offering lots of play opportunities. They can be playhouses, hideouts, secret headquarters or just a place to chill.
5. Trampoline Bounce Board
If you have trick loving skateboarders, water borders or snowboarders in your family, they will love a bounce board.
These are oval foam boards with handles at each end and Velcro straps to hold their feet securely. Using a bounce board on a trampoline opens up a new range of possible tricks and stunts.
6. Ladder
Not all trampolines come with a ladder included. Little kids will certainly need a ladder to help them climb aboard, and older children and adults may need one when using a large or high trampoline.
7. Trampoline Tools
Some, but not all, trampolines come with full assembly instructions and the necessary tools. It may be necessary to buy the special tool that has to be used to hook the springs into place.
8. Anchoring Kits
It might be wise to anchor your trampoline so that it can't blow away or move when being used. Anchoring kits are readily available and are easy to fit.
Heavier duty kits will be needed for the larger types of trampoline.
9. Trampoline Cover
If your trampoline is going to live outdoors through the summer then it would be wise to invest in a cover that can be fitted when it's not in use.
A cover will protect the trampoline from damage by hail or heavy rain and also stop pets from jumping on the unprotected mat.
10. Shoe Storage Rack or Bag
It is possible to purchase foldable racks or bags for storing shoes and other personal items while playing on trampolines. The racks fit onto the frame of your trampoline and can be tied to the legs. A rack or bag will help keep clutter to a minimum.
Replacement Parts
It doesn't matter how tough and sturdily built your trampoline is, there will be occasions when a part will need to be replaced.
Nothing is more disappointing than bringing your trampoline out of winter storage and finding damage or wear and tear that means a trip to the store for a replacement.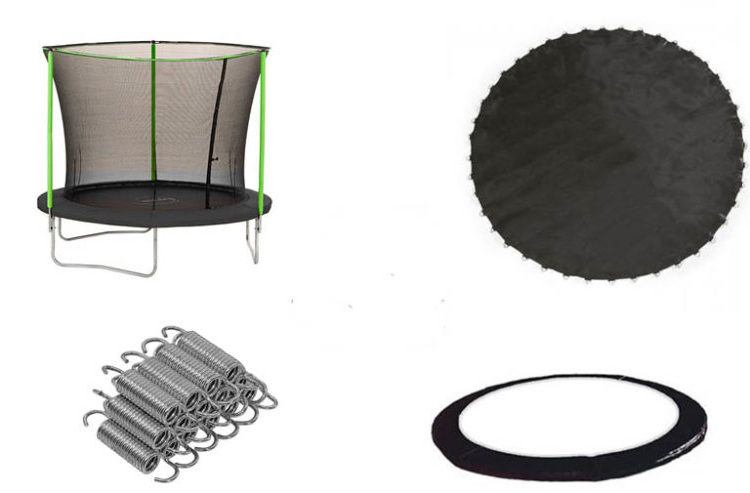 Some of the most commonly bought replacement parts are:
1. Enclosure Net
Enclosure nets can be bought separately which is good if your poles are fine but your net has been damaged in storage.
2. Safety Covers
A safety cover protects jumpers from harming themselves should they land on the springs. These covers are padded and fit neatly over the springs. Like anything made from plastic or mesh, they can suffer damage in storage.
3. Pole Protectors
If the protection supplied for your enclosure net poles has been damaged or lost, then replacements are available. Often these are foam tubes that just slot over the poles.
4. Springs
If any of the springs that give your trampoline their bounce need to be replaced, then you will need to contact the manufacturer of your particular model of trampoline. Many springs are purpose-made for each model of trampoline.
5. Jumping Mat
Sometimes despite your best efforts to look after the jumping mat, it will need replacing. Again, each manufacturer will have produced jumping mats specifically for their trampolines. However, it is possible to buy new universal jumping mats to fit the most common sizes of the trampoline without going to the manufacturer.
6. Fittings
You are ready to get your trampoline out of storage and erect it for more summer fun and there are fittings missing! Pole connectors, pole caps and anchoring rods are easy to mislay. Luckily most of these can be replaced without too much trouble.
Conclusion
There are a large number of trampoline accessories and replacement parts from which you can choose to upgrade your existing model. Depending on the accessory or part, you may be able to find it at your local store, but many require you to purchase it online. In addition, many replacement parts are only compatible with specific brands, so you'll need to make sure the parts you order will work with your original make and model of trampoline.