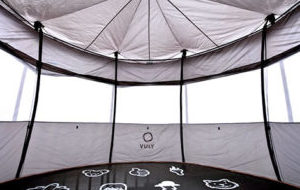 Trampolines are great additions to your garden.
They are fun just as they are, but there is so much more enjoyment to be had by just adding a few extras.
Trampoline tents are one extra that can turn your trampoline into an amazing play space.
What is a Trampoline Tent?
A trampoline tent is a purpose-made tent that fits onto your trampoline. These tents are great as a way of encouraging your children's imaginations.
They can be dens, hideouts, playhouses, castles, secret headquarters or indeed anything they want them to be. Garden camping and sleepovers are fantastic ways of using your trampoline tent day and night.
Adults will find a trampoline tent a great place to chill out after a hard day at work!
If you invest in a tall style of trampoline tent then your children will be able to bounce even if there is rain falling.
Trampoline tents come in different colors and shapes. Getting one to fit your trampoline will not be difficult.
Usually, trampoline tents fit onto the rim of your trampoline, so you will have to remove the safety enclosure before fitting.
What Features Should I Look for in a Trampoline Tent?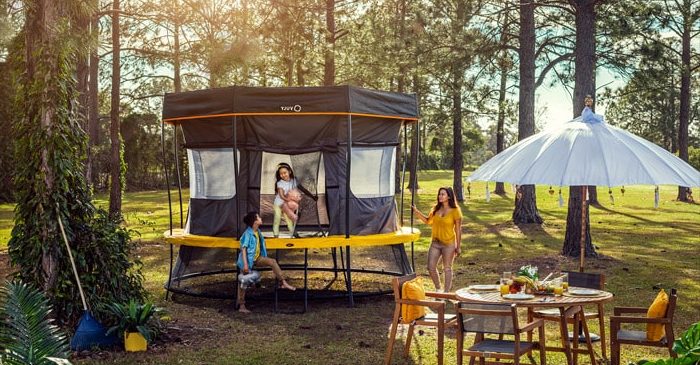 There are dozens of different brands of tents on the market, and nearly every company that installs trampolines will have some form of tented trampoline that they sell as well. Jump Power and Bazoongi make the most popular circus-house-like trampolines, and they each have several versions in whimsical designs that make the trampolines look like rocket ships, caverns, even castles.
· Quality of Materials
As with any product that will live outdoors, make sure the trampoline tent you are going to buy is made from the highest quality materials.
Ideally any rods required will be made from fiberglass and the covering material should be a strong nylon fabric.
· Safety
Always, always, always check for safety features while buying a trampoline tent. The more safety features it has the better it is.
· Size
You need to measure the size of your backyard and then choose the appropriate size for your trampoline. If you have small children, make sure that they can easily get in and out of the tent. So, always go for a big tent if you want to store other things in your backyard.
· Weather Resistant
Your trampoline tent is going to be outside in all weather conditions. The material it is made from must be water resistant and have UV protection.
· Design
A standard trampoline tent will be very similar to a normal camping tent. It will come in a plain color – often black – and will have an entrance flap that zips up, just like a normal tent.
Other trampoline tents will be more elaborate and more colorful. Some will look like pavilions from a jousting tournament, while others will have camouflage patterns, for example.
· Fitting
Fitting a trampoline tent is normally easy and takes very little time. Check when you buy your tent that it has all the necessary fittings and whether any particular tools are needed.
· Windows
Does the tent you have chosen have windows? Most trampoline tents do, but check. Some also have a roll-up blind on each window.
· Warranty
The manufacturers should include a warranty in the price of their tent. The length of a warranty will vary.
Benefits of Using a Tented Trampoline
There are two main benefits to utilizing a trampoline with a tent attached rather than a traditional trampoline.
Primarily, the tent adds safety by keeping children on the trampoline and preventing nasty falls. The vast majority of trampoline-related injuries occur due to falls from the trampoline, so the tent eliminates this risk with a durable fabric barrier.
Additionally, trampoline tents provide shade for children while they use the trampoline, keeping them cool and extending the usable season for the play structure.
Best Trampoline Tent for Your Trampoline
This list of trampoline tents that we think are a good investment, both financially and in your children's level of fun. They are not listed in order of merit.
1.

Jump Power Trampoline Tent
This particular trampoline tent is only available for 14ft round trampolines, which is the most popular size and shape in the US. It is available in black or black and orange.
The materials used in manufacture are of top quality and are UV-protected and weather resistant.
There are windows to allow those inside to see out, and also parents outside to keep an eye on what is going on inside.
The rods that hold the structure are made of fiberglass for strength and safety. Although not very colorful, the tent looks good and unobtrusive, which can be a consideration for some parents.
Expect to pay about $200 for the Jump Power Trampoline Tent. There is a 90-day warranty.
2.

Acon Trampoline Tent
This trampoline tent looks just like a standard camping tent, but is designed to fit around trampolines. 12ft, 14ft and 15ft diameter trampoline tents are available.
The tent is 4ft 6 inches high from the trampoline mat.
The package contains the tent itself, plus poles and brackets. There is also a storage bag so that the tent can be kept in good condition when stored away.
The price for the Acon Trampoline Tent is $129. It comes with a generous 1-year warranty.
3.

Vuly Thunder XL Tent Walls and Shade Cover
If you own a Vuly Thunder trampoline then this is a must-buy accessory. The tent comprises tent walls and a shade cover.
The walls can be fitted on their own to provide privacy but still allow parents to see through the windows. The roof can be fitted to provide added shade or protection from the rain.
Vuly is a top-of-the-range trampoline manufacturer and their tent is also top-of-the-range. It is made from sturdy, high-quality materials and will last for many years of uncompromising use.
As well as being top of the quality range, Vuly is also at the top of the price range. This tent package is priced at $449.
If you own a Vuly Thunder PRO trampoline, then a similar tent is also available priced at $499.
4.

JumpSport Big Top Trampoline Tent
Designed to look just like a circus big top, this tent will prove a hit with all children. It will fit both 12ft and 14ft round trampolines and stands 5ft 5 inches high.
It is specifically intended to match up with JumpSport's own safety enclosures.
This tent boasts 3 windows and a door all fitted with zippers and screens. Installation is easy and should take about 10 minutes.
Expect to pay about $160 for this tent.
5.

JumpKing 10ft Tree House Print Trampoline Tent
The tree house print in browns and greens will appeal to any kid who loves outdoor adventure.
The inside of the roof is printed with the night sky so camping out overnight will be just like the real thing.
The biggest drawback is that it is not a universal design and will only fit a 10ft Bazoongi Kids trampoline.
Sturdily made from polyester fabric to make it weather resistant, there is a zippered door and a large window.
Priced at $130
6.

Rocket Spaceship Kids Trampoline Tent
Here is a Rocket Spaceship Tent for a small trampoline.
With a large door, this is ideal for small children who want a bit of excitement when using their trampoline.
Easy assembly with foldable tent pole (no tools required); just unfold the tent, insert the pole and fix it with a tie.
The fabric would benefit from being sprayed with a UV protector.
Otherwise the tent will need to be taken indoors when not in use.
The normal price is $29 but can often be purchased for less.
What Are the Different Shapes of Trampoline Tents?
This is the most important question you have to ask yourself before making a purchase. The best way to get an idea of what trampoline tents are available is to look at the different types of trampoline tents.
Here are some of the most common types of trampoline tents available on the market:
Cage Tents
Frame Tents
Pop-Up Tents
Gazebo Tents
Canopy Tents
Screen Rooms
The type you choose will depend on what you are looking for, and what type of trampoline you have. If you have an above ground trampoline, then cage tents are not recommended for you; you need to find another type of tent.
Check with the retailer to see what type of tent they recommend for your specific model of trampoline. This is because each type has different applications, and therefore suits different people.
Conclusion
Trampoline tents are ideal for families that have small children, as these younger children will appreciate the imaginative designs and parents will be more comfortable knowing that their children cannot fall from the trampolines. However, these enclosures do not guarantee a child's safety, and they are not intended as a substitute for supervision.
All trampolines should be carefully monitored by an adult at all times, enclosed or not.
Some of the most popular color and themed trampoline tents have recently been discontinued. We confidently expect that new designs will soon be released. Keep watching online!