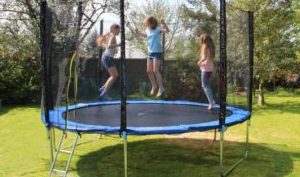 Do you have a child who loves trampolines? Or are you an adult who is looking for a bouncer as part of your fitness routine?
Trampolines are a great recreational and fitness tool, but it is important to get one that is safe and can last for years of rough use.
Deciding on the best trampoline to buy can be a challenge.
The Best Trampoline Guide is a shortlist of the best trampolines for each category together with trampoline reviews, safety guidelines and information on how to choose a trampoline, compiled in my search for the best trampolines available.
I have a daughter who first played on a trampoline some years ago. I remember the look on her face; the bright spark of excitement at the first sight of the bright blue trampoline that sat on the lawn.
As a toddler, she had always loved playing in bouncy castles, but this was a whole new level! (The Tricks to Train Your Kids to Play with Trampoline Safely)
Expect to pay about $250 and up for a 12-foot round trampoline. Anything below this price will have quality issues and should be avoided (of course size matters too, smaller 8 foot models of the same brand will cost less).
You can get a good value trampoline in the $200-$500 range. These are round trampolines for family fun. Really good quality models will cost between $700 and $2,000, depending on the size.
These are generally rectangular in shape and make sense for gymnastics.
Best Trampoline Shortlist
Here are my top trampoline recommendations:
Don't forget to add a ladder and anchor kit for outdoor trampolines!
Get a trampoline as a gift for a kid or a piece of fun fitness equipment for yourself! Have active children with energy to burn?
A trampoline will provide hours of healthy fun instead of having them just sit in front of the TV or glued to an iPad.
Too many children these days lack physical exercise and we see that in the increasing obesity and general lack of fitness as a whole generation is raised on touchscreens. It can be a challenge to get kids off their video games.
The key is FUN! And a trampoline is great fun! It develops fitness and coordination. The end results are a healthier and more confident person.
Choosing a Trampoline
So which trampoline should you buy? It depends on who and what the trampoline is for. There are many options available and they vary widely in size, price and quality.
For an outdoor trampoline, I strongly recommend Skywalker for its balance of quality and price. It comes in 12 or 15 foot round sizes and also a choice of blue, green or red.
Ultega also makes a comparable 12 or 14-foot trampoline, but they seem to have quality control issues recently with some packages delivered with missing parts.
If you are willing to pay, Jump Sport is pricey but comes with a longer warranty and their patented Staged Bounce technology which is supposed to help reduce injuries.
You also need to add $260 for the enclosure which is sold separately.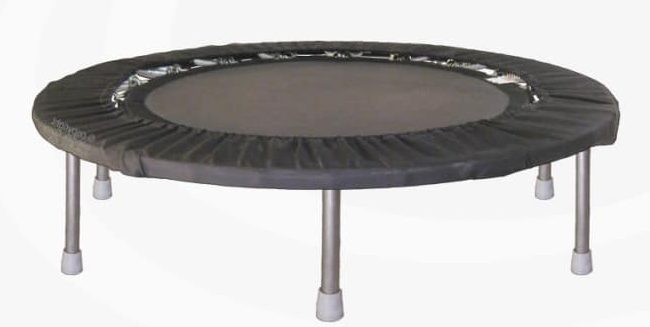 Needak Soft-Bounce Folding Rebounder
For rebounders, I would definitely go with Needak as a first choice – particularly the folding model in blue which I think is a pretty cool color! It's made 100% in the USA with top quality materials.
The important factors to consider are:
Type
Are you looking for a traditional trampoline, a mini trampoline a.k.a. rebounder or a toddler trampoline?
#1 Traditional Trampolines
If you have the space, traditional trampolines are great fun for the whole family! They come in several shapes and sizes, such as the classic round as well as square and oval. They come in several shapes and sizes, such as the classic round as well as square and oval.
They come in several shapes and sizes, such as classic round as well as square and oval. These shapes are usually designed for family fun.
Trampolines used for gymnastics and competitive training are usually rectangular in shape.
#2 Mini Trampolines or Rebounders
Rebounding is a wonderful fitness activity. It is a low-impact exercise for all ages – children, adults and seniors.
Rebounders take up very little space, and some models can be folded in half. You can rebound while watching TV, at work or on vacation! It's so much fun, you may end up fighting over it or having to buy one for each family member!
#3 Toddler Trampolines
These are similar to bouncers, but designed specifically for younger children.
Unless you want a brightly colored mini trampoline with a low weight limit, I recommend getting a regular bouncer with a stabilizer bar that can be used by both young children and other members of the family.
Safety
This is the most important factor. Your or your loved one's safety is at stake. You will be launched several feet into the air and land on a trampoline.
A trampoline must have a high-quality structure that can withstand tremendous pressure and safety features to protect you from impacts and cuts. So, if price compromises quality, don't skimp.
Either choose the best quality or a great value with good quality. (Trampoline Safety Tips)
Price
The prices of both trampolines and rebounders can vary very widely.
Trampolines start at around $100 and can cost over $2,000. Be prepared to budget close to $300 and above for a reasonable quality trampoline with a safety net. Price factors include quality as well as size and shape as described below.
Rebounders can cost from $38 to $400. A high quality rebounder will cost $200 to just over $300.
More: How Much Does a Trampoline Cost?
Size & Shape
For a traditional trampoline, you will also need to decide on the size which ranges from 8′ to 17′. Shapes include round, square, oval and rectangular as described above.
Size and shape also affect the price – the larger the trampoline the higher the cost. Round trampolines are also generally cheaper as they require fewer springs and materials compared to the other shapes.
Design, Construction & Materials
The build quality of a trampoline depends on its design, construction and material used.
Design:
Is the design stable or might it tip over? Are the springs and poles all adequately padded? Is the trampoline easy or near impossible to assemble?
(Tip 1: Don't underestimate the ease of assembly!) (Tip 2: Skywalker trampolines come with safety nets pre-attached!)
Construction:
Are the joints and parts all attached securely? You don't want the legs breaking or springs flying off. Do the pads attach securely and cover the springs adequately?
Materials:
Jumping mat, frame, springs and foam pads are all important parts. Are the mat UV and water resistant? Is the frame galvanized steel?
Weight Capacity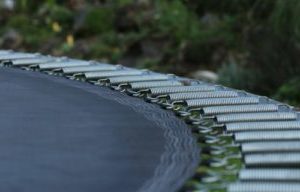 Each model has different weight capacities. Make sure the trampoline you pick can handle the heaviest user!
Delivery and Assembly
You can pick up a trampoline at the local Walmart or sports store, but it is much easier to order online and have it delivered!
Consider that a 15-Foot Skywalker trampoline comes packaged in 2 boxes with a shipping weight of 113 pounds EACH! You will need a small truck or van to transport that home.
I personally use Amazon often since I don't stay close to a Walmart and it is also a great way to send gifts to my nephews and friends.
For an outdoor trampoline, be prepared to set aside 2 to 3 hours for assembly. If you are handy with D.I.Y., you could probably complete the job in less than that. It is also good to have someone help you with the assembly as a trampoline is large and the extra pair of hands will come in very handy.
Just follow the instructions and double check all the joints and springs after assembly.
Finally, you should order a ladder and anchor kit. A ladder is very helpful with climbing on and off the trampoline – in fact I would say it's essential. An anchor kit is an important safety accessory especially in areas with strong wind and to secure the trampoline firmly.