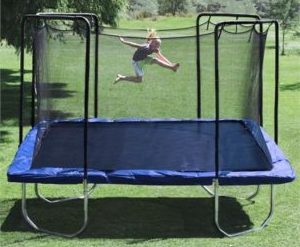 Trampolines are great fun and are enjoyed by young children, tweens and teens as well as adults. They come in a variety of shapes – round, square, rectangular, and even octagonal.
Round trampolines are the most common type with rectangular trampoline featuring strongly among those who need higher bounce and more space.
Square trampolines are less common, but are great for those who need a better bounce than from a round trampoline. They also fit more easily into available space.
A round trampoline needs more room around it than a square one, and space is wasted too.
If you only have a corner to set up your trampoline then a square one is a sensible choice.
The only drawback is that the sturdier, heavy-duty trampolines tend to be rectangular rather than square.
Square trampolines are really popular for young kids and there is a good selection available.
Square Trampolines for all the Family
---
1. Springfree 11ft Large Square Trampoline
The notion of not using springs has led Springfree to develop a system of composite rods to take their place. They are fitted under the edge of the jumping mat. This allows the jumping mat to extend the right to the edge of the frame. No springs mean no padded cover and so there is more jumping space.
The frame is made from steel that is rust resistant, so leaving the trampoline outside for long periods will not harm it. There is a safety enclosure with the net supported on curved poles. The net is made from a material that is UV protected and the entrance is zippered.
At 11ft x 11ft the Springfree large square trampoline has plenty of room for good bouncing. It will take weight up to 250 pounds. There is a 10-year warranty on each part.
2. Springfree Jumbo Square Trampoline
We have included the jumbo version of the Springfree square trampoline as not only is it bigger at 13ft x 13ft but also will take weight up to 330 pounds. If you have a big family, more of them can bounce at the same time!
If you decide to add a basketball hoop to your square trampoline, it is worth noting that Springfree makes one that will only fit on its own enclosure nets.
3. Skywalker Square Trampolines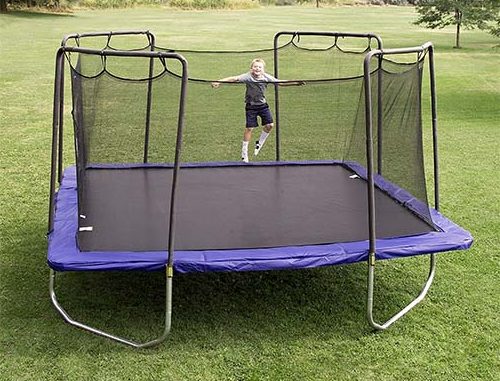 Skywalker produces reliable, sturdy trampolines that will last for years and give endless hours of fun.
The square trampolines come in 12ft x 12ft, 13ft x 13ft, 14ft x 14ft and 15ft x 15ft versions. Whatever space you have available you will be able to buy a Skywalker trampoline to fit.
All the metal parts – legs, frame and poles – are galvanized steel and rust-resistant.
The jumping mat is made from heavy-duty polypropylene and is UV protected.
There is a total of 84 springs of two types to maximize bounce.
The springs are protected with a padded cover.
4. Plum In-Ground Square Trampoline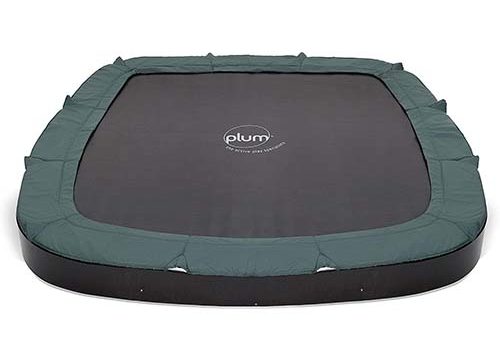 In-ground trampolines are especially designed to be sunk into the ground so that the jumping mat is at ground level. There are several advantages to having an in-ground trampoline:
· Unobtrusive
Because they are at ground level in-ground trampolines are not as noticeable as standard ones.
· Safety
Children can't fall off a trampoline that is level with the ground. The springs have a padded cover just like standard trampolines.
· Space
In-ground trampolines will make better use of space in smaller gardens.
The Plum 11ft x 11ft un-ground trampoline is sturdily built and will last for years. The jumping mat is UV protected and the whole unit is finished in green to prevent unsightliness.
There is a retaining wall to prevent soil and debris from falling under the mat.
5. Telstar Elite 15 ft x 15ft Square Trampoline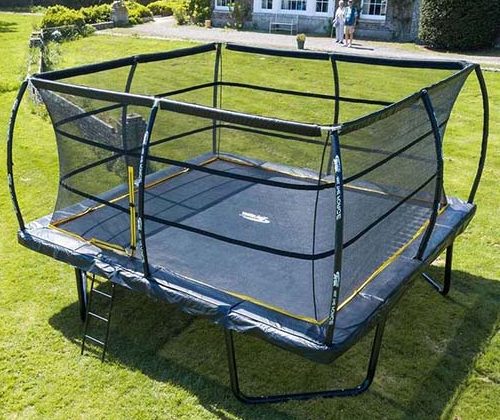 This is a solidly-made square trampoline. It has galvanized steel frame and springs, an enclosure net and poles.
The enclosure net is made with Telstar's own Rigi technology which is extra rigid and robust. This system prevents children from leaving when unsupervised.
The Telstar Elite will cope with weight up to 385 pounds. There is a 10-year manufacturer's warranty on the frame and a 1-year warranty applies to all other parts.
The Elite range also includes a 12ft x 12ft square version made to the same high standards.
6. Texas Square 13ft x 13ft Trampoline
This is a large, basic trampoline comprising a frame and jumping mat. A ladder is also supplied. Made from top-grade materials, the springs are cushioned with either green, red, or blue padded covers – the choice is yours.
There is a lot of jumping space on this mat, but there is no safety enclosure supplied. Texas is a pricey choice given that it's just a trampoline with no frills. However it is made to high production standards and will last for many years.
Square Trampolines for Young Kids
---
7. Galt Square Folding Trampoline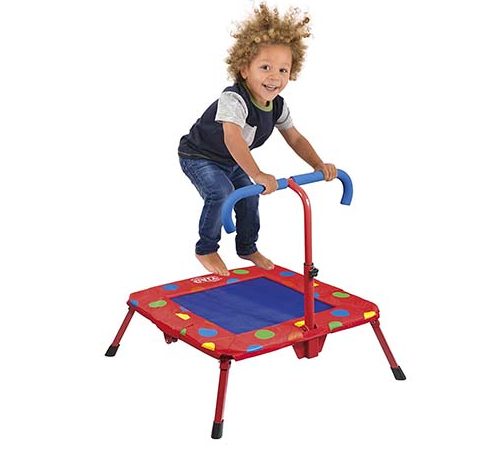 This is a superb square mini trampoline designed with young children in mind. It is best suited to children over 3 years of age. This trampoline comes with a padded handlebar and is easily folded for storage. It can be used either indoors or outdoors.
Although designed for kids Galt has not cut any corners with the quality of construction. The frame is made from powder-coated steel and has a decorative padded cover over the bungee cord that provides the bounce.
This is a great starter trampoline that will help your children stay fit and active. The recommended maximum weight is 55 pounds.
8. Pure Fun Kids Trampoline with Handrail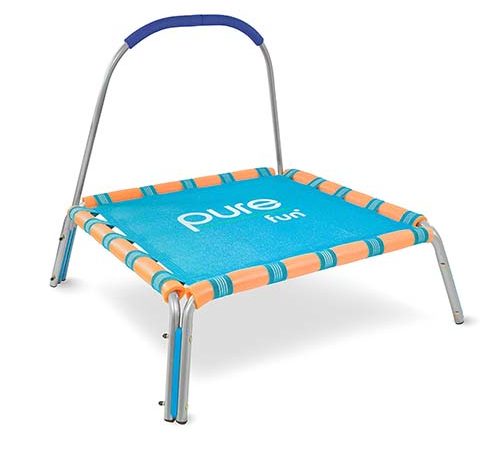 The handlebar on this kid's trampoline is longer than on the Galt trampoline. Otherwise it looks very similar, but it uses springs rather than a bungee cord. The springs are protected with a thick padded cover that features a design based on the alphabet.
The jumping mat has earned several safety certificates which is a recommendation in itself. It is also made with top quality materials and will last for years. The weight limit is 75 pounds which means children between 3 and 7 will be safe using it.
One extra safety feature that we must mention here is that the handlebar padding covers the top and part of both sides. That means that your child can grab anywhere across the top and still grab padding and so as not to be hurt.
Which Size is Best for You?
A standard square trampoline is perfect for families who want to take advantage of a variety of fun family activities. The average size is 12 feet by 12 feet. This is great if you want to do a little bit of everything.
The bigger the trampoline, the more likely your family will be able to play basketball, use it as a dance floor, or even turn it into a skateboard ramp. Some trampolines are so big they can accommodate 2 dozen people at once! You should consider the space in your home.
When choosing the size of your trampoline, you should consider the available space in your yard. If you don't have a large lot and are worried about where you're going to put it, consider buying a slightly smaller one. It is always better to pick one that is too small than one that takes up most of your backyard.
Are Square Trampolines Better than Round?
They all have their advantages and disadvantages, but in general, square trampolines are stronger, heavier, and therefore safer.
The frame can withstand the test of time and the elements – keeping the jumping mat tight and evenly spaced.
It's also more versatile than the rectangular model, allowing you to do cartwheels, tumbles and twists. Conversely, the round model is lighter and easier to carry.
If you are a beginner and are looking for an affordable trampoline that is durable and safe enough for everyday use, then a square model would be a good choice. If you want your kids to have some fun in the summer heat, then a round model might be more suitable for you.
How Much is a Square Trampoline?
A common mistake that people make is that they try to figure out the exact price of a square trampoline before they even know the size of the trampoline they need. The best way to find out how much a square trampoline will cost you is to first determine the size of the area you want to cover with a home trampoline.
Next, you will want to determine what type of square trampoline you are looking for. If you want to cover a large area on your property, a rectangular trampoline will be best, while a round or square trampoline may be more appropriate for your child's playroom.
A 12-foot by 12-foot square trampoline can easily cost $500 or more, but smaller sized rectangular trampolines can start as low as $200 and can increase in price depending on the quality and features of the product. Prices also tend to vary depending on where you buy your square or rectangular trampoline, so we always recommend that you shop around to find the perfect deal for yourself.
Conclusion
In the end, you should look carefully at all of your options. Determine which key features are important to you, and then consult this list in order to figure out which trampoline best suits your personal needs.