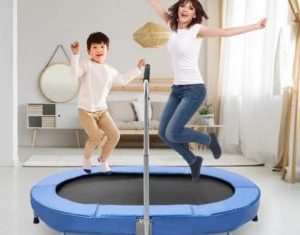 We all know that kids just love to have fun and that trampolines are great fun!
However, if you have a very small yard or live in an apartment, an outdoor trampoline is not an option.
The great news is that there is a range of indoor trampolines for kids.
Adults don't have to miss out, as there are trampolines for them too!
So let's see how you can choose the best trampoline for your kids and for you.
First, let's find out about the kid's range.
Indoor Trampolines for Kids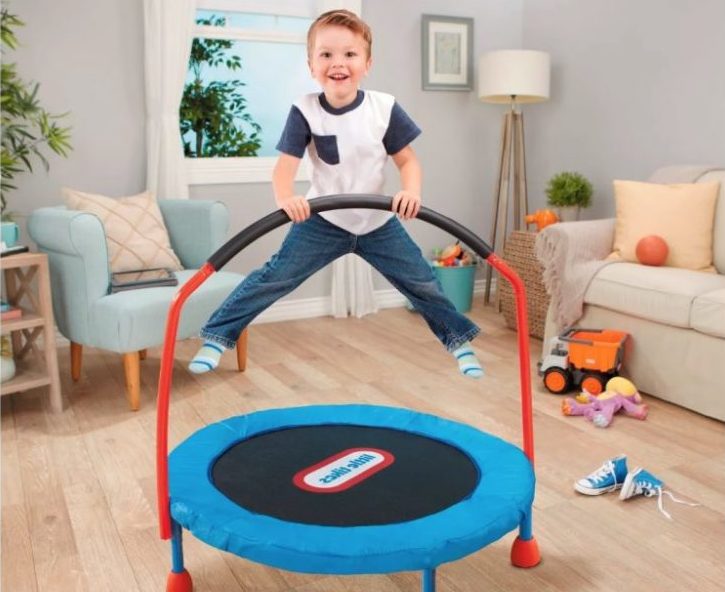 What features should a kid's indoor trampoline have?
The trampoline should be easy to store. A foldable trampoline is best for easy storage.
There must be a stability bar attached that a child can hold on to when bouncing. On some models the stability bar can be adjusted to suit the child's height.
The construction should be sturdy.
All hard elements – like the stability bar and the springs – should be padded or covered.
Although the materials the trampoline is made from do not need to be weatherproof, it helps if they are easy to clean.
You may wish to have an enclosure as an added safety feature.
Best Indoor Trampolines for Kids
Not all of our recommendations are suitable for all kids. We have included some that are better for older children.
This trampoline has a great dinosaur pattern on the safety cover.
It does not have springs but instead there are elastic loops that give great bounce.
The weight of the trampoline is less than 18 pounds. With folding function, easy to carry and transport, easy to store, in order to save space in four seasons.
At 36 inches diameter and with a secure stability bar, this trampoline is a good choice for children who weigh under 220 pounds.
You will pay between $75 and $110 on average.
This is a super trampoline for toddlers and pre-school-age kids.
Any child below 150 pounds can safely bounce and there is a padded stability bar for them to hold on to.
Elastic replace springs and there is a safety cover too.
Easily foldable for storage.
The trampoline meets and exceeds all current American safety standards: ASTM safety certification 1, 2 and 3, plus HR4040
Expect to pay about $90.
Toddlers and pre-school-age children will also be happy with this mini-trampoline.
Any child weighing under 55 pounds will be able to play safely.
There is a curved stability bar that is padded.
Like all Little Tikes toys, the trampoline is made from top-quality materials although it is designed for indoor use only.
You'll be paying about $60.
This trampoline comes with a safety enclosure.
The poles that hold it up are padded and there is a safety bar all the way around half way up the enclosure net.
A fun, safe trampoline that kids between 3 and 7 years of age will love.
They provide quality assurance, a 3-year limited warranty for the framework, and a one-year limited warranty for all other materials.
Weight capacity: 100 pounds. Costs about $82.
You will need both space and deep pockets for this beauty!
This trampoline is rectangular and is 70 inches long and 50 inches wide.
It has decent headroom as it stands 6 feet high. There are a safety enclosure, padded poles and a zippered entrance.
On top of all that, there is a swing that can be fitted for extra play. The maximum child weight is 110 pounds.
You'll pay around $280 for this top-of-the-range model.
Indoor Trampolines for Adults
Adults often choose an indoor trampoline as an aid to fitness, although it is still possible to have fun! Most adult indoor trampolines can be used by kids too, although some tiny tots might find the bounce hard to control.
Features to Look Out For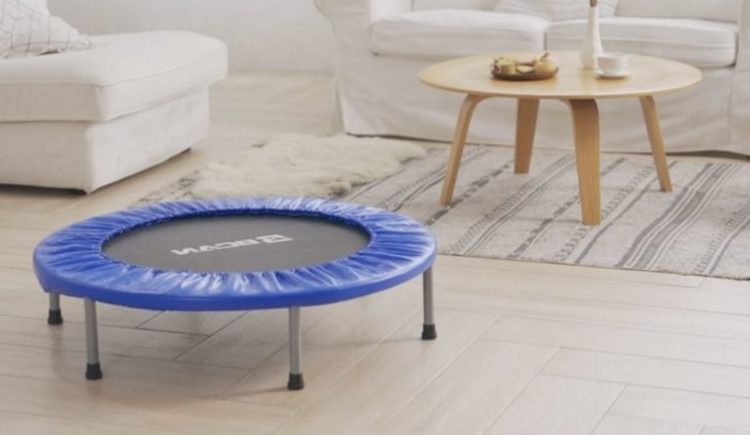 · Sturdy Construction
Your new trampoline will be taking quite a bit of punishment and you want it to last for many years, so check it is well made.
· Quality Materials
Always seek the trampoline made from the highest quality materials possible. Again, your trampoline will need to last so the materials should be the best.
· Stability Bar
Just as with kid's trampolines, it's a good idea to have something to hang onto. A bar also gives you exercise options. Some trampolines have adjustable bars.
· Storage
If you are short of space in your home, easy storage will be important. Most indoor trampolines are foldable but not all are.
Best Indoor Trampolines for Adults
This is a great trampoline for use indoors as it can suit both kids and adults.
It has an adjustable padded handlebar with 5 level options.
The Cloris is built from high-quality materials and has strong coiled springs that are rust-resistant.
It is also easy to fold, store and carry.
The design with 28 thick steel coil anti-rust springs and the weight limit is 500 lbs. It can provide enough rebound for anyone in the family.
The weight limit is 500 pounds. 1-year warranty.
Expect to pay about $90.
This is probably the simplest trampoline on the market.
It is just a trampette on legs with a safety pad covering the springs.
Simple, but great as an aid to exercise and will take some punishment.
Folds easily and can be used indoors or outdoors.
The Bcan is waterproof and has anti-slide material.
The average price is about $70.
This trampoline offers a large surface area and is primarily intended as a fitness aid.
The Gulujoy is intended for adult use supporting users who weigh up to 400 pounds.
The padded handle bar has three positions, there is a safety pad covering the springs and the construction is of high quality.
The Gulujoy is not a cheap option, costing around $140.
The Techmoo is designed for cardio fitness and as a body exerciser.
It is octagonal and has a single pole handlebar which has three height adjustments.
The handlebar has to be removed for storage. Made from high quality materials, the Techmoo can be used both outdoors and indoors.
It is a great aid to exercise. There is no safety cover over the springs.
Normally costs around $85 but deals can be found.
This is a great trampoline for fitness work-outs.
It is easy to assemble, folds for storage and is made from high-quality materials.
The springs are padded for safety as is the adjustable handlebar.
The maximum recommended weight is 330 pounds.
The Kanchimi costs about $70.
Indoor Trampolines: Advantages
The biggest advantage of an indoor trampoline is that you can use it anytime, even when it is raining or too cold to be outside in your yard. There is no weather restriction whatsoever. And you don't have to worry about any safety hazards that might be found outside on a traditional trampoline, like insects, or sand getting into the frame and damaging parts.
Indoor trampolines are also a great way for children with special needs to develop gross motor skills and improve their balance in a controlled environment where they can bounce safely. They can also get exercise even when it is too hot or cold outside. And you can take them on vacations so the whole family can enjoy some active fun together!
Conclusion
There is a wide range of trampolines available for indoor usage that are suitable for kids. Adults can have fun too. There is a huge choice of indoor trampolines for adults so there is no excuse not to go out a buy one to help you to exercise and get fit.