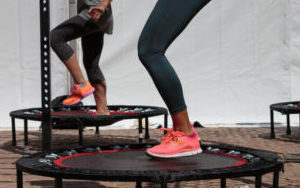 An
indoor trampoline
offers a very convenient, reliable and effective way for
cardiovascular
training.
However, not just any trampoline made for indoor use will give you the experience you are looking for.
A good fitness trampoline must meet satisfy some specific standard. It should be easy to assemble and disassemble, right in size, strong, safe, tension resistant and easy to handle.
There are several brands of mini trampolines in the market, but many people will be confused when they choose to buy.
If you have been looking for the best trampoline to use at home, then you are in the right place.
Based on features, technical specifications and customer reviews; we have reviewed the top 5 best mini trampolines you can consider checking out.
Top 5 Mini Trampoline Brands Reviews
ReboundAir brand is considered to be the Cadillac of mini trampolines industry.
This mini trampoline is made of the best materials and design. The rebounder is built on safety, performance and maximum comfort.
Its cushions withstand the most intensive use by using very durable materials and ensure maximum durability.
The spring of this trampoline is tight and thick. They are designed with a special shape to achieve excellent rebound.
The ReboundAir is also very practical to use.
Rebounds are not only toys for children, but also fitness equipment for adults.
You can do a lot of aerobic exercise on this high-performance trampoline.
As the name suggests, it features a unique design, which folds down into smaller parts or components when not in use. This makes it very easy to handle and store.
This mini trampoline is made of sturdy steel and polypropylene with a vinyl-covered frame. And the resistance band can effectively protect your feet.
It has six detachable rubber-tipped legs and 36-inch Heavy-Duty rebounding surface fitted with a safety pad.
Another great feature is the 30-band tension resistance with each band measuring 2 inches in width providing high levels of stability and durability.
It measures 36" diam. x 9H inches with weight capacity of 250lb.
This is a competitive price indoor trampoline.
This mini trampoline is very suitable for people who want to exercise to lose weight.
It has a silver frame with arching black legs. This model has a 33.5-inch rebounding mat diameter framed.
The Permatron mat is virtually silent, so you can exercise at any time without disturbing people's rest.
It comes with Fitness Trampoline Basic online workout videos, which are invaluable. The videos contain a number of exercise routines including warm-up and stretching, strength, cardio, upper body, handlebar and core. This means beginners, intermediate and advanced users can work out.
This mini trampoline will provide you the best low-impact cardio workouts for fast, high-calorie burn.
The maximum user weight is 250lb and the whole trampoline weighs just 18 pounds.
If the mini-trampoline discussed above does not meet your needs, this trampoline may be what you are looking for.
This low-impact trampoline trainer is designed to enhance cardio fitness. It has six supporting legs made of rubber heads to reduce its wear on the floor.
It also has continuous rebound bands capable of supporting up to 250 pounds of user weight.
You can use it to build all kinds of muscles, including shoulders, hips and legs.
It is also effective in boosting cardiovascular health and reducing the risks of heart disease.
This mini-trampoline comes with an optional safety bar making it safe even for children.
It retails for about $100 but you can buy it at lower prices in online shops.
A great alternative you can choose is this 37-Inch mini-trampoline from JumpSport.
It is virtually silent owing to the FlexBounce system, which allows you to work out any time of the day or night without causing a disturbance.
It features curved legs, which provide extra stability and strength as you work out.
Its 37 Inch mat design is highly resilient, but strong enough to support 250 pounds of user weight.
With this trampoline, you will enjoy a low-impact workout with a wide range of exercise routines to help trim those unsightly belly fats as well as those from other areas of your body.
It costs about $250 from most online shops.
Can You Lose Weight with a Mini Trampoline?
Jumping on the mini trampoline can not only help you lose weight, but also bring substantial improvement to your exercise. You don't need a big outdoor trampoline to get all the benefits. A small indoor sports trampoline is very suitable for comfortable sports when listening to music or watching TV at home.
You can do many different exercises on the mini trampoline, so it can keep fresh and help you do aerobic exercise, as long as you exercise your muscles. Trampoline sports trampoline is very interesting and can help you burn fat.
What Size Mini Trampoline Should I Get?
Most small trampolines are between 30 and 44 inches in diameter. Taller exercisers should choose a larger size. The 44 inch diameter increases your jump area by 40%. You can see that people use this space more, from high jump to dance.
Conclusion
These top 5 mini trampoline reviews give you an easy time to choose the right one.
This should only be used as a guide because prices change frequently and everyone has their own tastes and preferences. But you can be sure that the trampolines on this list are the best you'll find on the market.