Most trampolines are designed in such a way that their base is a few feet off the ground. This provides space for the trampoline for better jumping. But this elevation can pose a risk of accident to the users, especially for beginners.
Climbing up a trampoline while someone else is using it may cause the person to lose their balance and fall off.
So, now the question is how we can address this problem?
The answer is very simple. Using a trampoline ladder is the solution.
How does a Trampoline Ladder work?
It is actually pretty simple because all trampoline ladders are one-sided ladders. The top part of the support of these ladders is hooked which allows for easy attachments to the sides and edgesof any trampoline.
These ladders are made out of tubed metal supports that provide ample lift for those climbing on them. No matter how heavy the person is, this ladder is capable of holding his or her weight.
Top 5 Best Ladder for Trampoline
Take a look at our list of 5 ladder options specifically for trampolines:
1. Pure Fun Trampoline Ladder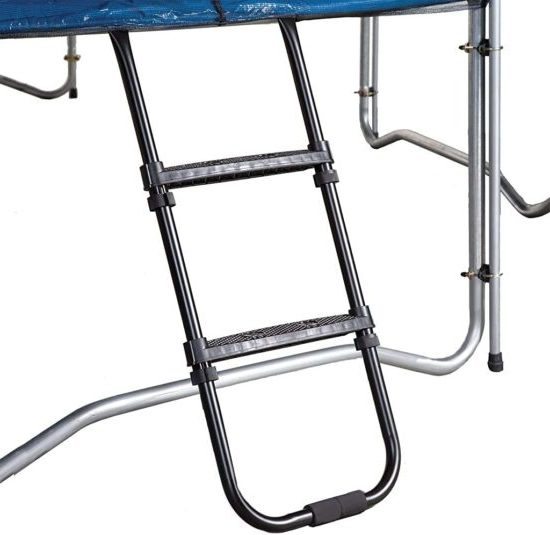 If you want a ladder that can help you easily climb on your trampoline, the Pure Fun Trampoline Ladder is the one for you.
This ladder is made out of top quality and sturdycarbon steelwhich combines the toughness of iron with carbon.
Both materials can prevent any damage caused by the sun's harmful Ultra-Violet rays.
So that means these ladders will last for a very long time. At 38 inches in height, this is good enough for most high outdoor trampolines.
To prevent slips while going up, the bottoms are covered with rubber, the steps are roughly finished and can hold up to 220 pounds of weight.
2. JumpSport SureStep 3-Step Trampoline Ladder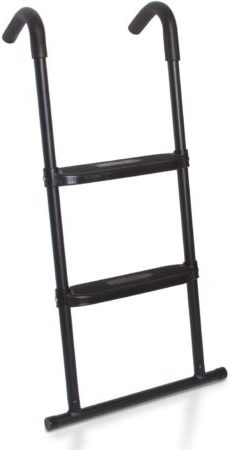 The JumpSport SureStep 3-Step Ladder is a perfect fit for trampolines measuring 10 x 17 feet, especially the Double Bed Power Bounce and the JumpSport Double Bed models.
Children will surely feel safe when they get on their trampolines and have this ladder to hold on to. Adults, on the other hand, will find it easy to climb.
The rungs on this ladder are flat and wide thus making it safe and easy to step on.
The material used is treated to prevent damage fromUltra-Violet rays. It is easy to put together and remove.
3. JumpSport SureStep 2-Step Trampoline Ladder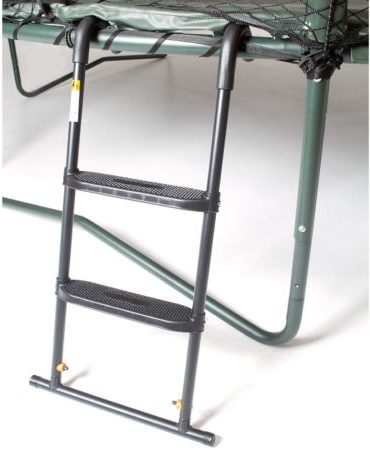 The JumpSport SureStep 2-Step Ladder is perfect for backyard trampolines. It has a strongly built 2-rung format made with flat steps that prevent climbers from slipping off.
This ladder makes a perfect fit for trampolines that have a height of around 3 feet high and can perfectly attach to rounded, four-cornered and rectangular shaped trampolines.
This ladder is very easy to put together since all you will have to do is to attach it piece by piece.
In order to avoid accidents, you can remove the ladder from the trampoline and keep it in a safe place or out of the reach of children.
4. Super Jumper 2 Steps Ladder Trampoline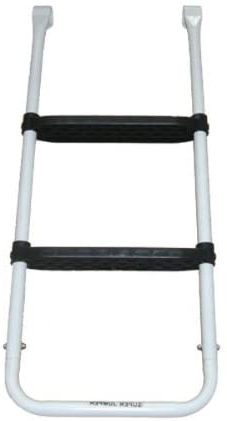 The Super Jumper 2 Steps Ladder Trampoline is one of those ladders that can be used and attached to any trampoline designed for the backyard.
The two-rung ladder is built in a sturdy and strong fashion that can last for years of everyday use.
The rungs on this ladder are flat which offers better support to the climber. This design eliminates accidental slipping and injuries resulting from falling.
It is suitable for trampolines with a height between 30 and 35 inches. Assembly is very easy and it can be removed without a lot of fuss.
5. Propel Trampoline Ladder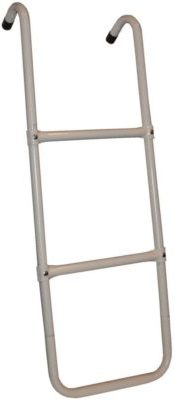 The propel trampoline ladder is the one ladder that can be used by bigger children. This ladder has a maximum weight capacity of 150 pounds.
This allows the children to safely climb on the trampoline with little to no danger or risk.
With its lightweight and durable powder-coated steel structure, this Ladder makes for the perfect and safest ladder for playful children.
It works for adults too regardless of whether they want to get their bit of exercise or simply have fun by jumping on a trampoline. This product offers safety as its best feature.
How to Choose the Right Ladder for Your Trampoline
Most trampolines are equipped with a ladder to allow you to reach the top of the springs so you can perform maintenance. The best ladders for trampolines are those that are heavy duty and secure to the ground. Here is some information about how to choose the right ladder for your trampoline.
Tension Spring Ladders
Tension spring ladders are generally used by home owners who have smaller sized trampolines. These ladders are usually made from a galvanized steel and require assembly.
The safety features of these types of ladders include:
Heavy duty galvanized steel construction.
Rungs are covered with safe plastic caps.
They have been tested and shown to exceed industry standards when it comes to strength and durability
These types of ladders attach securely to your trampoline frame with the help of bolts or turnbuckles. They are easy to install and can be removed just as easily when they aren't in need.
Carpet Ladders
Homeowners who want a safe, sturdy ladder may opt for a carpeted ladder which fits any standard trampoline. This type of ladder is ideal for all ages as it offers grip on the steps and is an excellent choice for children's safety.
Buying a Trampoline Ladder Amazon
You can buy these ladders on Amazon and they are specially built to fit any type of trampoline – whether for indoor or outdoor use. These ladders come with 2 to 4 built-in rungs.
However, the models also come in different types of materials. Mostly, these ladders are made with top quality types of metal like iron, carbon, and steel that ensure longevity and stability.
Ladders attach to trampolines with their curved top edges that latch onto the trampoline's outer rings. On the other end of it, the bases of the vertical supports are fitted with rubber edges that provide slip-proof steadiness.
This prevents a climber from falling off as they make their way up or down. When purchasing a ladder on Amazon, pick one based on the height of your trampoline, the number of rungs, and the type of material it is made of.
Final Verdict
Based on what is written on the reviews section of this page, the choice for purchasing the best trampoline ladder is a tough one to make.
Basically, all of these ladders offer the same thing – added safety features. However, if there is one type of ladder that stands out in this review, it has to be the JumpSport SureStep 3-Step Trampoline Ladder.
This is an excellent choice because the rungs on this ladder are not only flat (like what you can find in other brands) but are also wide. The flat rungs make it safe for climbers, but wide ones add more stability for the users.
Additionally, this trampoline ladder is practically safe for all types of users, be they are adults or kids; heavy or otherwise. The way it is constructed and the materials it uses have the words safety and durability written all over it.