There is plenty of workout equipment to choose from and many of them are gimmicky. They promise amazing results without the ability to deliver. There's even a product that you wrap around your waist and it vibrates which is supposed to give you a six pack as you watch television.
Well, a fitness trampoline is not one of those products. It takes actual known workout routines and provides a more effective way to achieve the results.
Let's takerunningor jogging as an example. Running, especially sprinting, is one of the best all-body workouts that you can perform. One of the main setbacks is the pain that occurs after you forcefully slam your body to the ground over and over again.
This is very damaging to your lower limbs and joints. As you run, your body weight is added to the gravity as you come down which can quadruple your weight factor. So, if you weigh 150 pounds then each time you land on your foot it becomes around 600 pounds of pressure your feet and legs are absorbing.
Consider how many times your feet hit the ground. That's a lot of absorbing in one jogging session. By using a fitness trampoline you will be able to eliminate 80% of that impact. This is great for anybody but especially people that are recovering from an injury, with a physical disability, or even seniors.
What Are the Benefits of Using a Fitness Trampoline?
With any exercise, that is done correctly and safely, you will increase your metabolism, improve your oxygen capacity, and tone up your muscles. Enhances the circulation of the lymph which is a fluid that carries white blood cells through the body to fight infection. You will also feel better and have more energy throughout the day.
With a fitness trampoline, you are able to accomplish these goals better because you aren't hurting yourself with gravity slamming your joints into the ground. It can also help you with your balance as you do not want to fall off the trampoline.
At least we hope you don't
How to Use a Fitness Trampoline

There are many different exercises that you can do with this equipment. All Jumpsport trampolines come with a workout DVD but here are just a few basic ones.
Sprint– One of the best exercises is simply to sprint in place. Keep your knees high as they come up and go until you can't anymore. Rest for a minute or two and then do it again.
Power Bounce–Start from a sitting position and as fast as you can pop up into a standing position. Each time reaches across your body with an arm, alternating on each bounce.
Plank/Push Ups– Lay your upper body on the trampoline in a plank position where you are holding your body up with your forearms. Quickly pop up to your hands in a pushup position and perform a pushup. Then come back into a plank position, then repeat.
Trampoline Squats-Stand on the trampoline with your feet shoulder-width apart and arms at your sides. Jump up in the air and land in a squat position with your knees bent, butt back and thighs parallel to the ground as if you were sitting in a chair, then repeat.
Ab Crunches– Sit on the trampoline and lay back. Place your hands behind your head or cross your arms over your chest. Keeping your torso straight, lift up a few inches and concentrate on using your abs to keep you up. This is better for you than regular crunches because you are on the hard ground.
Which one to Choose?
Jumpsport has many different options available to you and each one will help you achieve your goal. Before we take a look at the specifics of a few models we'll go over some basics to help you decipher the major differences.
PRO vs. Standard
The difference between the PRO model series and the Standard models is that the PRO equipment will hold more weight. While the PRO series will hold at least 300 pounds, the Standard series will only hold 250 pounds. If you are a person that is heavier in nature then the PRO series would be the way to go.
What Do the Numbers Mean? (220, 350, 550)
Jumpsport trampolines use elastic cords instead of springs that allow you to bounce. They are much quieter and some models have more than others.
If the model starts with a 3 or 5 then it has 6 extra cords that allow for adjusting the firmness of your trampoline. The 500 series mat is 5 inches bigger mat and the frame.
Are They Easy To Store?
The models that in with the letter 'F' will be the ones that fold and can store easier. However, the legs on all the models can come off easily if you need to store them under the bed or in a closet.
Jumpsport Models and Specs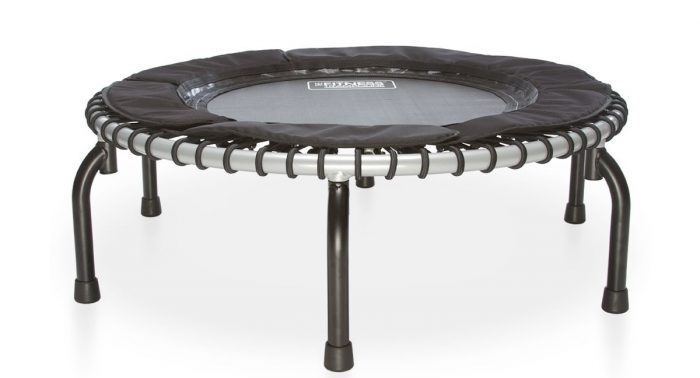 Let's take a few and look at the specs and then we'll break it down so you can find the right one for you.
Jumpsport 220 Model

Frame diameter – 39 in.
Exercise Surface Area – 882 sq. ft.
Folding – No
Number of Cords – 30
Adjustable Firmness Settings – 1
Weight limit – 250 lbs.
Jumpsport 250 Model

Frame diameter – 39 in.
Exercise Surface Area – 1030 sq. ft.
Folding – No
Number of Cords – 30
Adjustable Firmness Settings – 1
Weight limit – 250 lbs.
Jumpsport 350 PRO Model

Frame diameter – 39 in.
Exercise Surface Area – 882 sq. ft.
Folding – No
Number of Cords – 36
Adjustable Firmness Settings – 7
Weight limit – 300 lbs.
Jumpsport 550f PRO Model

Frame diameter – 44 in.
Exercise Surface Area – 1164 sq. ft.
Folding – Yes
Number of Cords – 36
Adjustable Firmness Settings – 7
Weight limit – 300 lbs.
Choose the 220 or the 250 if you are a lighter person and on a budget. Plus, if your workout routines are light then either one of these will be perfect.
If your workout routine is significantly more aggressive then we suggest the 350 PRO for you. It has the adjustable settings for your desired workout and is a little cheaper than the 500's.
The 550f is great for a person that is heavier and the extra 5 inches on the frame will give you extra room if you need it. It does have 7 firmness settings like the 350 PRO but it has the ability to fold for easy storage.
What Makes the Jumpsport Better Than Other Options?
The cheaper options that are less than $100 usually use metal springs. Any decent workout routine would put a lot of strain on these springs so they tend to break. Some break even after a month!
Jumpsport uses elastic cords that last a long time and even if one of them snaps then they can be replaced.
The very high-end fitness trampolines can run around $800 and are of very good quality. However, with Jumpsport, you are able to get the same quality for half the price.
Are Jumpsport Fitness Trampolines Safe?
Since 1996, Jumpsport has been the leading company in trampoline safety. They innovated the safety net that goes around their trampolines, the big ones in the backyard, which has kept millions of kids safe.
One of the products that you can get is an attachable handle bar that can be used while you jump. If you have trouble keeping your balance or if you need help getting on and off the trampoline then this attachment is definitely worth getting.
Jumpsport is committed to safety. This is evident due to their 17 patents on equipment dedicated to safety. This makes Jumpsport the company that makes the safest trampolines in the world!
Conclusion
All in all, any one of the Jumpsport trampolines will give you a great piece of equipment to get you to better health. You will gain all the benefits from your original workout routine only better because you won't be damaging your joints along the way.
It won't be that exercise equipment that just sits in the corner because it is something that you include with the routine that you are already doing. Plus, you'll feel your body improving much faster and more efficiently than you were before.
Even if you don't have your own workout routine, not to worry, because all Jumpsport trampolines come with a DVD that will show you the best way to utilize this amazing piece of equipment.
They can be used inside away from the cold or used outdoors in the sunshine. It is very easy to transport as they only weigh around 25 pounds.
Don't fall for the gimmicky ab shockers or weight shakers they sell on late night television. You should buy a piece of equipment that will give you a real workout for the whole body that will last a long time.