If there any is any upside to these unprecedented times of Covid-19, it is the opportunity for families to spend quality time together. But that should not mean hours upon hours of plopping the kids in front of their screens. Take it outside!
Do you long for the days of your youth where summer meant playing outside all day, making a pit stop back at the house for dinner, and going back outside to catch fireflies? Outdoor play is oftentimes lost on today's kids as they stay glued to their gadgets. Spending time outside as a family, while safely maintaining social distancing, is the perfect remedy.
What do you see when you open your back door?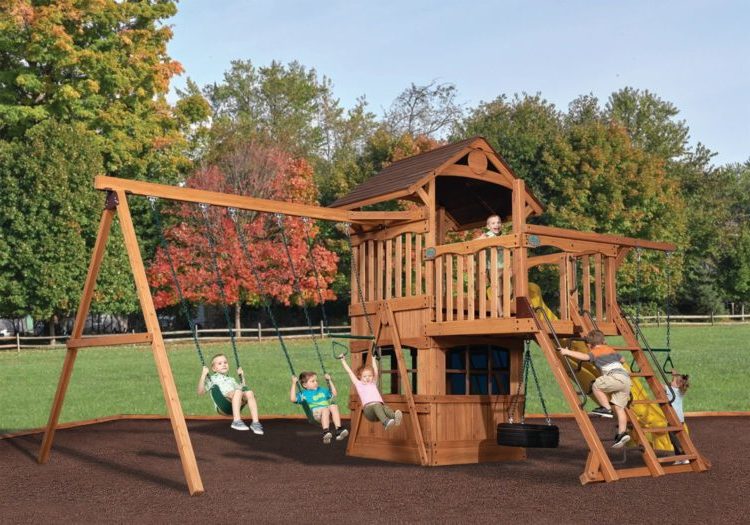 Is your backyard family-friendly? Consider this as the perfect time to install a quality backyard playset. It is an investment that will keep the children occupied while embracing the art of outside play. The options are endless and highly customizable.
Regardless of your backyard setup, there are ways to make the most of your space. Light some citronella candles and eat dinner outside. Pull out a blanket and read a book or play a custom board game as a family. Plant a garden. Turn on the sprinkler and get soaked. Bring out some art supplies and create a masterpiece. Or better yet– collect leaves, twigs, blades of grass, and other outside objects to make a nature-inspired project.
If you find the kids are becoming a little stir-crazy staring at the same family members, enlist other families in the block to combine forces. Make a scavenger hunt for the kids but send them out individually or in teams of siblings, so it becomes a fun competition. Take to the driveway with sidewalk chalk and let each family walk around and select their favorite—play charades with the next-door or across the street neighbor. Combine forces with other families and make an obstacle course for the kids to navigate. Get creative.
Does your family have a dog? Whether or not you have a canine companion, enlist everybody in the home to accompany you on a walk for some fresh air and exercise. Take a bike ride or whip out the rollerblades. Turn on the music and have a dance party. Jump on the trampoline if you have one. Any activity that gets your blood flowing.
Being outside offers more than just a technology-free experience
Benefits for kids and teens include being physically healthier, more engaged in learning, increased mental health, and more positive behavior. It is a win-win situation for your entire family. Mom and Dad could probably stand to unplug and bond with the kids too. Schedule regular outside activities as a part of the routine– and keep those rituals going even when Covid-19 is a distant memory.
Whether it is enjoying your backyard oasis, a bike around the neighborhood, or a game of kickball, nature offers a way to engage with your family and others while still maintaining social distancing. So, what are you waiting for? Stop reading this and take it outside!