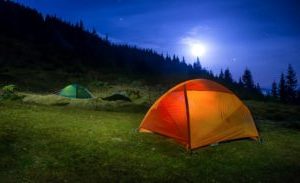 Pop up tents are the easiest to assemble tent settings, allowing you more time to enjoy great outdoor activities.
Instead of looking for directions or wondering where the stakes are going, just open the pre-assembled cords and poles and tuck them into your sleeves. From the beginning to the end, these tents can be set up in a few minutes.
Looking for the Best Pop up Tents?
Pop-up camping tents are made from lightweight material with lightweight poles. Since they are so lightweight and portable, you might be tempted to think they are flimsy. However, pop-up tents are very durable and will last for many camping seasons.
Several different tent styles are available in the pop-up format.
Frame tents feature large interiors and room for many campers.
They are popular with families because of the abundance of space they offer.
Ridge tents are also an excellent choice in pop-up tents.
They are stable and straightforward to set up and tear down, and their shape allows for plenty of interior space. Even multi-room tents can be made in pop-up form.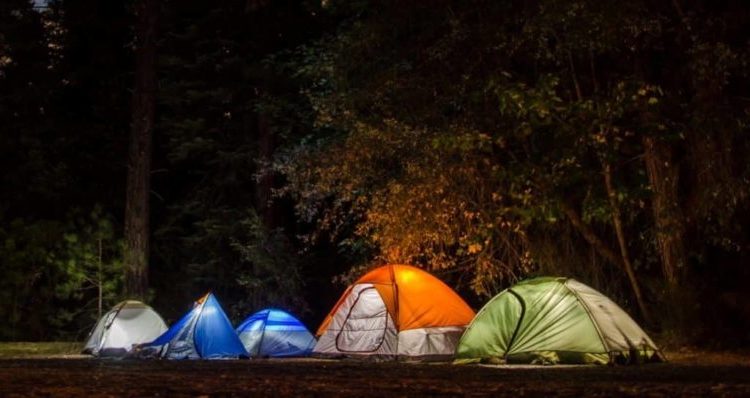 When the camping trip is over, pop-up tents are simple to take down. They don't require complicated tools or any special knowledge to take down, so you can be out of your campsite and on the way home quickly.
Pop-up camping tents also come in trailer form.
A pop-up tent trailer can be towed behind most vehicles, even small cars, and pops up into a full-size tent once you arrive at your destination. This type of pop-up tent is usually larger than portable pop-up tents. It may even include some of the comforts of home, including separate rooms and cooking facilities.
Campers aren't the only ones who can enjoy the ease of use of pop-up tents. Vendors at outdoor festivals and events often use pop-up canopies and enclosures to protect their goods from the elements.
Vendors use pop-up tents because they require very little effort to set up. When customers are waiting, a few saved minutes can make a big financial difference.
We don't think often of all of the work that goes into making items that we use and enjoy, butpop-up tents are a marvel of modern camping engineering.
The years of research that have gone into making today's pop-up tents efficient and affordable shows in the quality and ease of use that they provide for campers.
Using a pop-up tent on your next camping trip will ensure that you reduce the stress and uncertainty that can sometimes accompany setting up camping equipment.
You can get your camp ready to go in record time and then slow down and enjoy the beautiful outdoors.
Types of Pop-ups
Hoop Tents
Hoop tents are perhaps the easiest to set up as some of them have the poles built right into the fabric.
They can be held down with nylon rope, pegs, or stakes. With just the flick of a wrist these tents pop-up into full form.
The only trouble would be figuring out how to fold it back up. Don't worry, they come complete with picture-by-picture instructions.
These types of tents are not suitable for windy circumstances but are perfect for a quick weekend getaway. The quick assembly allows you to spend more time on your get away than setting up your sleeping quarters.
Ridge Tents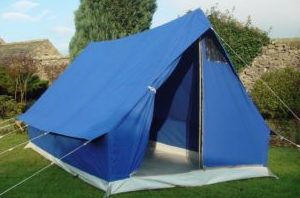 Ridge tents are the most basic of the best pop up tents. They aresimilar to military tentsoffering ample headroom for a more comfortable sleep. They are also virtually effortless to set up, and they are held down with a rope, and stakes or pegs.
These are perfect for one or two campers. They work well for camping with friends in groups as it allows you privacy while not taking up much room for the other tents.
These types of tents are also convenient for such group gatherings as sporting events, where you would be required to stay outdoors.
Frame Tents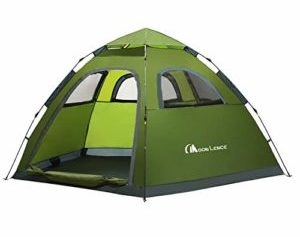 Frame Tentsare large and roomy and can accommodate larger families. These are also made of sturdy frames and are held down with rope and tent stakes.
Frame tents can sleep up to as many as ten people and keep your gear safe as well.
Many of these tents come with holes for electrical cords. These allow you to have the power inside and keep the bugs out.
Some of them are even equipped with lights built right in. You can even get one with a storage spot to hold all of your gear in one place. This allows you more room to kick back and relax.
Dome Tents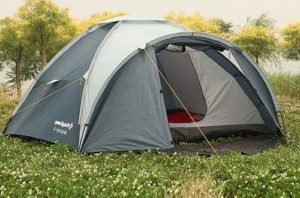 Dome Tentsare a favorite of families or groups of campers as these types of tents have more than one room and can sleep up to 10 people as well.
This tent is great for families as the adults can have their room as well as the children having their room.
Some even come with a common area such as a screened porch, which allows you to set up an eating or sitting area for the family to gather without the hassle of mosquitoes.
These types of tents, like the frame tents, are equipped with storage space for your gear to help keep it out of the way; and safe. If you are interested in standard camping tents, check this article.
Conclusion
Best pop up tents offer many advantages as you have a complete mini home to travel with. They are perfect for families, offering a mini kitchen, mini bathroom. These tents can also offer sleeping spaces that can be converted to a living room area and kitchen.
Pop up tents are great, whether you do lots of camping, or if you are a seasonal camper. They save you money on lodging fees and give you the comforts of home including air conditioning as well as your toilet.
What you should consider when choosing a tent that is right for you?
You will want to make sure it is the right size for your needs. You will also want it to be the right fit for the elements you will have to endure. It should be comfortable and keep you dry when sleeping outdoors.
Take time to check out the different types of tents to make sure you get the best choice. Pop-up tents are an excellent choice for your sleeping quarters, whether you are a new camper or a regular in the woods.
They offer the convenience of quick set up and take down, allowing you to get the most out of your adventure.