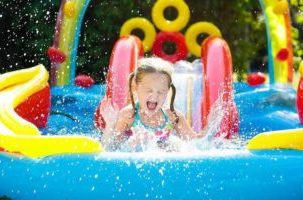 Summer has come! We can start to think about having family and friends around for barbecues and some outdoor activities. If children are involved, then no garden party is complete without a
water slide.
Nowadays, there are a host of inflatable water slides available on the market and it may be difficult to make a choice when buying. We have put together a selection of the 10 best ones to help you with that choice.
There are quite a few things to consider when buying an inflatable water slide:
Such as the age group and size of the children that it is intended for
Whether it is just for a family garden or for larger events
Such as fairs or summer camps, and also ease of portability
We will provide you with all this information, and more, so that you can make the best-informed choice of the inflatable water slide.
10 Best Water Slides for 2022
1.

Little Tikes Rocky Mountain River Race Inflatable Slide Bouncer
This has got to be one of the best inflatable water slides on the market today. And it is so much more than just a water slide.
It is, in fact, awater bouncerand the features include two slides, a climbing wall, a raised island rest area and a large splash pool.
It is suitable for large gardens and parks.
This is quite a large inflatable and has to be anchored in place very securely with the large stakes provided. There are a recommended maximum number of children allowed on the inflatable at one time, which is 4, and the allowed weight limit is 350lbs.
One particularly good feature is the actual design. It is designed in such a way that parents or supervising adults can see everything that is going on, from all angles, thus giving the utmost safety for all the children.
This water slide has a colorful design and is made out of very durable material. It comes with a heavy-duty blower and GFCI plug, (Recommended for all electronic toys by the American Consumer Safety Committee) storage and carrying bag and a repair kit, in case of any small punctures.
The size is 144 x 144 x 101 inches and it weighs 47 pounds. There is a ninety day warranty on the fabric, from the date of purchase and a year warranty on the blower, from the date of purchase.
The recommended age group for use is 5 to 10 years of age.
Pros
Easily supervised.
Easily assembled and inflated.
Multi-features.
Cons
Slightly on the expensive side….but you do get a lot for your money!
Would take up a lot of space in really small gardens.
2.

Little Tikes Slam 'n' Curve Slide
It's another great slide from the Little Tikes brand. This inflatable slide is perfect for gardens but it can also be used for larger fairs and summer camps.
There is a climbing wall, a curving slide, a large splash, and a wading pool. Another fun feature in the splash pool is a basketball hoop for even more fun.
This inflatable slide is supplied with stakes to anchor it securely to the ground and a heavy-duty air blower to give continuous airflow. The blower is also held down by stakes and has to run continuously while the slide is in use.
One great advantage is that is made from puncture-resistant fabric. It folds away nicely enough and is quite easily portable.
This inflatable is suitable for use by 3 children at one time and, again, the design is such that parents and supervisors can see everything that is going on, thus cutting down on the risk of any mishaps. The combined weight limit on the inflatable is 350lbs.
The Little Tikes Slam 'n' Curve comes supplied with a heavy duty blower with a GFCI plug, repair kit, storage bag, inflatable basketball and stakes for the blower and the actual inflatable.
The size is 168 x 108 x 84 inches and it weighs just over 44lbs. The recommended age range is for children 5-10 years of age.
There is a year's limited warranty on the blower from the date of purchase and ninety day limited warranty on the fabric.
Pros
Nice features.
Easily supervised.
Portable and easily assembled.
Cons
Debatable as to whether it is actually punctured proof.
Not many children allowed on at a time.
3.

Intex Surf 'N Slide Inflatable Play Centre
The Intex Surf 'N Slide Inflatable Play Centre looks like a very basic inflatable water slide and indeed it is. Saying that it is a lot of fun and keeps the children amused for hours on end.
It will be great for everythingfrom garden parties to summer camps.
The design is very simple but it is a fact that sometimes the simplest idea is the best idea. And this certainly seems to be the case here. It looks just as you would imagine an inflatable water slide to look, without any additional features.
It works by just attaching a garden hose to the sprayers, to keep the surface of the slide wet and slippery. As simple as that! Then the children just climb aboard and start sliding.
Underneath the water slide, there is a landing mat to give that bit of extra padding when the children reach the bottom. Two 'surf riders' are included with heavy duty handles.
The Intex Surf 'N' Slide inflatable Play center, although very simple in its design, is very colorful and attractive to look at. The dimensions are 174 x 66 x 64 inches, so it is suitable for even the smallest of gardens. It weighs just over thirty lbs.
Although the water slide is advertised to be suitable for ages 6 years and over. Babies would definitely need to be carefully supervised. A manufacturer's warranty can be requested from customer services.
There is a puncture repair kit provided with the water slide, this could be needed. Our concerns are mostly about the durability of the product, and that the fabric could easily tear.
On the whole, though, owners seem very happy with their Surf 'N' Slide Play Centre. It does give children hours of fun every day throughout the summer. If you are looking for a cheap and cheerful water slide, this could be it.
Pros
Nice price.
Easily assembled and operated.
Easily transported.
Cons
Maybe not very durable.
Simple design with not many features
4.

Banzai Slide 'N Soak Splash Park
The Banzai Slide 'N Soak Splash Park is a large inflatable water slide with some nice features.
It is suitable for thelarger garden and fairs and fetes as well as summer camps.It really is a very attractive and colorful water slide and the design is really cool.
There is a wall to climb on the side and the actual water slide has a cushion effect.
There is also a nice and refreshing overhead shower sprinkler and the splash pool which you slide into is in a stylish lagoon shape.
The Banzai Slide 'N' Soak is made from really heavy duty Dura-tech material which gives it strength and durability. The dimensions are 184 x 114 x 95 inches and it weighs just over 120 lbs.
The water slide comes with a continuous airflow motor blower which inflates the whole assembly in less than 2 minutes. The package also includes a GFCI plug and anchor stakes. The anchor bags can make the whole thing very stable. A puncture repair kit and a detachable, water spraying, hose assembly.
The only real concern is how long it takes to dry after use. But considering its size, it's not surprising that it takes a longer time. By the way, it's one of the most expensive water slides.
If the price is not too off-putting, then this water slide is a great feature to have for children's parties, fairs or just to keep the kids amused in the garden, all summer long.
Pros
Nice, attractive design.
Safe and comfortable features.
Large enough, really, for all sizes, just about!.
Cons
A bit too big for the smaller gardens.
Apparently takes a long time to dry out before packing away.
Very expensive.
5.

Blast Zone Great White Water Slide
This water slidecan be used all year long, summer or winter, whether it is wet or dry!
It is fantastic for garden parties, summer camps, fairs and larger social events.
The Great White Water Slide has a unique design in the form of a great white shark's head, which the kids will love.
It is quite a size, too, being a massive twenty one feet in length, six feet high and six feet wide.
It can be inflated in two minutes. When the party is over, fold into a very convenient sleeping bag size bag for easy carrying and storage.
Despite its size, it's very safe. The double slide can accommodate two children at a time. There is no big height to climb up a steep slope. The top and back of the slide are protected by safety nets.
The material used for this water slide is commercial grade PVC which gives added strength and durability.
The recommended age is from 3 to 12, but is certain that plenty of adults will be able to enjoy themselves on this slide as well! The package comes with a blower and repair kit.
Pros
Strong, safe and attractive design.
Easy to inflate and pack away.
All year round usage.
Easily transportable.
Cons
Not really suitable for smaller gardens.
Quite expensive.
The Kidwise Double Water Slide is another sturdy-looking slide with quite a basic, but attractive and colorful design.
The actual seat of the slide sits at five and a half feet and the actual slide is seventeen feet long.
Children can quite easily and safely climb up the back of the slide to the seat.
There is a weight limit of two hundred lbs and it will comfortably take two children at a time on the double slide.
Once inflated, it is just a question of hooking up to your garden hose, turning the water on and letting the fun begin!
Assembly and disassembly are very easy. This water slide inflates in less than a minute and easily transportable carrying pack.
The Kidwise Double Water Slide is made from very heavy duty, puncture-resistant material, although there is a repair kit supplied just in case of any slight mishaps. It is also double and quadruple stitched to give extra strength and durability.Stakes are supplied for securing the whole assembly to the ground and there is a storage bag supplied, of course.
This is deliberately oversized to allow for packing more easily. If cared for properly, there is no reason why the Kidwise Double Water Slide should not give you years of fun and usage.
It is recommended as a suitable slide for children aged from 3 to 9 years of age but, again, there are bound to be older and much bigger kids who will enjoy the ride just as much!
It is a bit pricey but well worth it for what you are getting. A manufacturer's warranty can be requested from customer service.
Pros
Strongly made with a safe design.
The attractive design is multi-colors.
Easy to assemble and pack away.
Easily transportable.
Cons
Too large for very small gardens.
Quite expensive.
7.

Blast Zone Tropical Splash
This water slide from Blast Zone is another one that is small and fairly simplisticin design but this takes nothing away from the fun that children can have on it.
All of the Blast Zone water slides are fairly easy to set up and use but this one is especially so.
It only weighs forty lbs and a single adult will have no trouble in setting it up and getting it in position.
It is twelve and a half feet long, five and a half feet wide and five and a half feet tall. Ideal for the smaller garden as well as bigger spaces.
Just attach the continuous blower and the whole thing inflates in less than a minute. Attach the garden house for continuous water flow and you are good to go. When it comes to taking it down, it deflates in the same amount of time when you detach the blower.
Like all of their products, the Blast Zone Tropical Splash meets all safety standards but they do recommend that it is not used without water in the base as this gives it the required stability.
The Tropical Splash is especially tough when it comes to construction. It is made from commercial grade vinyl and exclusive x-weave material for extra strength and durability and is double and quadruple stitched. The actual impact surfaces are also commercial grade to give extra safety for the users.
There are plenty of anchor points, safety netting and the slide height is not that high and there are no sharp-angled climbing points.
The design is attractive and colorful and the whole Tropical Splash assembly will give the children hours of fun at an easily affordable price.
It is recommended for children of 3 to 8 years of age and over and up to 75lbs in weight.
Pros
Ideal for smaller spaces.
Safe and attractive design.
Easily transportable.
Relatively inexpensive.
Tough and durable.
Cons
The splash pool is quite shallow.
Must be completely dry before packing away which can take a while.
Possibly only suitable for smaller children.
8.

Bounceland Single Inflatable Water Slide
The simple design of this single inflatable water slide is good for many people, especially those with smaller gardens or backyards.
Simplicity seems to be the key word for these small water slides, because they're very easy to set up, and you can put them aside when you're done with them.
This Bounceland water slide is made from heavy duty, durable and puncture-resistant material and is stitched with double and quadruple stitching. Despite the simplicity, the design of the slide is attractive and brightly colored.
Assembly and disassembly are easy and takes less than a minute to inflate and deflate. The water slide must be completely dry before packing away.
The recommended age range is 3 to 8 years old and a weight and height limit of 100 lbs and 5 feet respectively. The manufacturers recommend that only one child should be on the water slide at any one time.
There is a sixty day limited warranty on the water slide and a one-year limited warranty on the blower.
Pros
Nice size for smaller gardens.
Nice colorful design.
Strong, safe and durable.
Easy to set up and use.
Relatively inexpensive.
Cons
Water does not recycle, requires continuous flow.
Some reviewers said that the stowing bag is too small.
Not really suitable for bigger children.
9.

Intex Water Slide
If you want to buy a cheap and cheerful water slide, INTEX water slide is a good choice.
It can transform your pool into some sort of mini water park with a minimum of effort and cost.
The Intex Water Slide is made of heavy-duty, 20 gauge vinyl material and has extra strong fused seams to give the assembly much better durability and strength.
In addition to this, there are 7 separate air chambers which also adds to its durability as well as giving an extra safety aspect.
There are also 8 heavy-duty handles so that the assembly can be climbed safely and carried much more easily. The coloring is a nice blue and white design.
The slide can either sit on the edge of sunken swimming pools or the pool deck of an above ground pool. A repair kit is included with the Intex Water Slide in case of any emergencies and a pump for inflating the slide is an optional extra. It is not a bad idea to buy the pump with the slide because of itssize.
The water slide is recommended for children aged six and upwards.
Pros
Easily portable.
Nice addition to an existing pool.
Strong and durable.
Easy to set up and use.
Inexpensive.
Cons
Some reviewers had problems with poor workmanship resulting in punctures.
Some reviewers claim that it can be easily damaged.
Not really suitable for bigger children.
10.

Wahii Waterslide 50 – World's Biggest Backyard Lawn Water Slide



If you are going by size alone then the Wahii Waterslide 50 is definitely the King when it comes to water slides. It is a massive fifty feet long and twelve feet wide.
It is also King when it comes to the setup time, taking about fifteen minutes to get everything up and running.
This water slide is made of really thick, strong and specially formulated UV protected plastic. However, it has a very smooth surface area and weighs 256 pounds per square foot.
Obviously, the wahii waterslide 50 is not for smaller gardens or backyards, but if you have a big garden, or if you use it for outdoor activities, then it's perfect.
It's really like having your own water park, which, if taken care of properly, will continue to bring you and your children a lot of fun.
The design is actually the simplest of all the water slides that we have reviewed and the Wahii Waterslide 50 is basically a big plastic sheet that you slide down when it is wet. There are absolutely no additional fancy features but it is amazing the amount of fun that you can have with such a simple idea. All you need is the space and a hill or an inclined slope.
This water slide has been on the go since 2007 and is still immensely popular all around the world. It is absolute proof thatsometimes the simplest ideas are the best.
It is recommended for every one of 5 years of age and upwards.
Pros
Simple to set up.
Simple design.
Suitable for most age groups…above 5.
Reasonable price.
Cons
Although easy to set up, takes time as it is very large.
A slope or incline is required.
Possible a need for extra securing points.
Water Slide Buyer's Quick Guide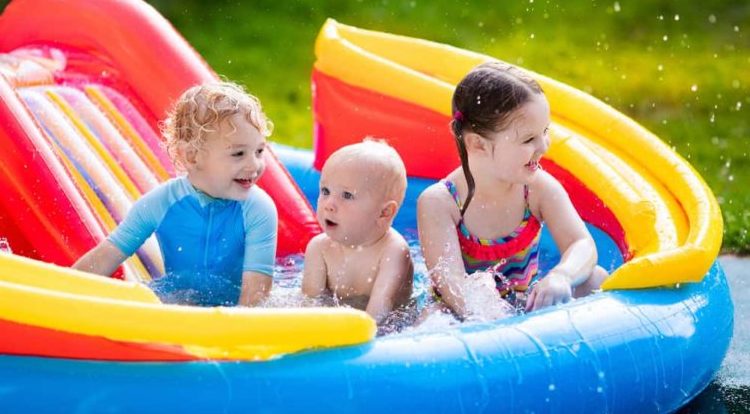 Of course, there are still some factors to consider. We have listed some important factors for this, hoping to help you narrow the scope of your choice.
Safe
Please remember, when you are choosing a water slide, safety must be of the utmost importance.
The three elements that you have are water, young children and swimming pools or splash pools. Most of these water slides have safety as a major point of use but you should still make it one of your most important considerations.
Also, remember,never leave children unattended when they are playing on the water slide. You never know when there could be a minor accident such as a slip or a fall. This could soon turn into a major disaster if an adult or responsible older teenager is not present.
Shapes
How much space you have is also another important consideration when choosing your water slide. Only you can know this so you must get it right. There are so many different shapes and sizes of water slides available that it can be a bit confusing when it comes to sizing up your choice.
If you are lucky enough to have a large garden or if the water slide is to be used for a summer camp or a large outdoor social event, then you obviously will have much more scope. It is definitely something to bear in mind, though.
Theme
Not very important, but it's still a consideration. You may already have some ideas about how you want it to look. The water slide you choose may take many years to use, so it may need special durability, and you are happy to see it in your garden or anywhere.
And it's not just your choice. Water slide must be your family, even your friends will be very happy to see it. If you bought it for a club or school, it may be the decision of the Committee.
Parts
Last, but definitely not least, make sure that any working parts, such as the blower, are all reliable and in good working order. You should also have warranties for your water slide to cover any serious faults or problems.
Conclusion
So, we really do hope that this guide has been of some help to you. There are still a few months left until summer but they will soon pass.
Don't rush into anything just yet but if you are looking for a water slide it might be an idea to start thinking about it now and having a look at the various options. Enjoy yourself looking around and remember that the result should be, and will be, lots of fun for everyone!