A few days ago, I have gone for riding downhill with a few of my friends. Every one of us wearing protective gear before starting riding except John. I warned him several times but he didn't care about me. He told me, "I'm an expert rider; there is no need for this type of foolish wearings for me."
After a few minutes of riding, John fell off from his board while taking a strict turn and got a serious injury in his head.
Dear rider, it doesn't make any sense that you are a beginner or expert, an accident can happen anytime. You can get a serious injury if you don't use enough protection while riding. So, safety gears are very important for every rider to get a safe and enjoyable riding experience.
Skateboard protective gears at a glance
The essential gears for safe skateboarding are shortlisted below:
Helmet
Knee Pads
Elbow Pads
Wrist Guards
Slide Gloves
Padded Shorts
Shin Guards
Upper Body Armors
Ankle Guards
Short Details of the gears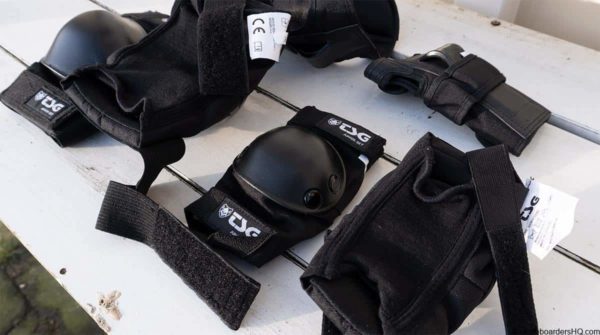 Helmet
The most valuable asset of our body is the brain. Angle fall can damage your brain. So be sure to wear a helmet every time while riding. Especially, the helmet is most recommended for speedy riding like downhill and freeride.
There are many types of longboard helmets available in the market. But purchase a helmet that is lightweight but hard enough and covers your whole head.
For downhill, you should purchase a full face helmet that can cover your chin and face.
Elbow and Kneepad
For protecting your elbows and knees from painful scratches, scrapes, bruises and joint injuries, Cover with their elbow and knee pads. Few pads can wear under clothes and few are not. The choice is to depend on you. But make sure that the pads are fit perfectly with your elbows and knees.
Wrist Guards
Wrist Guards protect your wrists' bones and tendons when you fall and try to maintain your balance with your hands. The guards protect your wrist by bearing the stress.
Slide Gloves
Slide gloves are not only protective gear; you can use your hands for perfect turnings and slides. Plus, you can do a lot more tricks. A Velcro plastic puck attached to the glove allows you to place your hand on the ground so you can get more balance while turning and sliding. The slide gloves also protect your wrists and hands.
Padded Short
Hipper is a very painful injury. So, wear a padded short under your jeans to protect your lower body from hipper and other accidental injuries. But make sure that the short is lightweight and contain enough pads.
Shin guards
For protecting your shins, you should use shin guards when you are riding. It is a simple method to keep your shines secure from any kind of injury. Shin guards are designed to give you protection against both simple injuries as well as many serious injuries.
Select the guards according to the level of protection which you need. It is highly recommended that take a high-quality shin guard for more support and more protection. A low priced shin guard will provide better protection in the case of many serious injuries by costing a very small amount of money. It will keep your shines secure from bruising.
Upper body Armor
Like the padded short, Wear upper body armor to protect your upper body. The upper body can save you from hipper and other injuries. Plus, you can get a lot less fall hurt if you wear body armor.
Ankle Guards
Ankle guards keep your ankles secure from serious injuries and work as supplementary support for your ankle. It has made to keep you secure from simple injuries and provide other serious ankle support. It is better to take a high-quality guard to keep your ankles more protect and gives them better support.
Ankle guards are very cheap and easy to keep the riders protect. You can get rid of many serious injuries by costing a simple amount.
These gears will give you enough and better security for your longboarding. So always remember to wear them before you start your longboarding.