Cheers, ready for the new camping season? It's time to check your backpack. Whether you are a veteran camper or a new bee, quality and comfortable sleeping bag must be on your list with a camping tent (Check the best camping tent review 2021).
So, if you are looking for a new sleeping bag that suits both your camping tent and budget, this review gives you answers from buying questions to carefully shortlisted best sleeping bags list 2021. We are pretty sure that you will make a good purchase after going through this review.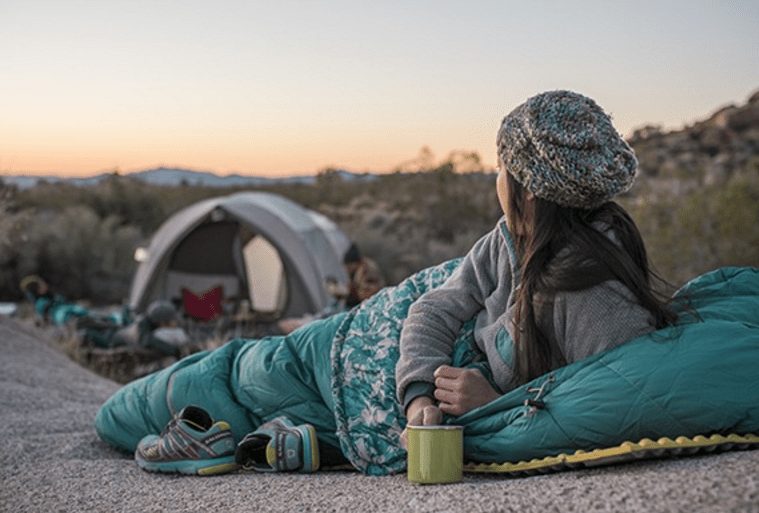 Sleeping Bag Purchasing Guide
How to Choose Admittedly, at first sight, most sleeping bags on the market look alike. Besides their price tags, why does one sleeping bag outscore the other? Please check with the following factors in mind.
The first thing and reason to choose a sleeping bag, perhaps. Similar to camping tents which can be classified by 3-season and 4-season, sleeping bags come with different temperature ratings. Sleeping bags rated between 15F to 35F are considered to be good 3-season sleeping bags. And those rated below 15F are considered to be 4-season bags. Remember you can always get warmer by adding layers (e.g. a down jacket and a base layer will definitely do the trick).
For a backpacker, the load is a major concern. As one of the heaviest in your backpack, you need to balance carefully between the weight and warmth. A cold sleeper may take advantage in this case.
Something that relates to both the weight and warmth. Some sleeping bags have synthetic filling material, while others have down filling material. Like a winter coat, down filling sleeping bags are more expensive, lighter, warmer and last longer with good care. On the other hand, synthetic sleeping bags are cheaper, heavier, warmer in wet condition, and requires less care. We suggest choosing your sleeping type, camping season and budget.
Some sleeping bags come with thoughtful features. A full-length sturdy zipper will be more flexible and convenient in use. An extra waterproof layer will keep you warm in rainy or humid days. A hood will create a complete heat insulation system to better retain the heat inside.
Our Best Sleeping Bags 2021
If you are in a hurry, just check our Editor's choices
NEMO Salsa Sleeping Bag tops our list for its unrivaled user experience.
First, this sleeping bag is very roomy, with stretch stitching and considerate spoon shape design for knees and elbows.
The shell is made of 30D Nylon Micro Taffeta, which is silky smooth against the skin. Filled by 650FP DownTek, which is water repellent, super light and keeps you warm at 15F.
With the full-length side zipper, getting overheated isn't a problem either.

Pros
Roomy

Premium Shell Material

High-Quality Down Insulation

Neat Storage
If you are looking for a good sleeping bag, the Big Agnes Lost Ranger Sleeping Bag won't be a disappointment. It offers ample room in there to move around, which means ample room to lose overheat.
The bag is a solid made, good construction, and well-designed sleeping system. Take the zipper as an example, it unzips all the way to the bottom and stays in the same place instead of ending up twisted around underneath you and nowhere to be retrieved.
The Big Agnes Lost Ranger Sleeping Bag comes with a nice storage sack and can be easily fit into your backpack.
As for the temperature experience, it might be a bit inaccurate. Yet sleeping comfort is such a personal thing, and this one can get really hot if you used a sleeping pad and combine both together. A great built product.
In addition, we really appreciate its additional features: adjustable contoured hood, pillow pocket, zippered watch pocket, and DWR treated down-proof nylon ripstop shell. With a nice storage bag, NEMO Salsa Sleeping Bag packs away very neatly and fit up in the hood. A great bag.
Pros
Roomy

Side-Sleeper Friendly

High-Quality Down Insulation

Neat Storage
Cons
InaccurateTemp Rating

Inside temp rises more slowly
If you are a cold sleeper or looking for a budget quality 4-season sleeping bag, this is what we recommend first. The Outdoor Vitals features the highest quality down fill (800FP) which we have ever seen.
We just feel so warm and nice in a 10F-15F night. With such high quality down fill, this sleeping bag is ultra light.
The exclusive VitalDry DWR coating repels water off of the shell of the sleeping bag, keeping you dry and comfortable on wet days.
We all expect the Outdoor Vitals to last a couple of decades. Heavy-duty YKK zippers are of the highest standard zippers you can get. It is of awesome value and your reliable partner in cold wet days.
Pros
High-Quality Down Fill 800FS

Lightweight

Premium Zipper

Easy Package
Cons
InaccurateTemp Rating

Not waterproof down.
TETON Sports Mammoth Queen Sizeis a truly HUGE family camping bag, the Mammoth easily fits couples and even a child or pet.
It's nearly as big as a queen size bed, with zippers on both sides to get in and out without waking up your partner and controlling the temperature on each side.
The third zipper on the bottom means you can separate the bag into two quilted blankets. The outer layer is sturdy and soft, and the inner lining is very soft and cozy.
The Mammoth Queen Size comes with 0ºF and +20ºF Temperature rating options. It's a great sleeping bag and so warm for cooler nights.
Everything's perfect except for its bulky size, we highly recommend it for car camping.
Pros
Huge Queen Size

Three Zippers Design

Ultra Warm

Premium Shell Material
Cons
Heavy and Bulky

Tough work to fold and unfold
Looking for a light bag to reduce your pack load during a spring hiking? We recommend the Shavano 32F Ultralight Mummy Down Sleeping Bag.
This bag features a silky inner layer, ultra light 32F duck down design. Weighing less than 2lbs, it is perfect for thru-hiking, backpacking, and camping.
If dressed and treated properly, this bag boasts superior weight-to-warmth ratio. It suffices to be your ultimate sleeping bag for saving space and weight.
At less than $100, the Shavano 32F Ultralight bag is everything you wanted for a handy mummy bag. We are impressed by how small the bag can compress. If you take proper care of it, it will serve you very well out in the field.
Pros
Price

Ultra Light

Easy Compress and Store

Keep you warm at 32F+
Cons
Cold sleepers not recommended

Cheap Zipper
Most campers would prefer a down bag, but this Kelty Tuck 22 Degree Sleeping Bag is a true winner among synthetic fill sleeping bags.
We are absolutely amazed at its price-performance. It delivers outstanding warmth, weight, and price balance thanks to the exclusive ThermaPro™ insulation tech.
We feel comfortable in it at 30F and is fine with warm wrap at 20F. The interior is soft and comfortable and it compresses really well.
Another unique feature of Kelty Tuck 22F Sleeping Bag is the comfort tuck for the feet, to put your feet out on a warmer night.
We also love its little pocket on the inside to put my earplugs and other accessories in the night. A steal of a value.
Pros
Price

Warmth

Light

Nice feet tuck design
Cons
Should area is a bit narrow.

The zipper is not very smooth.
The Mountain Hardwear Lamina Z Flame 22F is a very nice synthetic bag. Its synthetic fill delivers outstanding compressibility and maintains excellent loft, and will be a plus when/if it gets wet.
In addition, the bag packs really small without much effort. We love its comfort foot box design which follows natural foot position for maximum warmth and comfort.
The Lamina Z Flame 22 sleeping bag features Lamina construction enhances loft and eliminates cold spots.
At 35F we are warm with basic long john and we are confident it will do just as well at 22F-30F. It won't be a disappointment for the price.
Pros
Warmth

Easy Compress

Foot box design

Small size when compressed
Cons
Weight

Not recommended for 6ft+ campers
Goose Down Sleeping Bag or Synthetic Sleeping Bag?
The last thing you would like to happen when you're 20 kilometers inside the forest is to discover your sleeping bag is not really sufficiently warm.
You will find yourself dealing with an extremely long and unrelaxing night which often can destroy your spirits and additionally sap your strength for the next day.
There are numerous pros and cons to nearly all the sleeping bags.
AGoose down sleeping bagis amazingly warm.
It is a very lightweight sleeping bag to carry allowing it to be easily compressed for travel and instantly regain form when shaken out.
It truly is definitely the best sleeping bag for trekking as well as a better choice for travelers which plan to carry the bag with them for extended trips due to its lighter weight and more compact packing.
However, goose down sleeping bag is usually more costly and deficits its insulating properties when wet – take into account if slumbering in the open air or venturing in bad weather conditions.
Synthetic sleeping bagstend to be less expensive compared to goose down and retain their heat even in wet locations. They dried out quicker than down and are a great choice when sailing by boat or maybe sleeping under the stars on the ground.
Nevertheless, the synthetic sleeping bag is more heavy and bigger which may be a disadvantage if you are trekking extended ranges with the bag.
For the usual family camper, synthetic bags are probably the least expensive and the bare minimum affected by wet conditions. If travelling simply by car to a camping area the size and weight of a synthetic bag really should not be a concern.
Rectangular Sleeping Bags, Tapered or Mummy Sleeping Bags?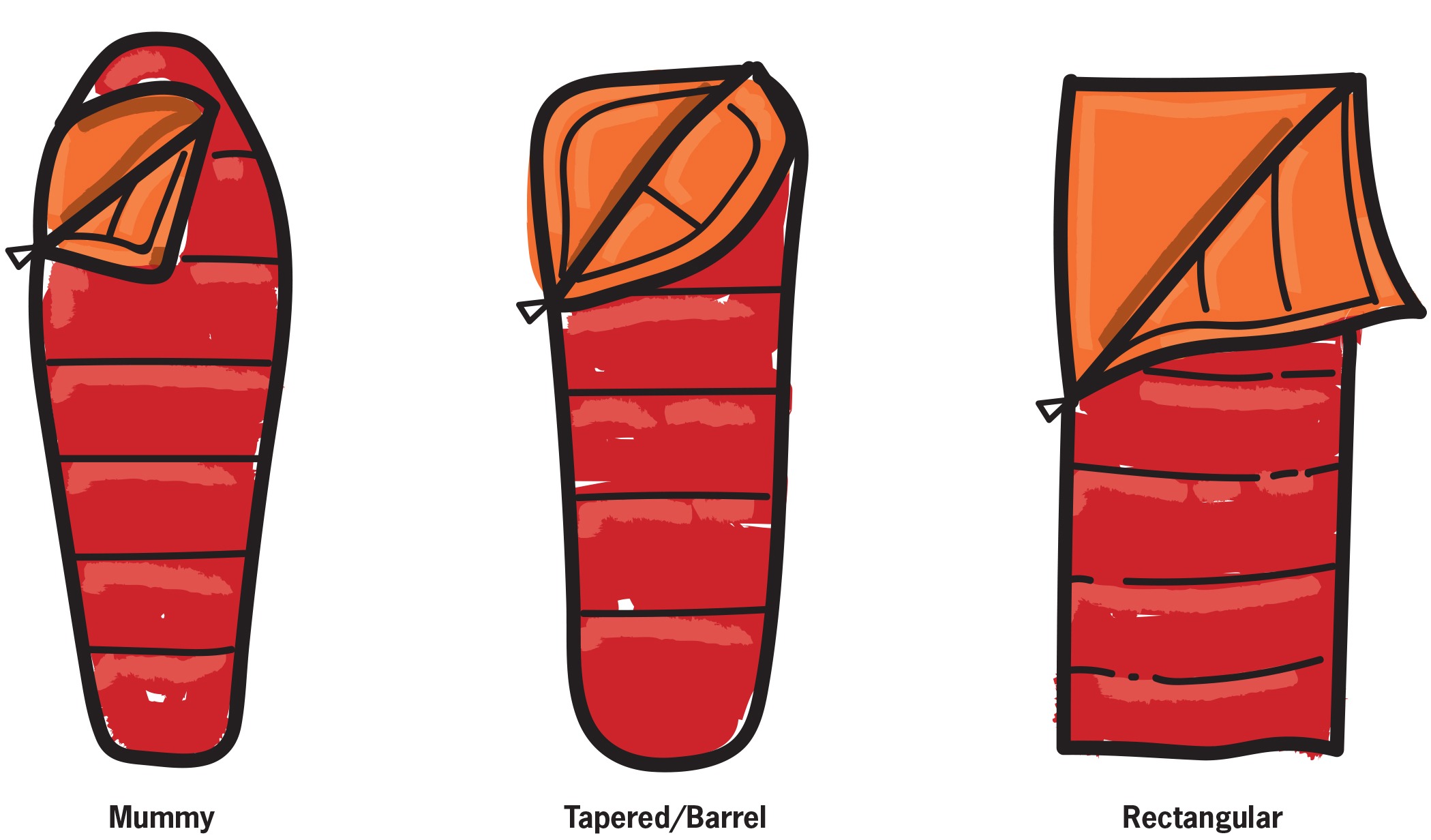 Like with the insulation fabrics, the proper execution of the bag you select is determined by your unique requirements with pluses and minuses for each type.
Rectangle sleeping bagsare generally most similar to bed sleeping and most familiar to the typical user.
They permit place for actions and you can easily zip a couple of bags together for shared sleeping.
However, rectangle sleeping bags are the largest but not a good choice to carry on very long treks.
Tapered sleeping bagsare fairly smaller around the feet section of the sleeping bag.
This kind of shape gives much less freedom of movement however a lot more heat because of the limited room.
Mummy sleeping bagsare the tiniest and lightest to carry.
They are really very tight to the body (as the title suggests) with a hood which can be suited round the head to preserve the highest amount of overall body warmth.
While the typical person could find the mummy bag uncomfortable to sleep in as a result of limitation they are simply a perfect choice for cold weather hiking and extended nature hikes due to their warmth and small size.
Which Temperature Rating?
The majority of sleeping bags receive a standard score that will help you determine what temperatures they are designed for. For European sleeping bags, they are ranked utilizing the EN 13537 standard. This standard applies four different scores:

Upper limit(Maximum) – the highest temperatures the average person can sleep at without hyperhidrosis.
Comfort– the best comfortable heat range for the average individual.
Lower limit– the lowest heat range at which a normal individual can sleep eight hours (curled up) with out waking up.
Extreme– the lowest temperatures that the average person can remain in the bag for 6 hours without issues of passing away (frostbite may still occur).
If a sleeping bag just provides a minimum temperature, it is usually the Lower restrict score. Determined by if you are camping in the summer or colder seasons you will have to decide on a bag accordingly. Additionally take into consideration if you are normally cold or hot when sleeping and make the modifications.
In most cases it is suggested to select a warmer bag because you can always open it for airflow whether it is too warm. The temperature standart is dependent on utilizing a sleeping pad below the sleeping bag which retains body heat from the ground.
Additions:
If you regularly camp out you might want to consider a liner for your bag which could increase its warmness and can be washed separately, keeping your sleeping bag from extra wear and tear.
You can also buy sleeping bag covers. Some of these can certainly alternative to a warm weather sleeping bag which enable it to extend an all season bag into a cold weather bag by improving the warmth. They can supply additional protection from wet scenarios and are your best option for securing goose down sleeping bags.
Just what is the best sleeping bag? Final Thoughts Before Buying A Bag
So, when heading out for buying the best sleeping bag for camping, consider the temp ratings. But you also need to keep in mind if you are an individual who commonly likes to sleep in a hot or cold bed. A great indicator of the feeling you'll experience in the sleeping bag is its loft, on the other hand, you will also have to consider its shape.
It's really important for any sleeping bag to generally be big enough to rest in, but in addition for it to be compact enough when packed, so that it wouldn't be challenging to travel with.
How pleasant you are while you are sleeping will substantially affect your enjoyment of an outdoors or hiking trip. Saving 5 or even 20 dollars at the price of great night sleep is not going to feel like a great idea when you're exhausted and cold out in the woods, for that reason select wisely.