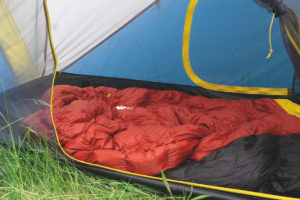 Over the years, I have used a variety of sleeping bags under all kinds of conditions. Some of my experiences made me wet and cold.
At other times, I'm impressed by the ability of sleeping bags to insulate me from the outside world and allow me to sleep comfortably in other uncomfortable environments.
I know what difference a good sleeping bag can make, so I carefully evaluated the choice of my elk travels sleeping bag.
If there's one situation where I don't want to risk my comfort and safety to buy a sub standard sleeping bag, it's to spend a week hunting in the Rockies and sleeping 10000 feet high.
Let's begin our analysis of sleeping bags by comparing the two classifications of insulation that dominate the market.
Synthetic Insulation
There are numerous types of synthetic insulation on the market today. Branded and patented types include Primaloft, Polarguard, Thinsulate, and a host of others. Even among a single line, there are grades in quality.
Pros
Preserves performance when wet
Comparatively care-free
Cheaper
Cons
Heavier
Less compressible
Shorter life
For example, Primaloft offers a spectrum of insulation that vary in price and performance. This fact alone can make it difficult for the casual shopper to evaluate the quality of synthetic sleeping bags.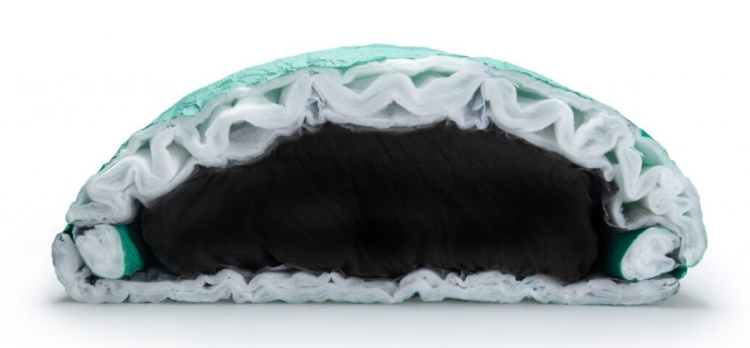 Synthetic Sleeping Bags
Synthetic is a great choice for users that want good performance at a good price. And don't want to worry about any sort of special care or maintenance for their bag.
Synthetic insulation will still perform when wet, will dry faster. And synthetic sleeping bags are often able to be washed and dried at home.
The downside to synthetic sleeping bags is that they aren't as warm, light, or packable as natural down sleeping bags.
Synthetic insulation is also prone to break down over time, so the life of a synthetic bag is typically shorter than the life of a down sleeping bag that has been properly cared for.
Natural Down
Natural down sleeping bags are filled with natural Goose or Duck down fibers. These natural down fibers offer a heat-to-weight ratio that simply cannot be matched by any other material.
Ounce-for-ounce, a down sleeping bag will be warmer than anything else on the market.
In addition to being incredibly light, these natural down fibers are also very compressible, which makes packing a down sleeping bag much easier.
Pros
Great heat-to-weight ratio
Compresses and returns to loft
Longer life (with proper care)
Cons
Requires more intentional care and handling
Loses performance when wet
More expensive
Additionally, a down sleeping bag will last for many years if it is cared for properly. Down sleeping bags have a higher price tag, but moving past the initial cost. They are often an incredibly wise investment for the outdoorsman.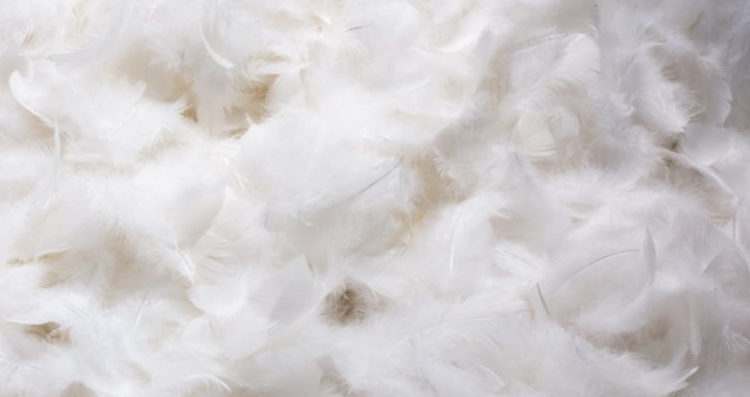 The "down" side to down sleeping bags is that they require a little more intentional care and attention.
Unlike their synthetic counterparts, down sleeping bags must be cleaned with special processes.
Additionally, natural down fibers lose their insulating properties when wet, and also take a while to dry, which means that traditional down sleeping bags must be kept dry to perform as intended.
However, new advances in molecular polymer technology have made some great breakthroughs that allow natural down fibers to be treated with a water resistant barrier.
This treatment adds no additional weight to the down, yet it allows the down to stay dry longer and dry quicker than untreated down.
My Choice Is…
The incredible warmth, light weight, compressibility, and long life of natural down are extremely appealing to me.
I have typically been willing to deal with a bit more intentional care and maintenance to keep the performance down.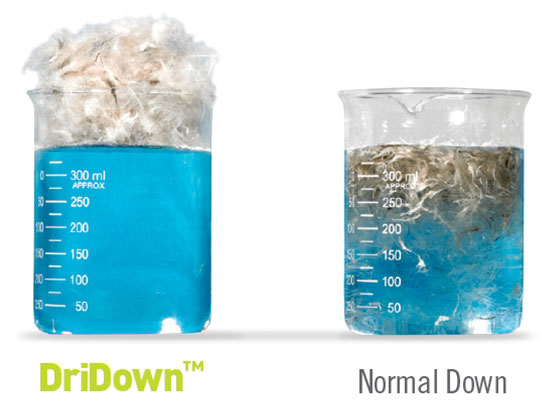 Now that advances in down coatings have made their way to the market, the best choice for myneeds has become undeniably clear – down, specifically treated down, is the way to go.
Moisture-resistant down is obviously great for variable weather conditions, but an added benefit that most overlook is the moisture that is generated inside the sleeping bag.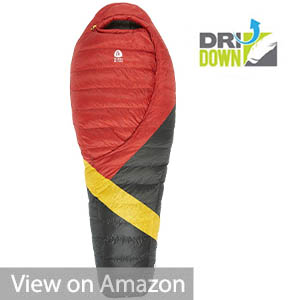 I can be a clammy sleeper at times, especially when I'm tucked into a high-performance down sleeping bag.
But I can already tell that treated down helps fight this clammy feeling by keeping the moisture out of the down fibers and allowing it to pass through the sleeping bag's shell.
The sleeping bag that I chose is the Sierra Designs, which features their DriDown technology.
When compared to untreated down, Sierra Designs reports that DriDown stays drier 10-times longer, retains 170% more loft when exposed to moisture and humidity, and dries 33% faster.
Up next we'll talk about temperature ratings, shell materials, weight, pricing, and other factors to consider when choosing a sleeping bag.
We discussed the first step in selecting a sleeping bag – choosing down or synthetic insulation.
Now, let's move on to some other factors to consider when selecting a sleeping bag.
Temperature Ratings
The temperature rating of a sleeping bag, a "20 degree" model, for example, didn't use to mean much, really.
Most sleeping bag manufacturers were more than optimistic with their ratings. If you picked a 20 degree sleeping bag off the shelf it may keep you alive at that temperature, but it certainly wasn't going to keep you comfortable.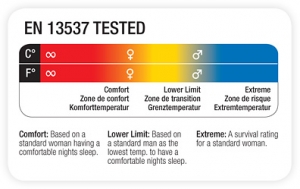 These days, many of the best sleeping bag manufacturers have begun rating their sleeping bags according to "EN 135227" testing.
These sleeping bags are typically referred to as being "EN Rated".
The EN testing system uses a controlled environment and a mannequin equipped with multiple heat sensors to test the sleeping bags in a controlled and standardized environment.
The EN Rating yields three ratings: the EN Comfort Limit, the EN Lower Limit, and the Extreme Rating.
The Comfort Limit is based on a standard woman having a comfortable night's sleep.
The Lower Limit is based on the lowest temperature at which a common man will have a comfortable night's sleep. The Extreme Rating is the survival rating for a standard woman.
For example, the Sierra Designs Cloud 20 has an EN Lower Limit (men) rating of 15, whereas the EN Comfort Limit (women) is 26.
Obviously everyone has different comfort levels and tolerances to sleeping temperatures, so the EN ratings aren't perfect.
But they are a very welcome addition to standardizing ratings across manufacturers. (I have personally found EN ratings to be quite accurate.)
Other factors that can affect the perceived warmth of your sleeping bag include the shelter that it is used with, the sleeping pad that you use to insulate you from the ground, the clothing that you wear, your metabolism, and even your level of hydration.
Down Quality
If you choose to go with a natural down sleeping bag, then you must familiarize yourself with the different classifications of down that are used in the market.
When shopping for a sleeping bag you will often see a down "fill" rating, such as 800-fill, 700-fill, 600-fill, etc.
The "fill power" of down is a way to speak of the down fiber's loft, or "fluffiness", which equates to the effectiveness of the down's insulation.
The higher the fill power, the better the down will be at trapping air and thus insulating you from the elements. The higher quality down will also be lighter and more compressible than the lower quality down.
So, all other things being equal, a 20-degree sleeping bag with 800-fill down will be lighter and pack down smaller than a 20-degree sleeping bag with 600-fill down. The tradeoff, of course, is that the 800-fill sleeping bag will have a much higher price tag.
This is one of the primary reasons that you will notice that seemingly comparable sleeping bags may have price differences of several hundred dollars.
For example, let's look at two sleeping bags that have nearly identical temperature ratings, but have dramatically different mass weights and prices.
The 800-fill power Sierra Designs Cal 13 weighs 1lb 12oz, whereas the 700-power Zissou 12 from Sierra Designs weighs 2lb 7oz.
It is also worthwhile to note that higher quality down isn't the only way that manufacturers trim weight from their ultralight bags. Many of the lightest models feature shorter zippers, thinner shell materials, and simpler baffle designs.
It all goes back to what I said previously…
"lightweight, affordable, and durable is the ultimate trifecta, but unfortunately you usually can't have all three at once."
A Recommendation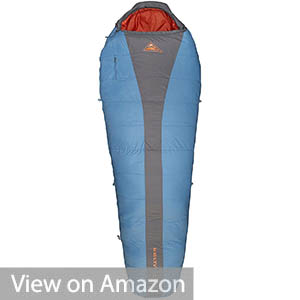 I mentioned that I chose a Sierra Designs Cloud 20, which is an 800-fill power, DriDown sleeping bag.
I think that it is an excellent choice, with a great balance of price, weight, and performance.
And I have fielded questions from several readers for recommendations on a slightly cheaper option, and in that case, I would look at the Kelty Cosmic 20(EN-rated at 16 degrees), which also featuresDriDown technology.
I hope these posts will help you make an educated purchase in the future. As always, please let me know if you have any questions!