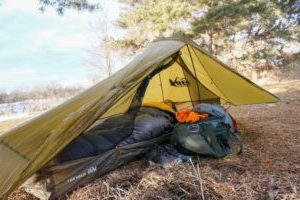 Are you planning to go camping during the next vacation? If yes, then you can consider buying a high quality backpacking camping tent.
In this article, we will discuss different factors that you must consider when buying a backpacking camping tent.
Ideally, the product you pick should be compact and fit perfectly in a tiny stuff sack. In addition, it should be light in weight too. The ideal weight of a two-person backpacking camping tent should be six pounds or even less than that.
These units generally come equipped with a vestibule, which is basically an enclosed overhang that allows users to store their belongings outside the tent.
This way they won't worry about the possibility of exposing themselves to rainwater and dirt.
Another major advantage of buying a tent boasting a vestibule is that the vestibule can even be used for cooking when it's raining. Read on to know more.
Having Vestibules in Backpacking Camping Tents
Are you wondering how important it is to buy a backpacking camping tent that comes equipped with a vestibule?
The factor that should decide whether you should opt for a tent boasting a vestibule is the location you have picked for backpacking.
For instance, if you have plans of backpacking in a place known for its wet climate, make sure you pick a tent carrying a large vestibule.
On the other hand, individuals camping in a dry climate can afford to use a tent that doesn't carry a vestibule.
If you consider going to the mountains then look at these expedition tents that should protect you from the harsh weather.
If the camping site has a dry climate, the only advantage of having a vestibule attached is that it would assist in keeping the morning dew off your belongings.
And if you have decided to buy a backpack carrying a vestibule, make sure the unit is big enough. A big vestibule will allow you to use the tent in different climatic conditions.
Best Backpacking Tents 2021 – Check the Tent Poles
Ideally, the backpacking camping tent you pick should carry aluminum poles.
It's true that there are many units that come equipped with fiberglass poles; we would suggest you to avoid buying those.
We are suggesting so because the aluminum poles are much lighter and stronger compared to the fiberglass poles. In addition, unlike the fiberglass units, which tend to bend over time, the aluminum structures are sturdy enough to last for years.
In addition, packing tents with aluminum poles is significantly easier than packing units boasting fiberglass poles. But what to do if the pole breaks on your vacation? You should havea repair sleevethat will save you from going home.
There's another strong reason behind recommending backpacking camping tents carrying aluminum poles. The fiberglass structures are usually extremely weak and can crack easily, if they are subjected to excessive pressure.
Aluminum poles, on the other hand, don't break even when extreme pressure is applied. You'll actually need to put in serious effort for breaking these aluminum poles.
A backpacking tent mostly comes equipped with one to three poles. As we have already mentioned that a perfect backpacking camping tent is always light in weight, it is obvious that the fewer the number of poles, the better.
Considering the number of poles is even more important when purchasing a backpacking camping tent because the poles are usually the bulkiest part of a tent. However, you must keep in mind that the length of the poles also matters. For instance, three small tent poles might be as heavy as a couple of long poles.
Last, but definitely not least, always purchase freestanding backpacking tents when preparing for camping. This is important because the freestanding units offer much more flexibility compared to the non-freestanding ones irrespective of the place you are setting them up.
It has also been found that setting up the freestanding tents is significantly easier. Every tent that comes equipped with three poles is virtually freestanding. There are also units that have just a couple of poles, but are freestanding.
However, the market is filled with several non-freestanding backpacking camping tents. So, you must be extremely careful when choosing.
What do You Want – Breeze or Warmth?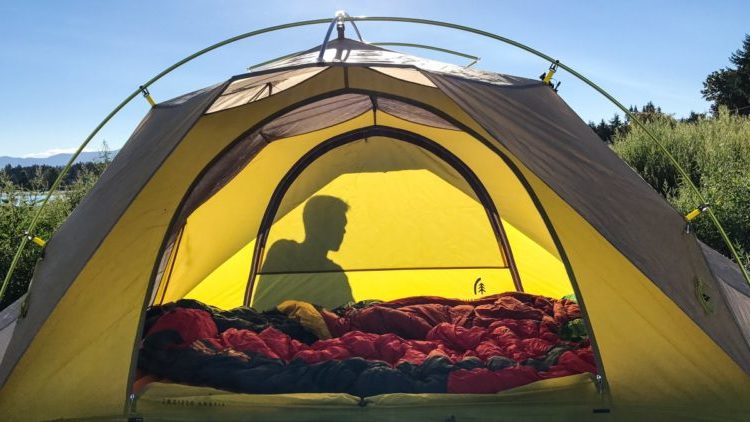 For answering this question above, you will first need to know what kind of camping you are planning to do. Like all other tent types, backpacking camping tents also have walls.
The walls might be solid or can be constructed using mesh. If you are going to a place known for its warm, temperate climate, you should opt for a tent with walls made of mesh. This will allow the breeze to pass through your tent making its interior cooler. Your mesh can tear apart on the vacation.
What should you do to prevent mosquitoes from reaching you?Repair your tent mesh and enjoy the vacation further on.
On the contrary, if you are going to a place known for its low temperature, buy a tent with solid walls. They will be tents devoid of any window, which would prevent the cold wind from entering the tent and keep the interior warm and cozy.
Another thing you must keep in mind when buying a tent for warm weather camping is making sure that the unit carries plenty of mesh. The more mesh you have, the greater would be the comfort. Additional meshes would make the tent cooler.
Individuals, who are fond of high-altitude camping, however, should always opt for the solid walled backpacking tents. These tents remain warmer at night. As a result of having solid walls, these tents don't allow mountain breezes to reach their interiors during the night.
Never Fail to Assess the Quality
There's actually no use in buying a backing camping tent, if it's not of high quality. You should consider buying one of the best backpacking tents in 2021 from our table above.
Most of us prefer camping in remote areas and the tent we use is one of the most significant equipment we carry with us.
As a result, a failure of picking a good backpacking tent often means a failure of the entire camping plan. Things tend to become even worse, if the weather conditions worsen.
If you have a high-quality backpacking camping tent, it would surely be able to withstand extreme weather conditions. Such a unit will never fail to protect you from adverse situations.
It would not leak after heavy rainstorms. You'll not see it fall down or break due to high winds. It would even be able to withstand light to moderate snowfall without much fuss.
Ideally, you shouldn't look to buy a cheap backpacking camping tent. It's impossible for a tent to be of high quality, if it's excessively cheap. Choose a good one that will fit your budget.