The nice thing about an inflatable kayak is that it can give you lots of fun on the water, and you don't have to spend a fortune to do so.
In this regard, the Intex Challenger Inflatable Kayak is perhaps one of the best because not only do you enjoy your time on the water with nary a problem, but the price is perhaps the lowest in the market today. That makes its value for money undeniably attractive.
Who is the Intex Challenger Inflatable Kayak?
Just because it's cheap doesn't mean that only the destitute who can't afford more than $90 on an inflatable kayak is its sole market. It's actually meant for beginners, especially for smaller kids as young as 11 or 12.
Some parents have even bought the Intex Challenger Inflatable Kayak for children as young as 8 years old, although they had to buy smaller paddles as well.
Adults, on the other hand, will also enjoy their time on the water a lot. This is especially true for beginners who don't expect to navigate Class IV rapids anytime soon.
Features of the Intex Challenger Inflatable Kayak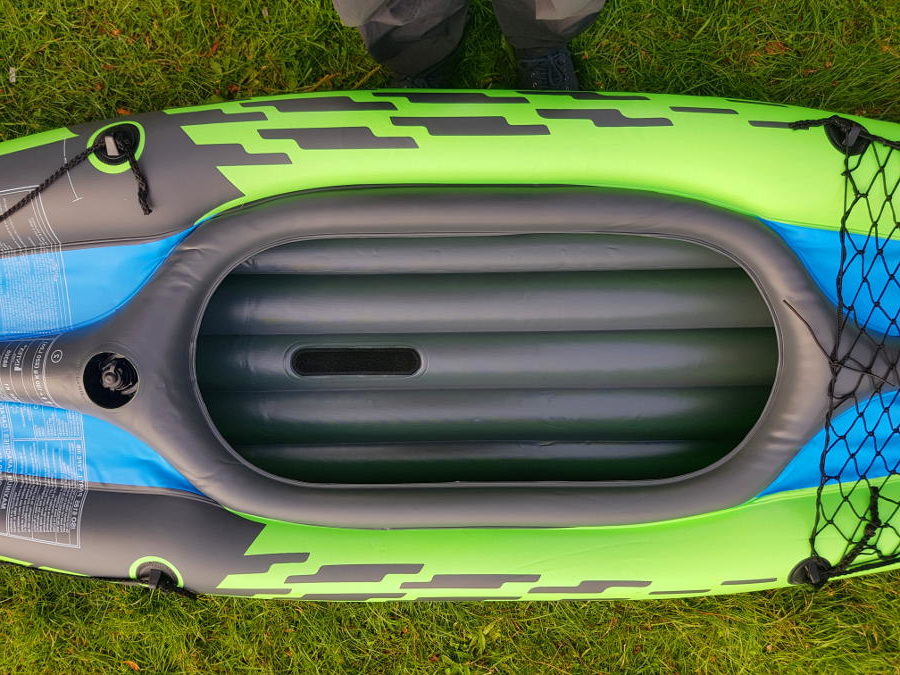 The single-person Intex Challenger Inflatable Kayak is made from durable welded 30 gauge PVC. It's tough enough to resist salt water, oil, and gasoline. The extra-thick vinyl also resists sunlight, impacts, and abrasions quite well. It is 9 feet long and 30 inches wide with a maximum 220-pound capacity.
The inflated I-Beam floor provides stability, buoyancy and comfort, and there are two separate air chambers to help it float. There's a cargo net for your gear, grab lines on both ends, and an inflatable seat with a backrest. There's even an inflatable foot rest.
Your purchase comes with a hand air pump, a repair patch, and collapsible 84-inch aluminum paddles.
How Does The Intex Challenger Inflatable Kayak Perform?
Those who are used to carbon fiber kayaks may complain about its ability (or lack thereof) to keep a straight line, but then again that's a characteristic of just about every inflatable kayak in existence. Other than that, it's great.
There are actually a couple of plastic skegs under the boat which helps provide some directional stability. They help minimize the zigzagging, and they also enable you to rotate easily. Maneuverability is not a problem at all.
Buoyancy is also great, and you'll be fine as long as you're on waters that are at least six inches deep. The vinyl protects against leaks and tears, but do exercise some caution and don't let it scrape against sharp rocks and shells. But even if it does tear, it's very easy to fix.
Once you've had your fun in the water, transport and storage isn't a problem. You can deflate it in just 5 minutes. The kayak comes in a cloth travel case that's about twice the size of a briefcase, and its 25-pound weight shouldn't be difficult to carry. Even when inflated, carrying it over your shoulder is easy.
Think of the price of an Intex Challenger Inflatable Kayak as a rental fee, except that no one will come after you when you don't return it. That's how inexpensive it is, yet despite that price tag you'll have many hours of fun on the water. Buy it for your kids as well.