Baby Camping Chair, also known as a portable folding high chair or portable travel high chair, is a relatively new concept but they are growing in popularity.
The earliest of these folding high chairs were made of wood. They were heavy and not very popular. Using modern materials to renovate an old design, the industry has rejuvenated the sales of portable folding high chairs.
Whenever a product like a baby camping chair shows growth in sales, so does the available selections and features. Currently, the most common design for a baby's folding or camping high chair uses a steel or aluminum frame with vinyl or nylon fabric. The trade-off in materials means a trade-off in portability and stability.
Any popular folding high chair like the one shown in the photo below only weighs about 8 pounds.
This means that the stability of the portable high chair is directly tied to the weight of your child. For the highest level of safety, always place your child's chair on level ground and always follow the manufacturer's recommendations for both maximum AND minimum weight limits.
Portable Baby Camping Chair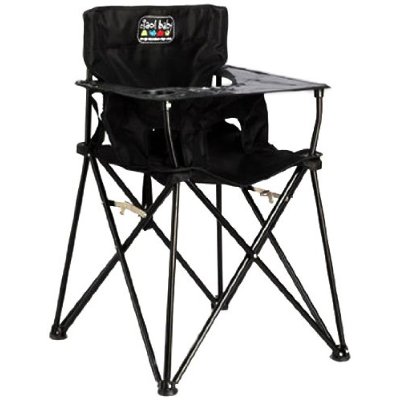 Baby camping chairs like the Ciao! are great for so many things besides camping. Many parents now consider folding high chairs a "must-have" for family reunions and holidays like Thanksgiving and Christmas.
Parents have also started taking these into fast-food restaurants instead of using the chairs provided by the restaurant; let's face it, how many want to put their child in a chair that's been used by hundreds of other children? Due to their portability, baby camping chairs are handy for taking to the park, picnics, babysitters, and of course Grandma's house!
The Ciao Portable Folding Chair is not only one of the very few baby camping chairs on the market currently, but also one of the highest rated children camping chairs for many reasons.
It's made for children up to three years old, with a minimum weight of 10 pounds and a max weight of 50 pounds. It's included carry bag, and weight of little less than nine pounds makes it easy to transport place to place.
No assembly necessary, just unfold it and strap your child in. Depending on the age of your child, you may find it easier to have another set of hands to help set your baby in and secure the seat belt straps.
They clip in the back making it somewhat awkward. After use, a baby wipe is good enough to wipe the seat fabric down and prepare it for next time.
The price of the Ciao Portable Travel High Chair might seem a little high compared to other camping chairs, but it's well worth it. Having a portable camping chair for your young one can prove invaluable and be a real lifesaver!