I've never had a day pack that I loved. In recent years, I've tried different bags and haven't been impressed by any of them.
In my search for the perfect day pack, I came across gear fromTenzing Outdoors. A friend of mine has one of their larger packs and is always talking about how great it is.
After looking at other brands, and finally holding a Tenzing pack in my hands at a local retail store, I knew I wanted to give them a try this year. They offer a great selection of packs for different uses.
Everything from carbon frame packs designed for hauling huge loads out of the back country, to small waist packs and high tech bird vests. When I saw their lightweight day pack, the Tx series, it had everything I was looking for and I was sold.
A True Day Pack.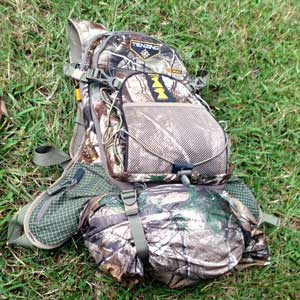 One of the biggest issues with the other "day" packs that I've owned was getting a true day out of them.
My most common hunts here in Georgia are day hunts. I get away for overnight and weekend trips here and there, but primarily I'm a weekend warrior.
Having a pack that I can carry, use and depend on all day is important to keeping me out in the woods.
#1 – Size Matters.
A day's worth of hunting gear isn't all that much stuff.
I usually carry a couple of knives, water, para chord, food, gloves, GPS, wind checker, flashlight, first aid kit, extra clothes, my cell phone and a few other small items in my bag. These items do not require a lot of space and a huge pack.
Having a smaller pack helps reduce weight and wear on my shoulders as I carry it through timber all day. I've found that about a 1000-1500 cubic inches pack is the perfect size for day hunts.
The TX does a great job finding that harmony between being too small to carry enough gear, and too large to be carried easily all day.
Sizing in at 1211 cu in, the TX pack serves my purposes very well, and even throws in a bonus 11 cu in of space to make sure we're getting more for our money. It isn't so small I feel like I have a round purse slung across my back, and it isn't so large I feel to bulky to sneak through brush. Perfect size.
#2 – Lightweight Comfort.
A heavy, uncomfortable pack wears me out. The last pack I used would always find it's way to the ground beside me when I'd stop to still hunt for a while. It was too heavy for its size, and uncomfortable to wear for extended periods. But the TX really shines in both of these areas.
One of the first things I noticed after loading up my pack and slinging it on for testing, was how comfortable it is.
I can honestly say this is one of the most comfortable packs I've used. That's a big deal to a guy who puts in hours at a time with the bag strapped on. The pack is very lightweight at only 2lbs, and yet feels sturdy and comfortable when loaded to the brim.
The pack utilizes thin shoulder straps with webbing on the top side for strength and grip. I was nervous about how well they would secure a loaded pack.
But I must say, not only are the straps very comfortable, but they also do a great job at holding to my body when trekking through the woods. The thin straps work well with a sling thrown over the top and have a retaining clip for a hydration line.
Chalk up a win in the lightweight comfort column for the TX.

#3 – Contoured Fit.
My favorite thing about this pack, and why I'll be using it this year over any others, is how the pack fits. When I put on the TX and adjusted everything to fit, I immediately noticed how well it contoured to my back.
The lower section of the pack does a great job wrapping my lumbar and holding secure. The thin, wide shoulder yoke distributes the weight perfectly. If a backpack can fit like a glove, the TX does just that.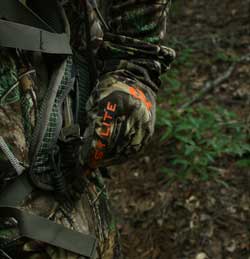 In front, the pack's straps are in comfortable locations and secure the load well in the chest and waist. the strap that can be buckled in the front.

Once secured, I was able to maneuver around in the woods without the load shifting and sliding around on my back. Major win. I've never had a pack that held as secure as this one, andI couldn't be more pleased. The tailored fit of the TX is easily my favorite feature.

One reason the pack fits so well is the lumbar wrap that makes up the waist strap. On the sides of this wrap, they've placed small pockets that have quickly become one of my favorite features.

These little compartments are not very large, just big enough to fit my wallet and keys, butthey proved to be extremely handy.

No more worrying about the keys to my hunting rig falling out of my pocket on the side of that hill, or having to dig through my pack to get out my turkey calls. They're great for gloves, facemask, calls and all kids of quick-access items.

Excellent fit and smart design? Yes, please.
#4 – Kit Expansion.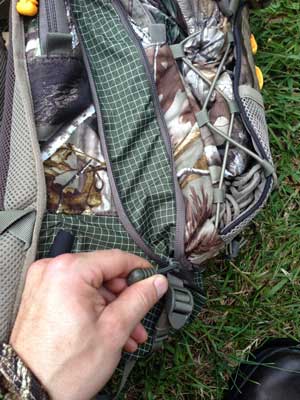 The pack also features a full 2.5″ expansion zipper. When opened, the pack can hold quite a bit of gear.

There are also compression straps underneath the bottom of the pack, and an open compartment with straps and stretch webbing on the top of the pack.

These help to make room for an early morning jacket after the temps start to rise, when additional treestand gear needs to go in, or if I am carrying extra food/water for longer sits.

Here in GA we have late season days that greet the dawn below 30 degrees, and make their way up into the 60's in the afternoon.

Having that extra space to shed layers and know I can secure them to the pack instead of carrying them in my hands is a big help.

I was able to fit all my day-hunting gear into the pack, plus an extra jacket in the outer compartment, warm softshell pants in the bottom lashing straps, and still had a room on the trademark yellow Tenzing tie down points for more.

This "small" pack will surprise you at how much it can actually carry.
#5 – Quality Build.
I could feel the quality in this pack immediately. The seams and joints have heavy duty stitching. The zippers worked flawlessly and feel beefy enough to last longer than they'll need to.
The materials used in the pack feel very high quality, and feature rip-stop stitching in high-stress areas.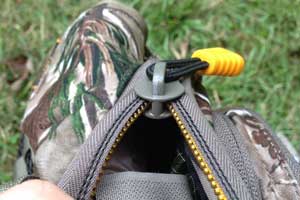 It's obvious, there was a lot of thoughtful design that went into this pack.

Tenzing uses their trademark yellow zipper pull on the main compartment to help keep things simple in that adrenalin fogged morning stand.

You can see the attention to detail in the thin shoulder harness that makes carrying a sling easier, the wrap around lumbar straps with side pockets, the expansion options and the side-entry hydration port.

The TX was designed to hunt, no doubt about it.

The quality of this pack is echoed in Tenzing's Lifetime Warranty.

All Tenzing packs come with a warranty for the materials and workmanship for the life of the product. I think we can all appreciate that kind of assurance when investing in a quality pack that we're going to depend on.
Where to find them…
Tenzing doesn't sell their packs directly on their website. They are available in most of the large outdoors retailers nationwide and online. If you're not close to a retailer, I've found good pricing from Amazon.com here.