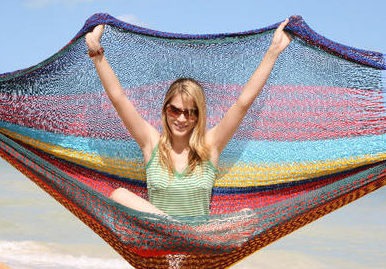 Are you looking for a
Mayan hammock
?
The market is filled with a host of products. You should always opt for the premium quality Mayan hammocks made of cotton.
Get your hammock today and spend quality time with loved ones. Replace the old fashioned garden chairs with the comfortable Mayan hammock and exemplify the standard of an epitome living.
Whenever we speak about the hammock, the first aspect that comes to our mind is a vibrant and colorful swing that is soft, relaxing and comfortable.
They are available in a host of different varieties, starting from the traditional designs or the modern and stylish ones.
While you are planning to buy the Mayan hammocks, you shouldn't just consider their softness, but you must have the knowledge that they are made of the strongest weaves that can bear up to 800 pounds.
Hence, you can be assured of the fact that they are made of the strongest and the best quality cords so that apart from the comfort, they can provide much-needed safety as well.
What do You Know about Mayan Hammocks?
Well, it is a hanging bed of rope netting or canvas that is usually suspended between two trees so that it can swing easily.
The Mayan hammock is hand made, usually from 100% cotton and no two hammocks are exactly the same in their design layouts. Hence, each and every item that you come across has distinct attributes.
The technology behind awoven hammockhas been passed down from the traditional and the ancientMayan culture over more than 100 years.
The artisans have learned the skill of making hammocks as a part of their lives and since they have been involved in it's making since the early ages, these are considered to be the best.
When compared with any other, a Mayan hammock is designed in a cross way thin to medium ropes incompatible with the contours of your body and provides the maximum comfort and ease.
The best part is that it offers a relaxing, secure and stable experience. People from all over the world use the hammocks, especially as an outdoor design feature in the garden and the lawn areas.
The Mexican Hammock Versus the Brazilian Hammock
The nations like Brazil and Mexico have a rich history and culture of making the comfortable hanging beds or the swings.
People from Central and South America have been involved in the weaving of the hammocks for several centuries. Back in ancient times, it was considered advantageous to sleep on suspended beds to stay safe from snakes, scorpions and other dangerous animals.
If you examine closely, you will find certain differences between the Mexican and the Brazilian hammocks.
Let us find a comparison ofMayan vs. Brazilian hammock:
The Mayan or theMexican hammocks are best for the summer climates. On the other hand, the Brazilian hammocks are best for the cooler climates because they are designed with tightly weaved ropes with lesser ventilation options.
A Mayan hammock is usually a handwoven cotton fine net. A Brazilian suspended bed is made with fabric or cloth.
A Mexican hammock is designed in a way that it takes the shape of your body, giving you the ultimate comfort and relaxation. A Brazilian hammock also provides you with comfort, but when compared with a Mexican product, it is lesser.
Since the Mayan or theMexican hammock is handwoven, it is way costlier than the Brazilian one.
Top 7 Mayan Hammocks in the Current Market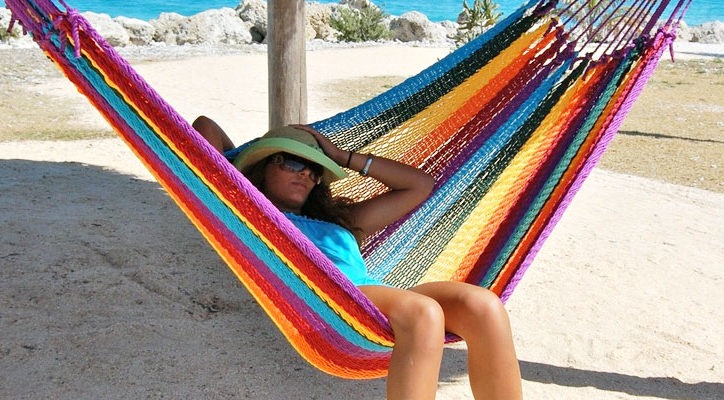 If you explore the current market, you will be overwhelmed with the different choices of hammocks made by Mayan artisans. It will be a difficult or challenging situation to get hold of anyone's particular product out of so many.
A short brief on the above Mentioned Mayan Products
In order to make your situation simpler, you can go through the mentioned products below and invest money on a suitable one that suits your criteria.
Let us have a look at each and every product as given below:
| Product | Type of fabric used | Weight of the product |
| --- | --- | --- |
| Mayan Hammock Chair | 100% cotton | 4.41 pounds |
| Handmade Cotton Hammock | 80% cotton, 20% nylon | 2 pounds |
| Handmade Matrimonial Size Yucatan Hammock | 70% cotton, 30% nylon | 2.7 pounds |
| Matrimonial Size Handmade Yucatan Hammock | 100% cotton body, with 100% polyester hanging arms | 2.5 pounds |
| Family Size Multicolor Mayan hammock | 100% cotton body, with 100% polyester hanging arms | 3.8 pounds |
| Portable Hand-Woven 2 Person Mayan Hammock | 80% cotton, 20% nylon | 3.9 pounds |
| Handmade Yucatan Hammock Chair | 100% cotton | 3.6 pounds |
1. Mayan Hammock Chair by Krazy Outdoors
If you are looking for the conventional styleMayan hammock chair, the product from Krazy Outdoors seems to be a perfect choice. Its diamond weave pattern made of 100% cotton of the superior quality has a capacity of around 300 pounds.
Hence, it is suitable for both kids and adults. The premium quality hammock chair has a dimension of 75x39x47 inches and is a family favorite.
It is large in size, spacious and comfortable as well. In fact, it can use in your patio, garden area or even carry it on the beachside. The best feature about the hammock chair is that it includes a wooden bar, making hanging or suspending easier and simpler.
Moreover, the product is guaranteed to be long-lasting and durable. Even if you are using it on a regular basis, it won't tear and can withstand the worst of weather conditions. Enjoy relaxing on the hammock chair for years to come.
2. Handmade Cotton Hammock by Silishape Hammocks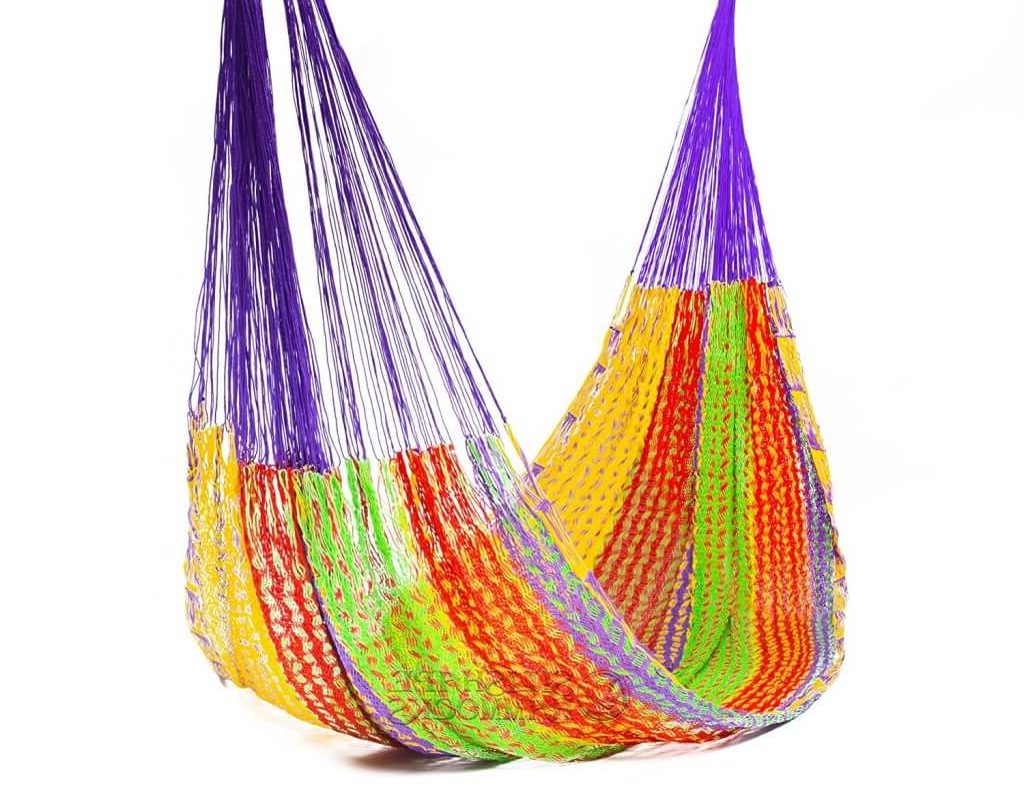 The handmade, multicolor Mayan hammock has been designed that follows the contours of your body shape. Hence, you can comfortably sleep on it, which might not be the case with the mattress of your bed.
Ditch your bed, the sleep in the traditional Mayan way. It is made from the combination of cotton (80%) and nylon (20%) offering the optimal comfort and weight resistance potential.
Since the material used in the rope weaving is of the premium quality, it is soft and doesn't pinch or hurt your back. Furthermore, this can be an excellent gifting idea as well during special occasions like Valentine's Day.
Since the local Mayan artisans make the product, when you purchase you will be helping thousands of families to lead a better life and aid them in education and health funds.
3. Handmade Matrimonial Size Yucatan Hammock by Hammocks Rada
Are you looking for adding an essence of style and flair to your yard or patio area? Why don't you opt for an outdoor, multicolor Mayan or Mexican hammock chair?
Believe it or not, it will provide a different look to your overall property. People all over the world prefer using the premium quality handmade hammocks for experiencing the ultimate comfort and relaxing, away from the stressful events of the daily lifestyle.
The matrimonial size, the handmade, tropical color hammock is designed for two adults and can bear up to 550 pounds. You can hang it in between two trees, stands or any stable items and is perfect for both the outdoor and indoor use.
The product has been handwoven by the skillful Mayan artisans and hence they are immensely durable even when used for years in the rough weather conditions. The product is so robust in it's making that you can even use it for outdoor camping.
4. Matrimonial Size Handmade Yucatan Hammock by Hammocks Rada
If you are looking for the ultimate comfort from a handwoven, traditional Mayan hammock, the matrimonial size, Yucatan handmade product seems to be the best option available.
Since the hammock is weaved with thinner strings, ventilation is proper. Hence, sleeping on it all through the night in the hottest weather condition will render you the comfort and relaxation that you might miss on your bed.
It is all the more possible because it is made of 100% cotton fabric. The product has been designed to withstand around 550 pounds, comfortably holding two adults, without the risk of tearing or falling apart.
Proper care must be initiated if you really wish to use the hammock for years to come.
If you follow the cleaning and storage instructions as provided in the manual, your product will last for years to come. Since the handwoven hammock is very light in weight, it can be easily traveled with.
5. Family Size Multicolor Mayan hammock by Hammock Boutique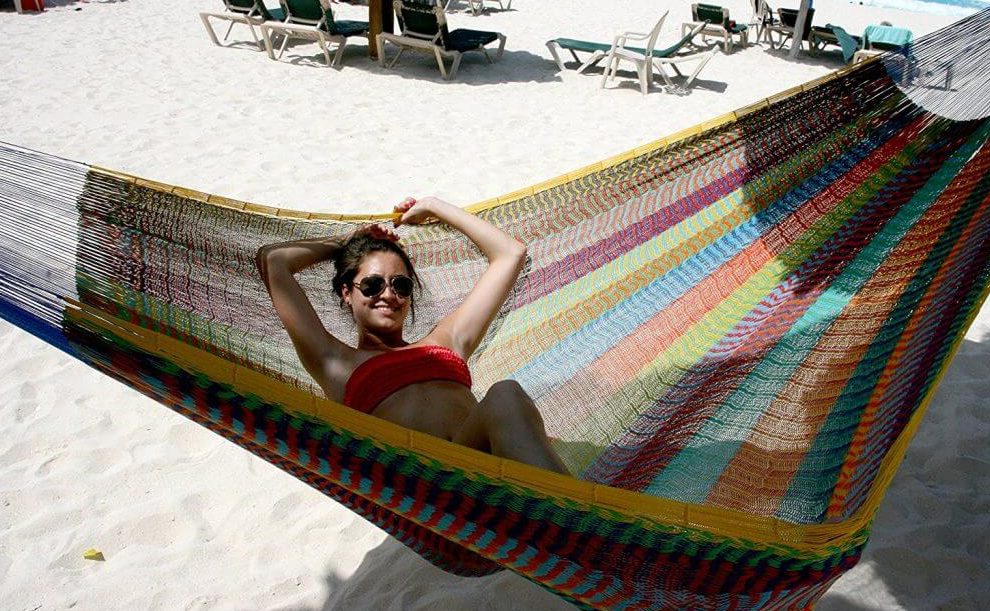 Are you searching for a reliable and efficient family size Mayan Hammock?
If so, you should definitely consider this product and enjoy a comfortable and enjoyable time with your loved ones.
This hammock is ideal for withstanding up to the weight of 652 pounds, making it suitable for 3 people at a time. Hence, you, your partner and a child can easily fit in the family size hammock and have a stress free time by the beach size, backyard of your home or even on the patio.
Since the weaving fabric is made of 100% cotton, it is soft to touch and adequate flow of air is also present, allowing you to comfortably sleep for hours. In case you prefer the nylon bed, you can order it as well.
As per the durability of the product is concerned, you can be assured of the fact that it will last for years. Furthermore, it is secured and even after regular use, the strings won't tear or get damaged.
6. Portable Hand-Woven 2 Person Mayan Hammock by Sunnydaze Decor
If you and your partner are on the heavier side and don't feel secure enough relaxing in the hammocks, you must try out the Sunnydaze jumbo size string hammock.
It is a spacious and immensely comfortable hammock that can withstand up to a weight of 770 pounds. Even if you are bulky or fat, the jumbo size handwoven Mayan hammock won't disappoint you at all.
The hammock bed is made of premium quality cotton, which makes it apt for sleeping for hours, even in hot and humid weather conditions since the mesh allows adequate ventilation of the air.
The materials used in the hanging sections are nylon fabric in order to provide the necessary flexibility, strength, and toughness to bear heavy weights.
7. Handmade Yucatan Hammock Chair by Hammocks Rada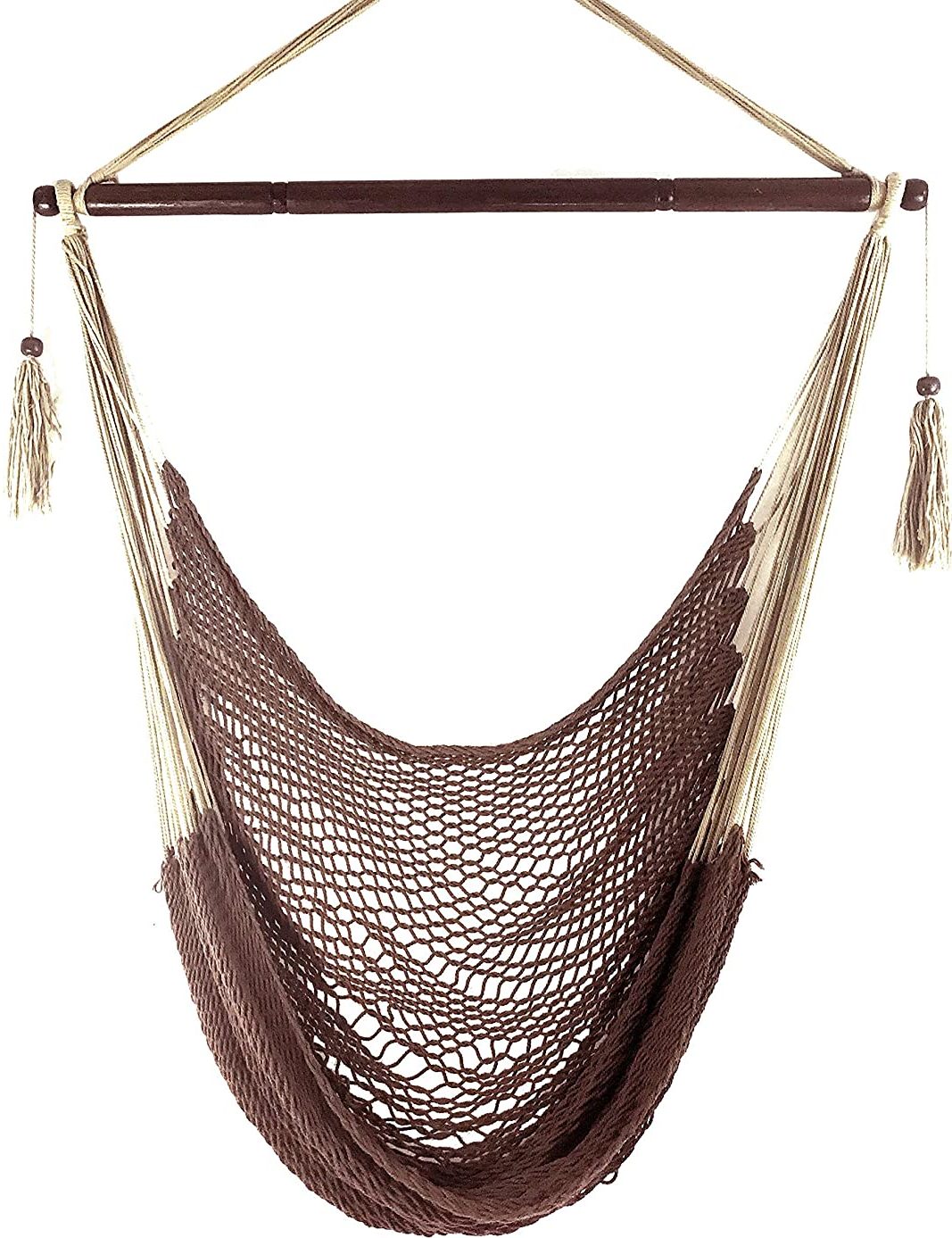 In case, you are hunting for the best quality handmade product, you must consider the handmade Yucatan hammock chair that comes in the natural beige color. It offers the traditional Mayan traditional look and feels, along with the premium comfort and relaxation. The product is made of 100% thick cotton of the superior quality, giving you the feel of a soft fabric.
The soft fabric thick cotton offers the airy seat that you will surely love, and also offers reliable weight support up to 260 pounds. The inbuilt wooden dowel bars offer additional support and stability for the optimal weight distribution without causing any tear and damage even after using it regularly. Since the local Mayan artisans make the product, they are well skilled and know how to make a Mayan hammock of the superior quality.
Investing in a Mayan Hammock is a Good Idea
It goes without saying that people all around the world are investing in the Mayan hammocks. They are excellent as both indoor and outdoor furnishing and add an aesthetic value to your property and beautify the space as well. These hammocks are ultra-lightweight, allowing you to carry anywhere, especially for camping or outdoor adventures.
While storing this type of hammock, you need to be very careful that they don't get damp, or else the product might get damaged completely. Moreover, the delicate strings should be avoided to be in contact with sharp objects and the proper cleaning techniques must be applied so that the durability is long lasting.
The Mayan hammock is undoubtedly a true piece of art that complements any décor of the house and also renders a positive effect on bringing the family together.
Get yours together and relax like never before in your own yard or patio.