If you're going to buy a trampoline, you're probably going to want to know what size is best for you.
Size is very important to the trampoline. It's an indisputable fact that everyone must remember when shopping for one.
You can't just estimate, because it may be a security issue. This explains why a lot of buyers who live in the suburbs are always torn between 12 ft vs 15 ft trampolines.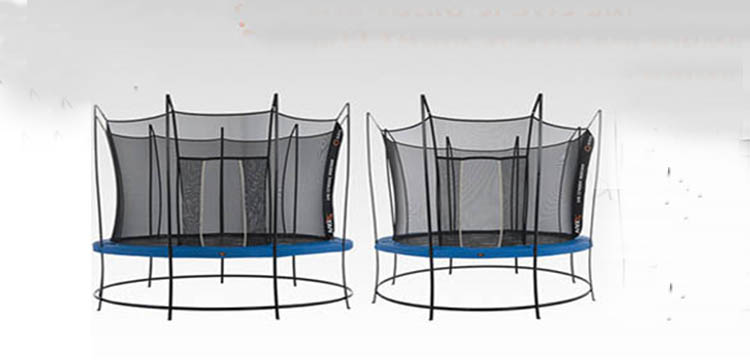 As you should know by now, there are dangers that come with trampoline use. Falls are even some of the most common causes of trampoline-related deaths from 1990.
While the use of enclosuressomewhat helped reducethe cases of similar accidents, the numbers weren't enough for experts to deem them effective.
Opting for a bigger trampoline is seen by many as an additional safety measure, however. With a bigger jumping area, you'll less likely to offshoot while you bounce.
There's also a bigger chance that you'll still land inside the trampoline if your equipment is a big one. So if you have space in your yard for one, why not opt for a bigger unit?
Your top options: 12' and 15' varieties.
These two are often the only choices by buyers because they're significantly different enough to confuse you which one suits your needs best.
Considered as medium trampolines 12' varieties can fit in most backyards. 15' trampolines are classified as large options already.
They offer a good amount of jumping space, though, so they prove to be very attractive options for a lot of households.
8 Things To Consider about 12 ft vs 15 ft Trampoline
How do you choose among the two? Let this quick roundup of reasons help you weigh your options.
1. 12' trampolines will fit in average-size backyards.
If you have some space in your yard, there's a good chance that a 12' trampoline will fit in your space. This is good news as most people shy away from owning a trampoline because of the size of their backyards.
You will still need the addition of about 2 feet of clear space around the trampoline to ensure your safety. This will make sure that you won't fall or collide with anything in case you fall off the trampoline. It lessens the risks of serious injuries as you can get more hurt if you fall onto something sharp or uneven during a high-speed fall.
2. 15' trampolines have bigger jumping space and usually have higher weight limits.
Bigger jumping areas are the best and most obvious reasons why 15' trampolines are great options for a lot of people. Next to this is the fact that they often have a higher maximum weight capacity.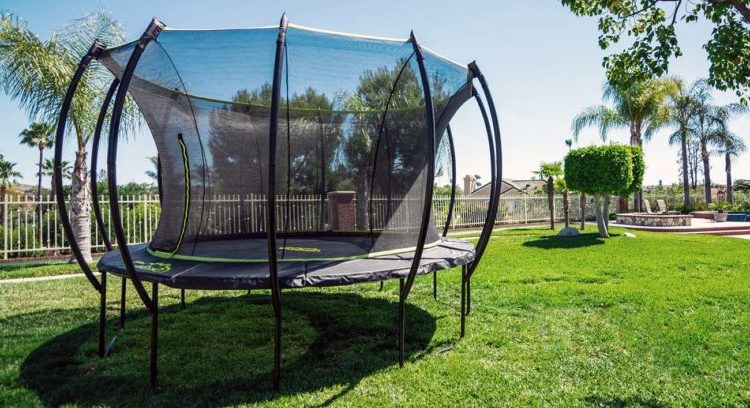 A lot of manufacturers increase their weight capacity because they're often chosen by older users. With their size, they'll attract teenagers and adults, so it's important that they're also very sturdy and durable to ensure the jumpers' safety.
So if you're buying a trampoline that you can use as well as your kids, this size might be a more suitable pick for you.
3. 12' trampolines are the best picks as your home's first outdoor trampoline.
If your little one is now older than 6 years and ready to transition from their rebounders and indoor trampolines to an outdoor backyard variety, this size is a good choice.
It will already be big enough for them to grow into. You won't have to replace it in just a year or two as it can provide ample space for them to bounce in until they get a bit bigger.
Note, however, that this size might already be too small for teenagers. The jump area might not be enough for their long limbs and wider frames. So if you're shopping for outdoor equipment for your teen, you might need to look for bigger options.
4. High-quality 15' trampolines can last longer than smaller-sized options.
Speaking of growing kids, it can take a while for children to grow into 15' trampolines. So if you want equipment that will last for years, investing in a high-quality, large-sized variety would be a wise choice to last for years.
Coupled with quality construction, high-grade materials, a generous weight limit, and accessibility of replacement parts, a 15' trampoline can be used for years on end.
5. There are lots of other factors that can also affect your size choice.
In some cases, however, some sizes are just better suited to certain buyers when other factors are present. Some of these other factors that can affect your size choices are the following:
6. The shape of the trampoline can make it more suitable for some purposes more than others.
Some applications require bigger equipment sizes and specific shapes. For example, you have a gymnast who wants to train a bit more at home.
A rectangular trampoline with a 15' length can provide ample room for various flips and acrobatics.
Anything smaller might not be a great choice as that might already lead to bad landings and even falls.
7. Some types of trampolines tend to have bigger jumping areas than others.
May it be a 12' or 15' trampoline, if you opt for a springless type, you might just be able to get more jumping space than what spring varieties can offer.
As trampolines are sized using their frames' measurements, spring-type units have smaller jumping areas than the springless varieties.
This might let you opt for a smaller piece of equipment, then, especially if you're working with a set budget. 15' spring trampolines often have about 13' jump area, so a 12' springless trampoline might be a nice substitute for such.
8. 12' and 15' trampolines have different price points.
Lastly, differently sized trampolines also tend to come at various price points. Sure, they might overlap if you're comparing different brands.
However, high-quality 15' trampolines will always cost more than their smaller counterparts. So if you're on a budget, it's best to compare the prices and then pick which one offers the best value for your money.
Is a 12ft Trampoline Big Enough?
There is no definitive answer to this question. It all depends on your needs and the space available for you to install a trampoline.
In general, 12-foot trampolines are big enough for a few kids to play on at once, but they aren't so big that they become difficult to store in your backyard. For most families, a 12-foot trampoline is probably a good size. If you need more space, consider a bigger model with a 14- or 15-foot diameter.
Who Should Buy 15 ft Trampoline?
The 15 ft trampolines are simply bigger and can accommodate more kids at the same time, allowing more family members to jump together.
Another reason why you should go for the 15 foot trampoline is that they are built with high quality materials that will last much longer than the cheaper ones. When you take all into consideration, the 15 feet trampoline is a much better choice than 12 feet one when it comes to durability and size.
With this increased size and durability, however, comes a higher price tag. But if you plan on using your trampoline often and want something that will last for many years then you should definitely consider buying the bigger one.
Final Verdict
Choosing a side on the 12 ft vs 15 ft trampoline debate is not easy for everyone.
This is particularly true for those who are just looking for recreational equipment that can add excitement to their homes.
Hopefully, if you're torn with these choices, these points get to help you choose the right match for you.