Large yards offer a wide array of possibilities for homeowners.
However, as renovations and yard works can get expensive especially when you have a few kids to raise, they can be left ignored by some folks. This can be a total waste of space's potential, especially since there are a lot of cost-effective ways to make the most out of it.
If you have a large yard that can be used for loads of fun but you don't have the budget to have it transformed into a fun zone that you have in mind just yet, getting a 14 ft trampoline instead can be a great alternative.
Not only will this leisure equipment utilize your space, but it can also bring loads of fun to your property. Having a huge trampoline will surely have your kids and their friends stick around the house. It can even be a great way for you to bond or even entertain other friends.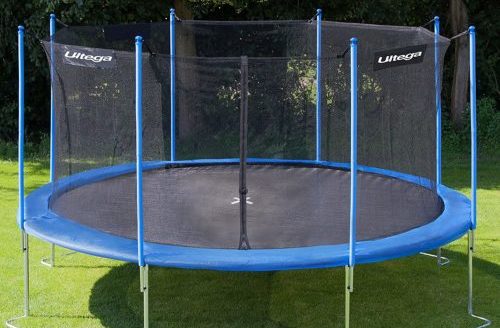 Having a trampoline that can accommodate a few kids or adults can add a nice fun touch to your home. As trampolines are more than just bouncing platforms, you are guaranteed to enjoy a lot of fun activities with them.
You can add lots of elements of play with a 14 ft trampoline, so you'll always find ways to make your time on it exciting.
If you like to do more physical activities with the whole family without having to spend a fortune every time. A large and high-quality trampoline will be enough to give you, guys, a wild time right in the comforts of your own home.
Top Five 14 foot Trampoline
With so many products to choose from, it's easy to feel overwhelmed with which trampoline to get. So to help you out, we've rounded up 5 of the best 14 foot trampoline in the market today. Check them out below and see for yourself which one suits your needs best.
Skywalker 14-Feet Square Trampoline and Enclosure
While round trampolines are the most traditional options, there are lots of folks that feel like it's not as efficient as a square-shaped unit will be. This is why if you think you're better off with a square trampoline, you should check out this product from Skywalker.
What to Like:
Its square shape gives you more jumping surface than rounded trampolines do. This will let you maximize your backyard and do more activities.
The enclosure doesn't include the springs, so you don't have to worry about landing hard on them while trying to do some jumping tricks.
This unit is designed to have no gaps in between your jump mat and enclosure. The two are actually directly joined together with a special interlocking design that features buttonholes instead of weaving a string through the materials. This promises to minimize accidents and mishaps involving little toes and fingers going through the gaps.
Equipped with 8 padded poles, this trampoline takes your safety seriously.
It feels really solid, thanks to its thick base tubes.
What can be Improved:
It only has a 250-lb weight limit so it might not be something adults can enjoy together.
14′ BouncePro Trampoline & Enclosure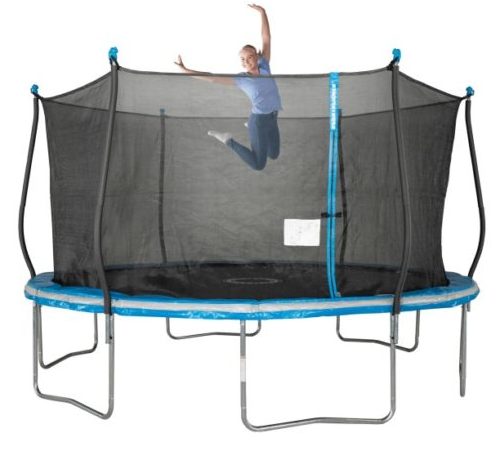 As mentioned above, you can do more than just jump around on your trampoline. You'll mostly need to get an additional accessory, however, to do so.
So, if you want to get more out of your trampoline, looking for a unit that comes with a nice extra is just ideal. This makes this BouncePro unit a great pick since it comes with an Electron Shooter game that truly adds more excitement to this product.
What to Love:
This unit is more than just a trampoline as it also has an Electron Shooter game that will give your jumps a goal. You need to shoot at a target at every jump and assess how great your shooting accuracy is.
The jumping mat is designed with a center circle ring that will encourage you to stay at the center to keep jumpers safe from potential dangers of landing on the springs or bouncing towards the safety net.
Designed with the Steel Flex Safety Enclosure, this unit has poles that are padded and are slightly bent towards the tip so the safety net is pushed forward and away from them. This adds security and safety for users.
It comes with a special spring loading tool so you can easily attach the mat to the frame without a hitch.
It feels durable and sturdy thanks to its double steel plate reinforcements on critical leg parts.
What can be Improved:
With only a 220-lb weight capacity, this product recommends only let one jumper at a time on the trampoline. This tends to make it less fun since bouncing around on a trampoline is best enjoyed with someone else.
The safety net requires lacing a string through the net and springs so that will take a while during setup.
Ultega Jumper Trampoline with Safety Net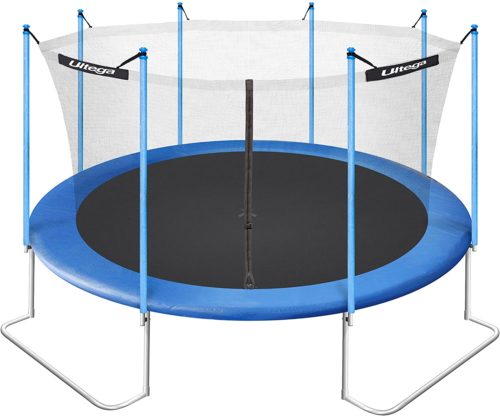 Offering a different and more modern take on trampolines is the Ultega Jumper Trampoline. This brand may not be as established as the others on the list but their products surely pack a punch.
This 14 foot trampoline is deemed as one of the best in the market today thanks to its good construction and top notch quality.
What to Love:
This unit is engineered in Germany. This guarantees that the design is well thought out and planned according to the high standards of this European country.
It's equipped with double footed galvanized steel legs that offer better stability than other trampolines. As the foot spreads out the weight, it's less likely to tip over.
It comes with instructions for five different jumps that you can do on the trampoline. If you like to use the unit for workouts, the free instructional material will be a great plus.
It has padded spring cover and poles adding comfort and security to the unit. Although the springs are not included in the net enclosure, they're still padded to ensure your comfort no matter what.
Additional and replacement accessories are readily available. If you want to add a ladder or rain cover to your unit, you can easily purchase them online. Replacements for parts are also available.
The netting isn't like other trampoline safety nets as it doesn't really cloud your view with its dark and thick mesh. This makes it look more modern and appealing.
What can be Improved:
It only has a 200-lb weight capacity, so that can really limit who can play with this unit.
Upper Bounce Trampoline and Enclosure Set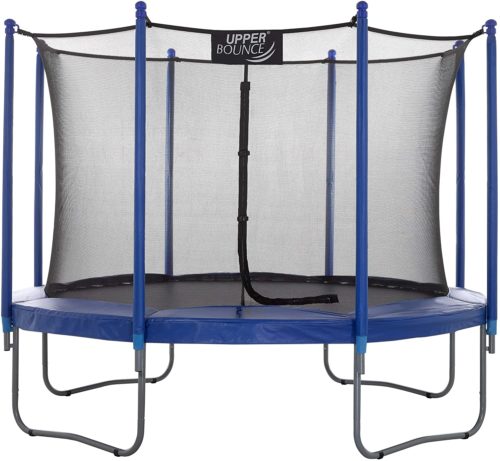 While most trampolines today are specially designed to withstand all kinds of weather, it doesn't mean that they're invincible and indestructible. If you want to keep them in great shape, you'll want to disassemble the whole unit every winter and keep them in storage until the weather brightens. Sadly, most units tend to be a hassle when it comes to disassembling.
This is where the Upper Bounce Trampoline stands out as it is actually designed in a way that will permit you to disassemble it with great ease. So, if this is your main worry, this product should be the first thing you look into.
What to Love:
This unit has an Easy to Assemble/Disassemble feature so you don't have to struggle with the unit if you want to store it in the winter. Its contact points are also designed to be more durable so it can withstand constant assembly and disassembly.
The enclosure poles of this product are welded directly on the base, ensuring that the poles will stand firmly and securely.
There are no gaps between the enclosure and the springs so you won't have to worry about hurting your fingers and toes with such flaws in the design that are common in other trampolines.
The springs are covered with a pad as well so even if you land on them, you won't get hurt.
With a 330-lb weight capacity, a lot of jumpers can easily enjoy this unit.
What can be Improved:
It uses plastic clips to secure the enclosure to the jumping mat so those might not last as long as you'd like.
JumpKing 10 x 14 Foot Rectangular Trampoline with Safety Net Siding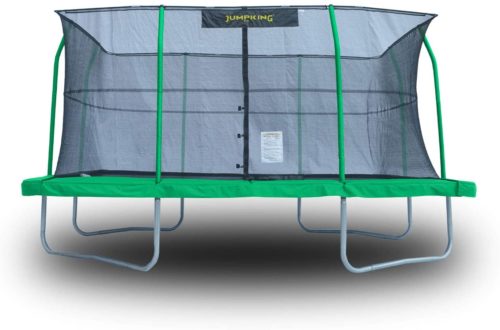 If you're in the market for a trampoline that will help your budding athlete train in their free time, a rectangular trampoline would be the best choice. JumpKing's 10×14 Foot Rectangular Trampoline is one of the best options in the market today as they're not only spacious, but they're actually built for heavy use.
What to Love:
It offers a lot of jumping space. With round and rectangular trampolines, you don't have much space to let you run before taking off. A rectangular trampoline offers that, however, so it could always be a better option for those training in gymnastics and other sports.
It has foam padded edges and poles so even if you don't stick your landing, you don't have to risk hurting your feet on the springs or your back on the hard poles.
It looks and feels sturdy, thanks to its quality construction.
What can be Improved:
Assembly can be quite tricky, thanks to its corners.
Its weight limit isn't listed anywhere so you might want to take precautions on how many kids you'll allow on the unit.
Final Verdict
With five solid options when it comes to 14 foot trampolines, you definitely have enough choices to find the right product that will suit your needs.
All of these suggested products are great in their own ways, so it's all up to what kind of activities you have in mind to make a call. Just make sure to note each products' cons as well, so you can be sure that you'll be getting the right match for your home.