Are you on the search forthe perfect dumbbell set? If so, I'm sure you've at least heard of Bowflex SelectTech 552 Adjustable Dumbbells.
These are one of the most popular dumbbell sets on the market, but I'm sure you'd like to know a little bit more about these before you buy them.
Gather as much information as possible about a product so that you can make an informed decision about your new fitness addition and consider them an investment.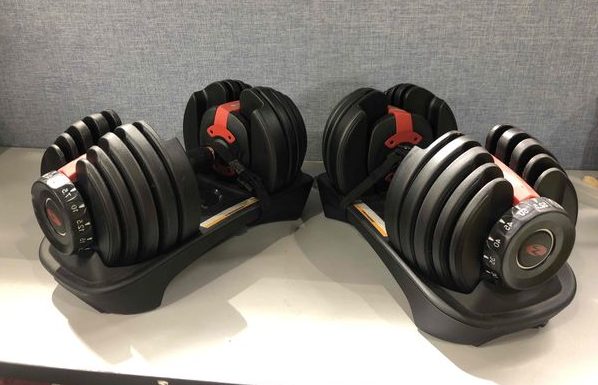 Remember two questions as you look for your adjustable dumbbells:
-Are Bowflex SelectTech 552Adjustable Dumbbellsthe right dumbbells for me?
-If yes, what do you believe makes them better than other competitive dumbbells?
The goal of this article is to break down some dumbbell myths and give you critical information that will become useful when you are looking for the answer to the questions above, and while buying your dumbbells.
Extreme Versatility and Easiness in Use
These dumbbells are so fantastic because they allow you to adjust them to a variety of sizes. This is great for all levels of experience, from beginners to professionals.
These Bowflex SelectTech 552 adjustable dumbbells are incomparable to any other in the fact that they can be adjusted using a combination of up to 15 weight sets ranging between 5 and 52.5 pounds (2.27-23.8 kilograms) per dumbbell.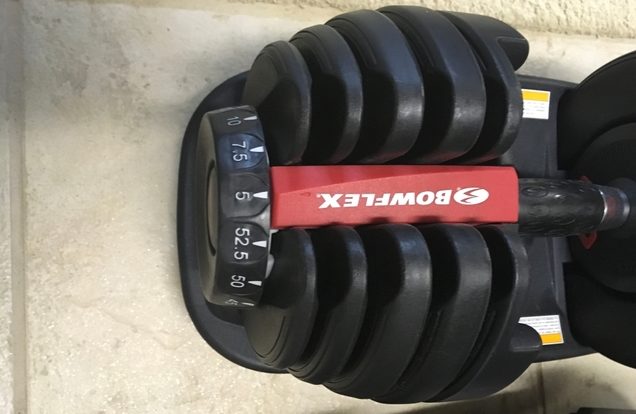 The result of this is:
Space saving at a home gym (think of how much easier it would be to store a single set of dumbbells!)
Money saving
This set allows you to change weights and setsvery easily,making this adjustable dumbbell set extremely desirable. Within seconds(literally) you are able to change from 5 pound weight sets to 50 pounds in one effortless move.
But wait, there's more! You can even change the amount of weight resistance in a gradualmanner and in as little as 2.5 pound increments. This means that you can increase the effectiveness and effort you place in your workout and fitness routine.
Safety and Sturdiness
These adjustable dumbbells arevery reliably safe,which can be both seen and felt from the moment you begin your first workout.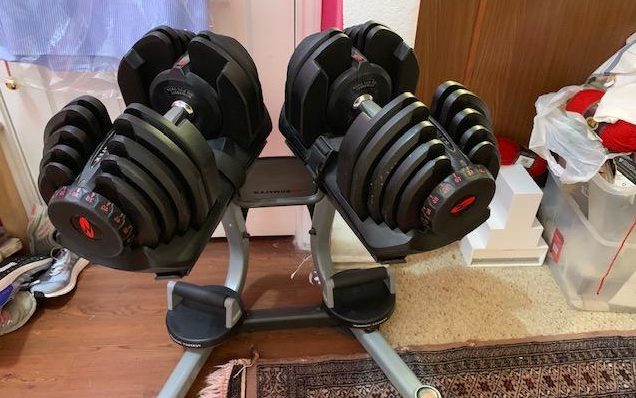 You can thank their study designandresistanceto wear and tear for giving you the workout of your dreams. This can all be had within your own home.
Feel safe about your dumbbellsbecause the Bowflex SelectTech 552 adjustable dumbbells also include a2-year warranty with purchase.
This will cover any maintenance or replacements needed in terms of parts and plates and places all Bowflex dumbbells on the top list of workout equipment out on the market today.
To review, the most influential features of Bowflex SelectTech 552 Adjustable Dumbbells include:
15.75 inches long
9 inches high
8 inches wide
Over 15 weight set combinations and options
2 year warranty included in the purchase for part and plates
1 year warranty on any labor
Easily adjust from 5 to 52.5 pounds
Each dumbbell allows you to increase weight by 2.5 pounds
Why We Like it
Our favorite featureof these dumbbells include theirweight range and modern design.
Simply looking at them you can easily judge their beauty,strength, and durability and this often helps people become more motivated to workout.
There is an unlimited number of exercises that you canperformwith these dumbbells, from squats to rows, chest flies and crunches for your abdominals, and even hammer curls or presses to tone your upper body.
Of course nothing is perfect, but our small problem with this set is its bulky sturdiness. While this is an amazingly smart safety option, it did take some adjustment for people working with them.
Best for Beginner
These adjustable dumbbells are designed in such a way that you can get your desired weight for your workout without having to bulk up. Space has always been a major concern which the bowflex selectTech 552 has very well acknowledged.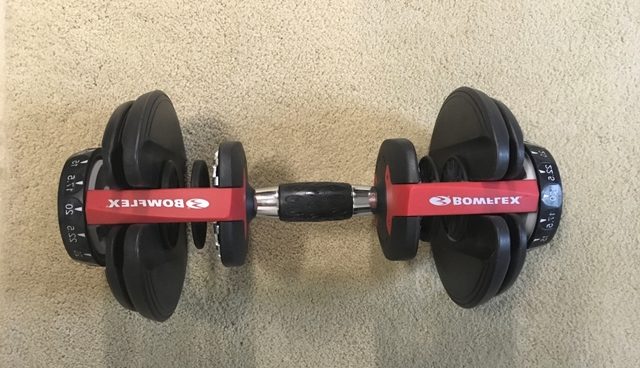 The dumbbells have a dial at the end of them that you can turn to select the desired weight. So for example you select 10 lbs using the dial the dumbbell will "lock" the number of plates required to make 10 lbs and release everything else, so when you pick up the weights, you get 10 lbs and the unwanted weights are left on the base plate.
Best Value for Your Money
One of the most attractive aspects of this product is its price.
This is the most reasonable of the three reviewed products and is capable of being effective for all weight trainers, despite experience level.
The Bowflex SelectTech is great for those individuals that are just beginning their muscle toning process. These weights allow you to increase weight by smaller increment levels as compared to the Weider dumbbell set. These are the main reasons that I chose this set at the best value of the three.
How We Use it
The traits this set offers are key to a gradual increase in weight training. You should not begin with too much weight for a number of reasons. Your body may not be able to handle lifting that much extra weight, and you want to avoid injury and muscle stress.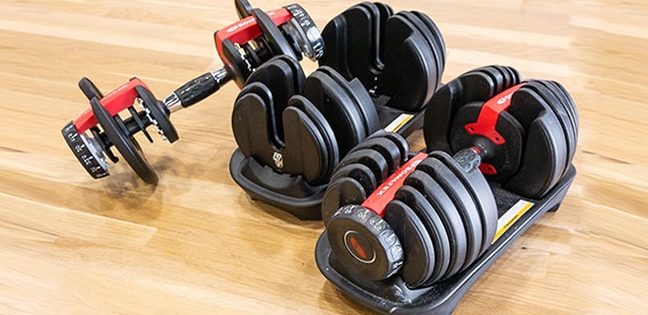 Working your way up slowly helps you to be more successful during all of your weight training sessions.
As an example, if may not be a smart choice to jump from 10 to 25 pounds, as this can be too much for your muscles to handle. Be sure to get the best workout and results by working in smaller increments.
Some other advantages worth noting
Increased functionality due to smaller weight increments
 An incredible time of just 5-10 seconds to adjust the four dial and set a new weight
15 to 30 seconds to adjust the set for a completely new workout
This set has the widest variety of weight settings, providing even more opportunities for muscle growth.
Summary
The Bowflex Select Tech 552 is a perfect dumbbell for a home gym and will also be a great addition to a professional gym. It is practical and cost-effective instead of buying several dumbbells to complete a resistance training routine.
Although there are some flaws regarding the design and the materials of this brand and model, it is still a practical choice for a novice weight trainee. There are benches and stands that complement the SelectTech 552.