When planning for a day out, either on a hike, running on your favorite forest trail or light backpacking protecting your feet is the most crucial thing. Trainers might suffice if you are planning for a simple stroll but if anything slightly more adventurous like serious hiking, you are going to need a good pair of hiking shoes.
If you have no idea how to choose, remember that they must be a durable and waterproof pair designed specifically to beat tough outdoor conditions.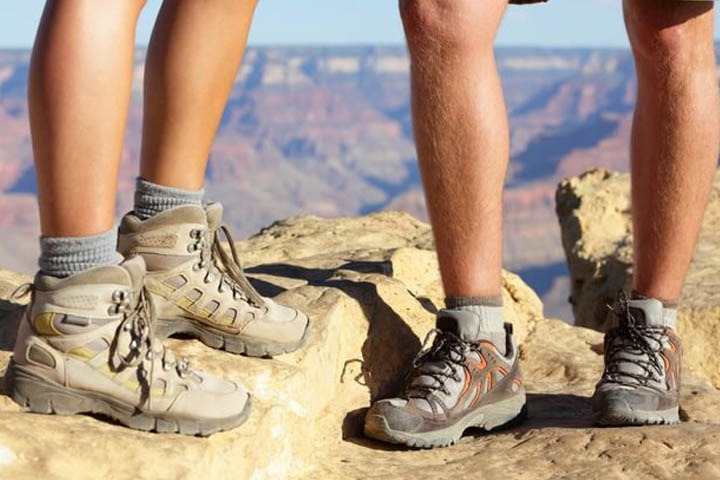 Hiking shoes are your first point of contact with the ground, so when choosing the best hiking shoes select something that provides you with a good level of comfort and support.
The pair should be your life safer in long walks and bad weather, they should have you happily hiking in rain or sunshine. Usually, hiking shoes tend to be expensive but they are worth the pay. For a light and nimble alternative to hiking here, we have picked top best hiking shoes for men.
1. Moab Merrell's Men Hiking Shoes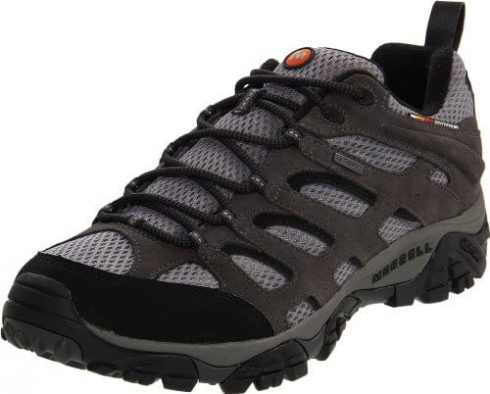 With their latest release- the Moab 2, Merrell promises their users super comfort and durability. The Moab Merrell's men hiking shoes are ideal for hikers who prefer easy and moderate day hikes where the shoes are designed to give hikers ample comfort and support.
Moab Merrell's men hiking shoes comes with a lot of great features that make them favorites among many hikers.
For instance, they have a Dura leather and nylon mesh upper that is flexible, breathable and supportive for durability. They also came with a bellowed. padded tongues that keep debris away, Eva heel and mid-sale pods that absorb shock and cushion the feet and a 5mm out-sale lugs that help in surface traction.
Pros
Relatively light for the category
Good WPB membrane sock
Very durable construction
Natural colors
Vibram brand sole
Virtually no break-in required
Cons
Small webbing eyelets difficult to thread new laces
2. Targhee II men's Hiking Shoe
The Targhee II men's Hiking Shoe is a top seller an Amazon. Here comes a unique boot that arrives with an exceptional design and shape that offers you an all-around performance to your feet.
Their most outstanding features include a five-color combination that is the craven/ tortoiseshell, chestnut/ Bossa nova, black olive/ yellow, magnet/ true blue and lastly the shitake/ brindle color.
Targhee II men's Hiking boots enlist a lot of features you can expect in any decedent pair of hiking boots. With excellent traction and stability, excellent padding, a high protective sole and toe guard and a wide comfortable foot box don expect anything other than extreme performance out there.
Anything from beaches, mountain trails or even streets the Targhee II men's Hiking boots has a proven record of good performance and is recommended for use across all varieties of trail surfaces. It available an Amazon with prices ranging from $94.0 to $156.95.
Pros
Reasonable price and value for money
Lightweight
Patented toe box protection
Minimal break-in period
Perfect for normal day-to-day use
Good day hike boots
Cons
Lace eyelets are made of woven fabric, if they go, boots are most likely done
Not the best option for longer hiking e.g. backpacking, etc.
3. X Ultra Mid 2 GTX Hiking Boots
If you are looking for a light trail runner with a strong command of stability and structure of a hiking boot, then the Salomon Men's X Ultra Mid 2 GTX Multifunctional Hiking Boot makes a perfect compromise for you.
Main outstanding features that make this pair quite unique include: leather/ guessed tongue that eliminates debris from getting into the shoes, lacing up with speed hook hardware featuring a breathable mesh panel, a sensifit that cradles the foot from the midsole to the lacing system and lastly a sleek design that gives your feet a secure, snug and virtually customised fit around your feet.
The boots display great performance in relation to feet protection, support, traction and comfort fit. Some other pros include the fact that the shoes command a great mix of support and flexibility, they have an incredible fit for narrow, wide and normal feet and lastly, they have a very durable upper and soul.
Pros
Very lightweight
Very comfortable
Durable
Great grip
Great price
Completely waterproof & breathable
Versatile
Cons
Not as breathable in warm conditions, not great traction on smooth rock
4. Terrex Swift R GTx by Adidas
Adidas is one of the top sportswear manufacturers in the world and with the Adidas Terex hiking shoes, don't expect anything less. The boats come great waterproof, comfort, traction, no tie laces, reflectors, and lightweight features.
Their unbelievable comfort enhances the shoes' appeal making one of the most favorite pairs of boots out there. One interesting feature is that these boots are not only designed for hiking they can be used on running trails too.
Pros
Traxion outsole
Midsole protection
Durable materials
Supportive and stable
Cons
No size 12.5
Runs hot
Harsh midsole on longer days with running
5. Men's XA Pro 3D Hiking Boots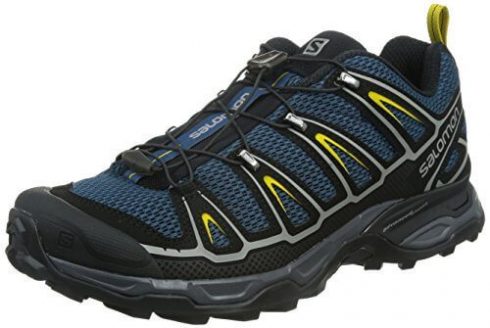 The Salomon Men's XA Pro 3D hiking and running shoes are one the best-selling boots from the Salomon line of hiking shoes. In fact, they are among the top brands in the world when it comes to running or hiking.
This shoe features the latest technologies to come up with exceptional designs specifications. The boots are ideal for all weather conditions, they are lightweight in nature, has a dependable waterproof design and has an impressive lacing design.
Their downside is that they are really expansive to acquire, and the same user has complained about minimal shock absorption at the heel region.
Pros
Ankle support
Light weight
Super grippy
Great colors
Super comfortable
Shoe lace system
Cons
Rocks can get in, best to use some gaiters
6. Men's Lone Peak 3 Hiking Shoes
While this shoe was initially intended for trail running it has significantly made a mark among hiking lovers as a lighter alternative to the usually heavier standard hiking shoes.
The pair comes with a heavy lugged sole that gives them a tractions edge over the standard versions. Their unique foot shape and toe box design mean that your feet can fully play in keeping you more comfortable when you are out on a long hiking adventure.
Their downside is that they feature a lacing system that tightens in front of the foot right over the metatarsals that often cause some discomfort. The shoes also have some breath-ability issue given their overbuilt and restrictive upper part.
Pros
Wide toe box
Extremely well-padded and comfortable
Mid version available for ankle support
NeoShell coating adds water protection
Cons
Grip is extremely suspect on wet rocks
7. Men's Ultra 109 Gtx-The North Face
This is a perfect hiking shoe for those hikers seeking to purchase a boat that will serve them for a longer time as they enjoy nature and its beauty. While we have many hiking boots for purchase out there this shoes has managed to make it at the top gaining popularity from many consumers. But why is it so? The pair strikes a balance between its design, performance as well as its functionality to come up with its unique features.
Its key features are: it features a lace and fasten up lacing system for a better fit, it features breathable the membrane on its upper part for adequate ventilation, it also features adequate padding that boosts it comfort lastly it is waterproof and can withstand strong weather conditions.
Its downside is that they are very poor at surface traction so you should be seen when using them too rough terrain.
Pros
Goretex works well
Thick and solid sole
Comfortable
Fit for running
8. Men's Mantra 2.0 Hiking Boots by Vasque
The Vasque mantra 2.0 hiking boots are fairly a superior product when it comes to hiking shoes. The pair features a great design including nubuck and meshes for the upper part, Gore-TEX lined the interior that promises users ultimate protection against water, durability and a breathable environment. A padded collar and tongue for more comfort and Perpetuum that offer users a steady structure for long adventures.
And if you're a little nervous about making the transition from boots to shoes, these are an ideal stepping stone. With a Gore-Tex lining, leather upper and rubber soles, these robust hiking shoes are also a great choice for hiking in wintery conditions.
Pros
Gore-Tex lining
High cut for excellent ankle support
Robust and durable
Buying Guide: How to Choose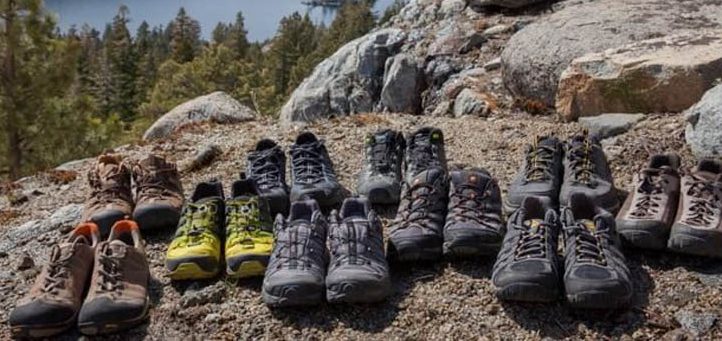 This guide has everything you need to know about how to choose the best one, so let's take a look at how to select the perfect pair of boots for your outdoor adventures.
Outdoor Climate and Weather
The first consideration that must come in one's mind is the outdoor climate, season and weather. Different hiking shoes are designed for different sorts of weather and a person feels ease when proper shoes are used for suitable climate.
The second thing a person must consider is the weight of the shoes. These class of shoes usually are heavy and are designed for different height and weight of a person. A person must choose the one which supports him in hiking and provides the maximum amount of comfort.
The third tip is that for how long a person needs those shoes. Usually, a costly pair of hiking shoes can be used a little more than the one which is cheaper but this depends on the mindset of a person that for how long he wants to make use of those shoes and how much he wants to spend.
Swelling of feet during the day
One of the main things to keep in mind when a person goes to buy new hiking shoes which a lot of people don't know is trying on boots later on during the day because your feet tend to swell as you're standing and walking around so knowing that your feet are going to be a little bit different even a half size different later in the day is going to be really helpful when you tire at the end of a hike so trying on shoes later in the day definitely helps.
Don't try with a dress sock
A lot of the people come in the shops and try those shoes with a dress sock but that's not the sock you're going to wear during your hiking trail. It's not going to work as it's really thin and then the boots going to fit completely different at that point. So bringing in the sock that is suitable for hiking and thick is extremely important.
Must have a check on Incline Ramp
Last and the most important tip is that some shops do offer an Incline ramp to check the working of shoes. Incline ramp is extremely crucial when trying out new shoes.
You definitely want to lace your boot up like you're going to wear it and then start at the top and kind of stutter step your way down and make sure that your toes are not hitting the front because if they're hitting the front four or five steps down to Incline rap, they will be going to hit on the way down from a mountain and then you turn around and walk back up and make sure that your heel isn't slipping in the back because that would cause a blister completely.
Hiking Shoe FAQs
Are hiking shoes good for everyday use?
Hiking shoes are designed to withstand almost all weather conditions. So they are generally stronger and waterproof. It may be a better choice to consider the daily use of hiking shoes, rather than the opposite way
Can I wear running shoes for hiking?
Yes, you can go hiking in running shoes. Cross country running shoes are the best type of running shoes for hiking and are often recommended by experienced hikers. Road running shoes don't perform as well as cross-country runners, but they still work.
How often should you replace hiking shoes?
Mileage considerations. Some shoe makers advise consumers to change their climbing boots every three to six months or every 350 to 500 miles, depending on usage. This milestone may be accurate, depending on the type of hike one likes and the conditions for using boots.