What are Headlamps?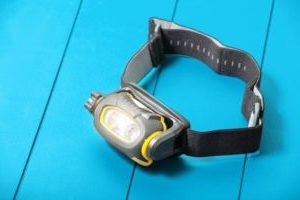 A headlamp is a light that you can strap to your head to give you total hands-free working while enjoying bright light.
If you have seen a picture of a coal miner returning from a deep mine you will have seen that he was wearing a lamp attached to his helmet. That is a headlamp.
These days, headlamps can come in a variety of different types. The size of the lamp itself will vary, as will the style of the head straps and the method of fastening them.
Headlamps are brilliant when you need your hands free but also need to light your way or the job that you are doing. Outdoor enthusiasts will find a headlamp invaluable when trying to erect a tent after dark, trail running in poor light, or hiking when dusk is falling.
Many professionals will find using a headlamp makes all the difference when they are working on an engine, in a dark space or outdoors at night.
The opportunities for wearing a headlamp go beyond just those. Horse-riders, mountain bikers, backpackers, fishermen, and hunters will all benefit from having a headlamp among their kits.
How often have you tried to perform a tricky, fiddly task with a flashlight held between your teeth? A head torch would have made the whole experience much easier.
Features to Consider When Choosing Your Headlamp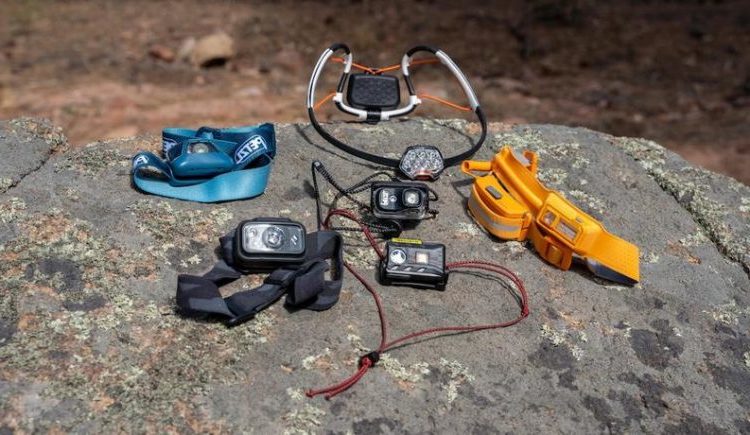 There are a few factors to consider when you start looking for the best headlamp for you.
· Brightness
The brightness of any lamp is given as lumens. The higher the lumens quoted the brighter the light. You would not be reading this if you did not want the brightest headlamp you can get. Many headlamps on the market have adjustable brightness settings – some have as many as 4 settings. This means you can save battery power by switching to a lower brightness when it is appropriate.
· Range
The range of a headlamp is simply the distance that the light can reach. The manufacturers of a headlamp will give you an estimated range for their product. Headlamps normally have longer ranges than flashlights.
· Light Modes
It is common for flashlights to have up to five light modes. Headlamps similarly have modes, but one of the most important is the strobe effect. If you are running on the highway you will be more noticeable to motorists and other users when your headlamp is flashing.
· Automatic Beam Adjustment
This is a new technology that is not perfect but nevertheless can be helpful. The technology automatically adjusts the beam of light from your headlamp as it detects objects in front of you.
· Weight
The weight of a headlamp is an important factor. If you are a competitive runner, trail runner, or sportsman then you won't want a heavy headlamp. A number of manufacturers produce lightweight headlamps.
· Rechargeable Batteries
For convenience, it is a good idea to choose a headlamp that has rechargeable batteries. The majority of those that do use Lithium-ion batteries. Recharging can be via a charger unit or USB port.
· Battery Life
Some headlamps drain their batteries quite quickly, whereas others have much longer battery life. Try to choose a headlamp where the battery life is long.
· Water Resistance
You headlamp will be out in all weathers, just as you are. Try to choose one that has a high water resistance rating so that it won't let you down if you are running in heavy rain.
· Comfort
You will be wearing your headlamp for long periods so it is essential that it is comfortable.
· Tilt
Climbers might need a headlamp that offers a tilt feature to enable them to see above them as they climb.
· Red light
Campers will be keen to choose a headlamp that also has a red light feature for night time use.
Our recommendations
As the name suggests this headlamp has been designed with hunters in mind.
It produces a bright 5000 lumens using rechargeable batteries.
The high level of brightness does draw on the energy in the batteries, so before you go out, make sure they are fully charged.
This headlamp is heavier than most and is provided with a strap over your head and around your head. This configuration of straps makes it one of the most comfortable headlamps to wear.
The bulbs are LED with one large one and two smaller ones on either side. These emit green light.
The Topwell is a comfortable headlamp that is versatile and very bright. It can be used in many situations other than hunting and is good value for money.
6000 lumens output places this headlamp from Snoorda among the top picks.
This headlight also has a strap over the wearer's head plus another two around the sides.
This arrangement keeps the headlamp firmly in place and also makes directing the light easy.
Three LED bulbs sit at the front all of which are adjustable.
It is also possible to focus the center lamp with a simple hand movement. The headlamp is waterproof to IPX5 is durably made.
There is a strobe option among the lighting modes.
Another headlamp with three LED bulbs at the front, the Smiling Shark will produce 5000 lumens of bright light.
The light will reach about 120 yards maximum.
The straps – one over the head and two around the sides – are fully adjustable.
While the Smiling Shark is waterproof against light rain, it should never be allowed to slip underwater.
The 'TAC' in the title represents 'Tactical' as this headlamp falls into that category.
It is tough, reliable and resistant to scratches and impact.
There is an adjustable zoom, three light mode settings, and is waterproof. It uses rechargeable batteries.
The 1TAC is a very popular headlamp and boasts some great features as well as being easy and simple to use.
We just had to mention this unusual headlamp.
It is advertised as a hunter's lamp and emits 80,000 lumens. That might seem exaggerated but it can produce that level of brightness although more regularly the rate is 6,000 lumens – which still rates as bright!
The lamp is fitted to the front of a camouflage-patterned cap and is larger than many headlamps.
It uses 18650 batteries that are charged via a USB port. The lamp can be switched between white light or red and green light.
The cap and lamp are rainproof and the lamp is reliable and durable.
This is a great headlamp for hunters but others will enjoy using it too!