The Fenix PD series flashlights have become know to be both compact (Great for EDC) and powerful while giving you long runtimes and unmatched reliability.
The PD35 uses all the latest technology in its components yielding a brighter, longer throwing beam while conserving battery power as much as possible. The Fenix PD35 has become a favorite for "Preppers", law enforcement, military and everyday users alike.
TheFenix PD35can run either on a single 18650 cell or two CR123 batteries, giving you options when you need to power the light. The light source is a highly efficient Cree XM-L2 U2 Emitter.
As far as packaging, the PD35 comes in a nice box with all the vital information on the box itself to give you a very good idea of what the light will do. You also will get a holster, lanyard, 2x spare O-rings and spare switch boot along with a user manual and warranty card.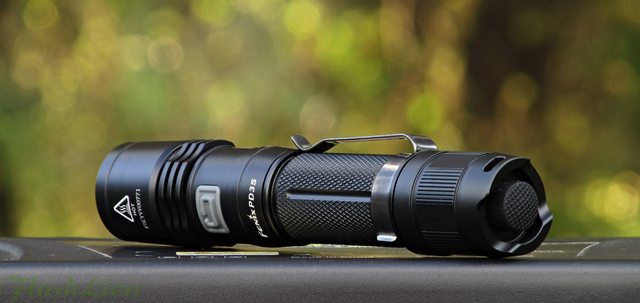 Fenix PD35 Review: Craftmanship
The first thing I noticed was that the PD35 was a well-balanced light that felt very good in my hand. There's plenty of crosshatching and knurling so I always felt sure of my grip on the light. The pocket clip is well made, and very sturdy as this light has been clipped to my belt for whole days at a time when needed. You'll notice that there are also cooling fins near the bezel for better heat dissipation.
One of the most annoying things aboutother tactical lights is that they don't leave enough room to accommodate all the various 18650 cell sizes. While one might fit, others will not. This is definately not the case with the Fenix PD35. It will take protected and unprotected cells alike with no issues.
The flashlight uses a tactical tail switch(forward clicky)with a momentary-on function for turning the light On/Off, but also has a side switch for changing the modes Eco-Low-Medium-High-Turbo and Strobe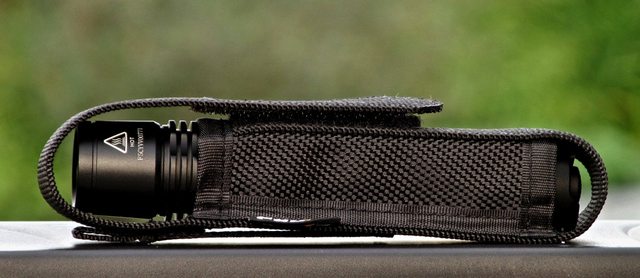 The Fenix PD35 uses a smooth 20mm reflector that puts out a very impressive beam pattern. It gives off a very clean beam with no imperfections, a very bright hotspot in the center with good spill light to see around the sides.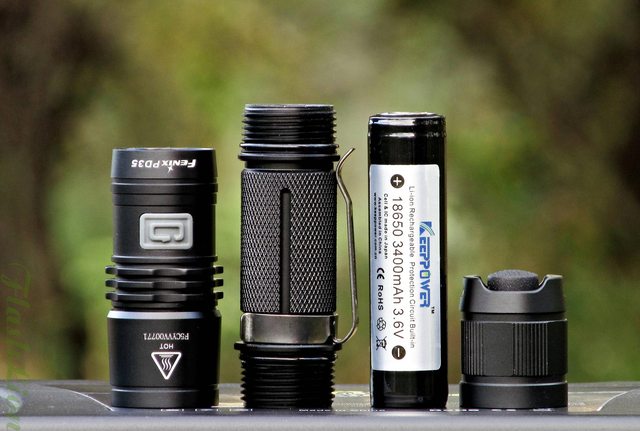 Fenix PD35 Review: Battery Life
Using the 18650 cells, your expected battery life is as follows:
Eco 10 Lumens /140h
Low 45 Lumens /29h
Mid 170 Lumens /7h45min
High 450 Lumens /2h30min
Turbo 850 Lumens /1h15min
Strobe 850 lumens-dual frequency
The PD35 will generate a significant amount of heat while on the turbo setting.
To protect the light and battery, PD35 drops down into the High brightness level after running at Turbo output for about 5 minutes. There is another step down to Mid brightness level after about 30 minutes of working on High mode.
These steps down are time controlled, so If you want again the higher mode you just have to reset the light (If the flashlight is too hot, reset is not recommend and can cause damage to the flashlight).
Fenix PD35 has also a low-voltage warning function.
When the voltage level drops below the preset level, the flashlight is programmed to downshift to a lower brightness level. When this happens in Eco output mode, the flashlight blinks three times every five minutes to remind you to replace the battery.