Emergencies happen all of the time and you should always be prepared. If you are camping, hunting and or fishing, and you're off the grid, you definitely want to be prepared. Having reliable gear makes all the difference.
Even if you're not into the outdoors, you still want to be prepared, and having a good flashlight is a must for a preparation kit.
You never know when you might break down and have no one around. It's especially more critical if you're stranded and in the dark.
What Is The Best Emergency Flashlight?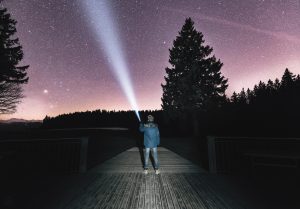 The answer to this question all depends on your emergency.
Most tactical lights will be a good fit. Choosing a good tactical flashlight for emergencies is better because these flashlights were meant to take a beating and most of them are either water-resistant or waterproof.
When you're in the pitch black dark, your mind starts to play tricks on you, and that is usually when panic starts. Being panicked in an emergency situation, isn't a good thing, because that is when your situation can go from bad to worse.
When you choose a light, you want something that is very bright and durable. You also want to choose a light that would work best for you in a particular event, or choose something that covers any potential situation.
Emergency Flashlight For A Car
All survivalists will tell you to have a good reliable emergency kit stashed away in your car for that "what if" moment.
One item that is a must is a flashlight for your car. You want a flashlight that will give you the bright beam, and can also be used as a self-defense tool.
A tactical flashlight will provide both.
TC1200 Tactical Flashlight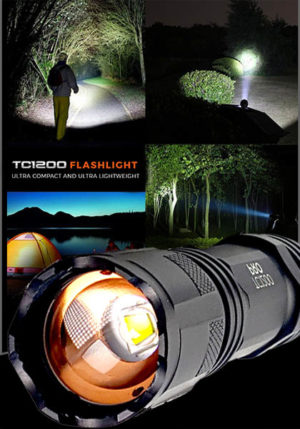 This is a good flashlight because of the brightness of it, the fact that it is waterproof, and it's reliable.
Many tactical flashlights become hot to the touch after they've been on for a while; the TC1200 has overheat protection built-in, to avoid this.
This light has 1200 Lumens and offers 5 modes – (high, medium, low, SOS and strobe). Strobe is great for self-defense and for flagging someone down.
Having an SOS feature is not only important, but effective. I have a friend who was out on the Long Island Sound, and he was fishing. He used a light (I will discuss this light further down in this post), that had an SOS feature on it.
He placed the flashlight on the bow of his boat and without realizing that he had the SOS on. After a while, the Coast Guard was approaching him asking him what the problem was.
He got ticketed $100 for a false alarm, even though he didn't know it was on. But itworkedand that's whatmatters.
The TC1200 has a light beam that is up to 2 nautical miles. It will work after being in both cold and hot water.
This light has a zoom feature that you won't find on many tactical flashlights, but is pretty cool to have!
Camping Flashlight Lantern
If you're a camper or simply enjoy being in the outdoors, you know that emergencies tend to happen more often in these scenarios than in everyday life. It is important that you have a quality light with you.
Lanterns have been around for a long time. I remember as a kid when I went camping, we always had the trustful Coleman propane lantern. Coleman is still around, but battery powered lanterns of today, provide a much better light source and could save your life!!
Streamlight 44945 Siege Lantern
TheStreamlight Siege Lantern is, in my opinion, the best lantern available today.
This particular lantern offers 1100 lumens, is rechargeable, can charge your cell phone, is waterproof (all Siege lanterns will bob around like a buoy when placed in water), has a waterproof container in the base, and offers a red light (which animals cannot see) with SOS.
If you're out and about exploring this great country, make sure that you have a flashlight that you can count on.
The Streamlight Siege Lantern is one that you should own. The SOS feature on this lantern will run for 18 days, which is a good thing in hopefully helping you get rescued if you ever find yourself alone.
What Is The Best Flashlight For Hiking?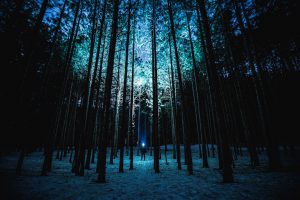 If you're a hiker or someone who enjoys rucking, you know that every step you make could be your last, if you're not careful.
This is especially true if you're someone who enjoys night hikes or rucks.
You need a reliable light to help guide you down your path, but also in case you ever got stranded.
When you're hiking or rucking, having a headlamp is probably your best option, and, you want a light that can be seen from a distance.
The idea is to see where you're going and if you get into trouble, be seen.
Surefire Maximus Headlamp
This headlamp is what is featured in the video above and as you can see, it is very powerful. This light offers a 1000 lumen LED light source that will last an hour on a high beam.
This light is rechargeable and offers the SOS feature that will last for days.
Some headlamps can be considered expensive, but you have to look at it this way, when in need, do you want a light thatmightwork, or one that will work?
If you want more information about this particular headlamp or wish to purchase it, please take a look here.
Streamlight Double Clutch USB Headlamp
This is another option for a headlamp. The Streamlight double clutch USB headlamp is a rechargeable 125 lumen, "dual fuel" light.
You might be asking what duel fuel means? Simply put, you can either use the rechargeable battery, or you can use three AAA batteries.
This light is almost weightless, so you won't even realize that you're wearing it. This light is water resistant up to two meters.
The beam has a range of 82 meters.
If you are interested in this headlamp and want more information or would like to purchase it, please take a look here.
Conclusion
This post is all about making sure that you're prepared for an emergency by having a good quality flashlight in your possession.
You don't want to be stuck somewhere without any type of light source, especially if you're hurt.
There are many different types of "emergency lights" that you can find. But the ones listed here are better branded lights and therefore you can trust them, when you NEED them!