Springfree Trampoline 13' Jumbo Square Trampoline with Enclosure is the biggest Springfree trampoline available. This is a quality built, large trampoline, perfect for active jumpers and families with a big yard.
The Springfree Trampoline brand is known for quality, built-for-safety trampolines, that cost more than regular trampolines. The following trampoline review will help you decide if buying this trampoline is a good investment for you and your family.
Features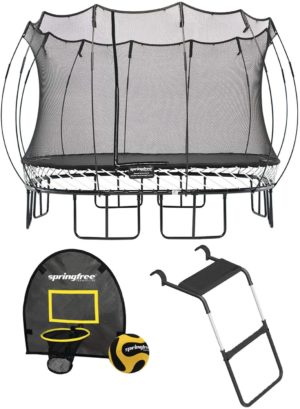 Mat rods: Springfree Trampoline uses flexible rods beneath the jumping area, instead of springs.
Shock absorbing mats: Springfree Trampoline uses mats that are more shock-absorbent than pads (30 times more, according to the manufacturer).
Hidden frame: The trampoline frame of this trampoline is hidden underneath the jumping surface.
Flexible enclosure: This trampoline uses flexible rods instead of steel poles to fasten the enclosure to the trampoline.
Pros and Cons
Pros
No springs = Bigger jumping area.
It offers a jumping area equivalent to a 16' square spring-based trampoline, but takes up less room in your yard.
It has a recommended weight limit of 330Lbs.
Since the mats used by Springfree trampolines are more shock-absorbent than regular trampoline pads, they provide better cushioning and last longer. This ends up saving you some money in the long run, since you won't have to replace them.
The hidden frame makes it impossible for the jumper to hit it, therefore, avoiding any chance of fractures or head injuries.
With flexible rods to cushion jumpers and prevent falls, there's no risk of the jumper hitting a solid steel rod or falling down onto the frame and springs, thus, avoiding injury.
The Trampoline with Enclosure Combo Package, comes bundled with a basketball hoop and a ladder, for endless hours of fun.
Cons
Lighter jumpers might need to work a bit more to get air.
The price is a bit high, because of all the added safety features.
Even though this trampoline provides more jumping area per square foot than a regular trampoline of a larger size. It still requires a 21' x 21' area for safety, so this is not intended for smaller yards.
Review Summary
Keep in mind that lighter jumpers might find it a little bit harder to get some air on this trampoline. If you don't mind getting the extra workout, then this should not be an issue.
As all Springfree trampolines, the 13' Jumbo Square Trampoline provides a larger jumping surface than larger spring-based trampolines. This one offers a full 155sq ft. jumping area, equivalent to a 16' square trampoline with springs.
What Do Owners Think About Their Springfree Trampoline?
After reading and analyzing reviews from all around the web, most owners praise how well this trampoline is built and how safe it is (no surprise here).
Some people found the assembly part to be a bit of a challenge. But this just seems to be an issue among people who haven't watched the instructions video on the manufacturer's website.
Since Springfree trampolines are supposed to have a softer bounce for not having any springs, we expected to find reviews regarding this issue, but we have not. The bounce factor appears to not be noticeable among regular, non-professional jumpers.
Who is This Trampoline For?
The Springfree Trampoline 13' Jumbo Square Trampoline with Enclosure is best for families with spacious backyards and active jumpers. Also, great for families who are looking for a large jumping area, and are willing to spend a bit more on all the added safety features.
Bottom Line and Buying Advice
With this trampoline, you definitely get what you pay for: a large jumping area in a smaller space and lots of safety features.
Before thinking of buying this trampoline, just make sure there is enough room in your backyard. Remember that for safety and comfort it's best to have an area of 21' x 21'.
This trampoline comes in 3 boxes of over 100Lbs, for a total weight of 325Lbs, so it's better to have it shipped than to pick it up from the store. Also, since this is not a cheap trampoline, it's always nice to save on the shipping.
If you decide to purchase this Springfree trampoline and are looking for a great deal, you might want to consider spending a bit more and getting the combo package, with a basketball hoop and ladder, to get the most fun out of it your investment. As usual, if you purchase from Amazon (see the widget to the side), you will get it with free shipping at a great price.