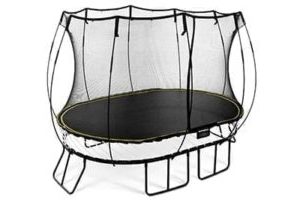 The
Springfree Trampoline 8' x 13' large oval trampoline with enclosure
is a quality trampoline intended for families with children (and adults) of all ages.
Its unique structure offers a larger jumping surface than a regular spring-based trampoline. However, its oval design surprisingly takes up less space in your backyard, since it has a smaller radius.
This is not a cheap trampoline, so keep reading to find out if the Springfree Trampoline is the right trampoline for you and your family.
Features
Mat rods: Springfree Trampoline uses flexible rods beneath the jumping area, instead of springs.
Shock absorbing mats: Springfree Trampoline uses mats that are more shock-absorbent than pads.
Hidden frame: The trampoline frame of this trampoline is hidden underneath the jumping surface.
Flexible enclosure: This trampoline uses flexible rods instead of steel poles to fasten the enclosure to the trampoline.
Pros and Cons
Pros
No springs = Bigger jumping area than regular spring-based trampolines of the same size
Since the mats used by Springfree trampolines are more shock-absorbent than regular trampoline pads, they provide better cushioning and last longer.
The hidden frame makes it impossible for the jumper to hit it, therefore, avoiding any chance of fractures or head injuries.
With flexible rods to cushion jumpers and prevent falls, there's no risk of the jumper hitting a solid steel rod or falling down onto the frame and springs, thus, avoiding injury.
This Springfree trampoline can come bundled with a basketball hoop and a ladder, for endless hours of fun.
Cons
On paper, springfree trampolines provide a softer bounce than regular spring-based trampolines. However, customers who have reviewed this Springfree trampoline before haven't noticed much of a difference.
The price is a bit high, because of all the added safety features.
Review Summary
It's no secret that we always recommend buying a trampoline with an enclosure. This trampoline not only comes with an enclosure, but a whole bunch of safety features. This is definitely a trampoline built for safety.
With this trampoline, you are paying for peace of mind. Of course, small children require adult supervision when jumping on a trampoline, but the safety features that this Springfree trampoline provides eliminate most of the risks.
What do Owners Think About Their Springfree Trampoline?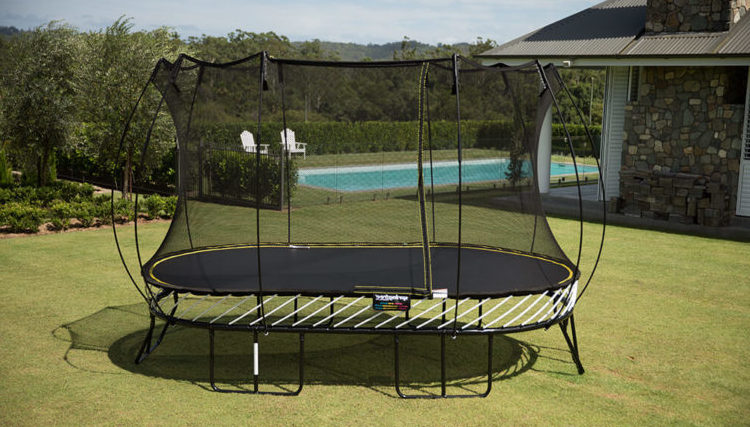 After reading and analyzing dozens of reviews, the great majority is extremely happy with their purchase, and also happy they spend a bit more money for the safety features.
On average, from the many sites researched, customers give this trampoline a 4.5+ star out of 5 star rating. It's always a good sign when real people, like you, who have already purchased and tried the trampoline is that happy with their purchase.
Some owners said that a little "elbow grease" was needed when assembling the trampoline, especially when attaching the unique springs. This, however, wasn't a problem when following the instructions and having an extra pair of hands.
Most recommended viewing the instructions video from the manufacturer's website. We've seen it too and it seems pretty straightforward.
Regarding the bounce, every customer gave the trampoline at least 4 out of 5 stars; some even said it if offered a better bounce.
Weight limit was also mentioned. Even though the manufacturer says this Springfree trampoline has a weight limit of 250Lb, one customer said that he even had his 4 children (from 6 to 17 years old) on at the same time. While this is probably not a good idea, it gives you an idea of the weight it can stand.
Durability was also mentioned. Some customers have had the trampoline for over 3 years, and say it's almost new.
Who is this Trampoline For?
The Springfree Trampoline 8' x 13' large oval trampoline with enclosure is for families that are really concerned with safety (as most should be), and that are comfortable with paying for all the safety features.
This is also a trampoline for families that don't necessarily have a large backyard, as this Springfree trampoline fits perfectly in narrow yards.
Buying Advice
This trampoline has a shipping weight of 245Lb, so it's better to have it shipped than to pick one up from the store.
Also, since this is not a cheap trampoline, it's probably a good idea to save on the shipping. You may purchase this trampoline with the basketball hoop and ladder included, with free shipping from Amazon.