The joy of camping can be boiled down two main components, beauty and simplicity.
A great camping adventure is about taking in nature as it comes and feeling prepared for its wondrous spontaneity.
Although being in the great outdoors is inherently not about consumerism, simply by investing in a few great tools you can be assured that unpreparedness will never be the thing to hold you back.
The EST Gear Shovel is the perfect tactical shovel for all your upcoming outdoor adventures. Durable and versatile as they come, this incredible survival shovel is perfect for just about every situation. At $119.99, the 18 tools in 1 EST Gear Shovel really gives you a lot of bang for your buck.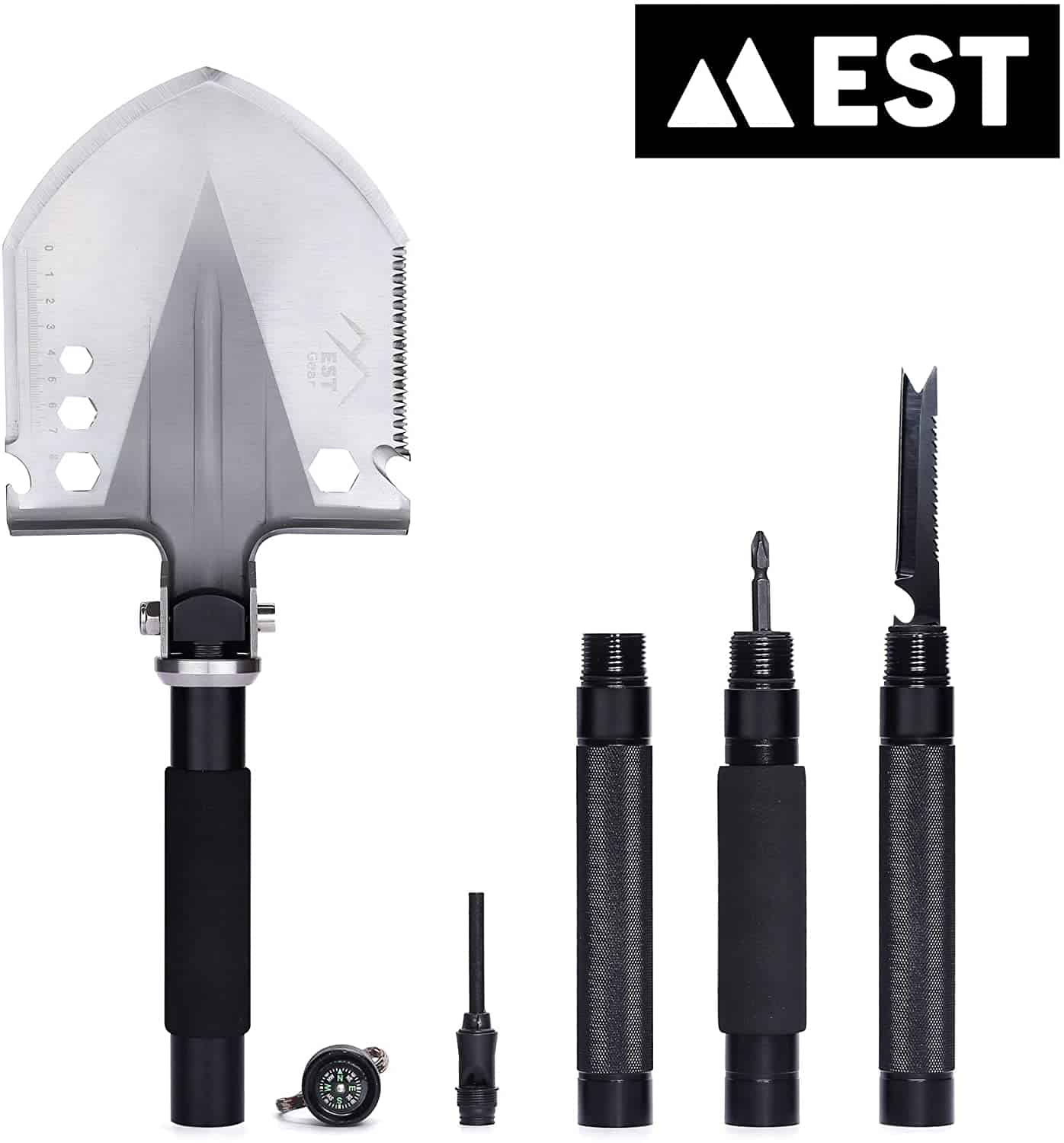 Finding the best survival kit for all your outdoor adventures is a must if you plan on getting into serious camping or if you're just looking for some great emergency tools.
This ridiculously versatile and durable bit of kit can be used for both fun and practical applications. If you keep it in your car or bug-out bag you can feel assured that you will be prepared for just about anything.
This amazing entrenching tool truly is the ultimate survival tool. It includes, in no particular order, a saw, camping axe, survival shovel, knife, hunting spear, bottle opener, fire starter, hoe, wire-cutter, trowel, hexagon wrenches, nail puller, ice pick, ruler, hook, waterproof storage that can store waterproof matches and other camping supplies, screw driver, whistle compass and rope cutter.
Every one of the shovel's 18 tools is hard-working and high quality. With a hardened-steel, reinforced shovel head and a military-grade aluminum handle each tool is easy to grip and maneuver.
If you're planning on any outdoor adventures this camping season we can't recommend this multi tool enough. The EST Gear Shovel is extraordinarily valuable and comes with a lifetime warranty. This tactical shovel was built to last and even has the warranty to back it up. The EST Shovel is fun, fierce and fiercely handy.
Learn more details about EST Gear Shovel