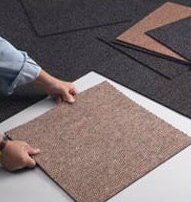 Outdoor carpet tiles
have many uses around the exterior of your home, and can be equally at home in some indoor spaces as well.
Outdoor carpet tiles can be installed anywhere from around a pool deck or on a covered patio to within a garage or outdoor gazebo.
You can also install outdoor carpet tiles in a basement, laundry room, sunroom, or on any concrete slab that could use some color and a softer surface underfoot. You can even install them on a boat!
One of the biggest assets to using outdoor carpet tiles is that they provide a versatile, non-slip surface that is easily installed and that can add an interesting design element to an otherwise boring space.
Types of Outdoor Carpet Tiles
When it comes to choosing outdoor carpet tiles, you have more selection than you may think! Here are some of your options:
Self-adhesive outdoor carpet tiles – These are individual squares of the carpet made from materials that are moisture and weatherproof. They have a self-stick adhesive back, making installation a breeze. All that you need to do during installation is to pull off the backing to expose the self-stick adhesive and you're ready to adhere them to any solid surface.
Interlocking outdoor carpet tiles – One way to get a truly tight-fitting look is to use interlocking outdoor carpet tiles. Since the edges of one tile interlock with the edges of the adjoining tile, you don't have to worry as much about the tiles separating as they are exposed to the weather or as they withstand normal wear and tear. Most interlocking tiles also don't require adhesive during installation.
Interlocking floating outdoor carpet tiles– If you are interested in installing outdoor carpeting tiles in areas that are prone to water or moisture, such as near a pool or a moisture-prone porch or deck, then floating outdoor carpet tiles are the best choice. These tiles are slightly elevated so that the outdoor carpeting material is raised from the floor, allowing water to run beneath without damaging the carpet. Most outdoor interlocking floating carpet tiles do not require any adhesive and simply lock together to create a durable and non-slip surface.
Indoor outdoor carpet tiles– If you are looking to install carpet tiles on a covered porch, in a sunroom, in a garage or basement, you may want to consider indoor outdoor carpet tiles. These can be used, as the name implies, both indoors and outdoors, but are made to withstand outdoor weather elements if necessary.
Installing Outdoor Carpet Tiles
One of the great things about opting for outdoor carpet tiles rather than outdoor carpeting is the ease of installation. Outdoor carpet tiles offer an easy DIY installation project and the project can be completed rather quickly. Here's what you need to do:
Step 1
Measure the area in which you will be installing outdoor carpet tiles to determine how many you need. You should estimate around 10% for waste. If you are dealing with an intricate pattern that has to be perfectly matched, or intricate cuts that will need to be made, you may need a little more than that.
Step 2
Thoroughly clean the area on which you will be laying the outdoor carpet tiles. Make sure that all debris is removed and remove any caked-on debris or mold. Then let thoroughly dry.
Step 3
Do a "dry run" of your carpet tile design.
Lay the outdoor carpet tiles out in the pattern that you would like to make sure that they look the way you want them to look and to ensure they will fit in the allocated space. Then find the midpoint of the area and mark it well. You will begin installing your tiles from this point and work your way out.
You should also draw some guidelines to make sure you stay on track and keep things straight and level.
Step 4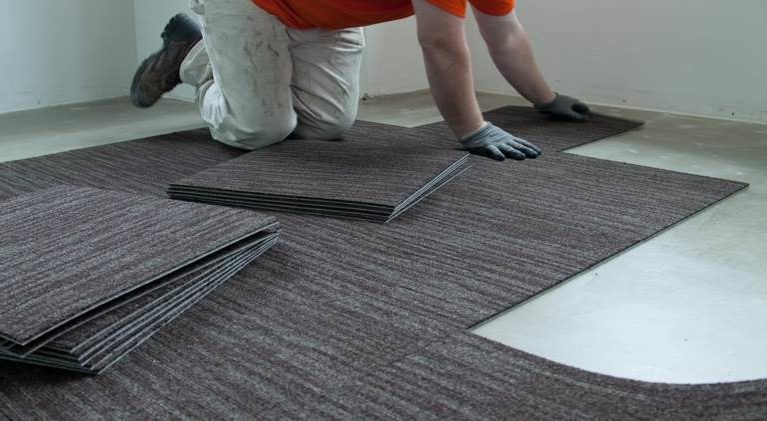 Begin your installation. Starting with the center tile, lay a full outdoor carpet tile in the area that you had previously marked off. If you are using self-adhesive outdoor carpet tiles, you'll first have to peel the back covering off to expose the adhesive.
If you using interlocking outdoor carpet tiles, you won't have to worry about adhesive and will click each adjoining tile together with the one next to it. Otherwise, you will need to apply a small bit of adhesive to each corner and to the middle of each outdoor carpet tile before you press it firmly in place.
Step 5
Continue with all full tiles. Keep laying your outdoor carpet tiles until you have covered the area with all full tiles. Periodically check your guidelines to make sure that your tiles are being installed in a straight line and are pressed firmly against one another.
Step 6
Cut edges and borders. When you get to the edges, you may need to make some cuts to finish off your outdoor carpet tile installation or you may wish to install an outdoor carpet tile border, possibly in a coordinating color or pattern, to finish off the carpet area.
This can make your carpet look like an outdoor rug and can make a great design statement under some well placed outdoor dining furniture or other outdoor patio furniture. Most outdoor carpet tiles can easily be cut with a straight edge blade.
Replacing Outdoor Carpet Tiles
Most indoor outdoor carpet tiles are made in such a way as to withstand a good deal of heavy traffic and constant exposure to the weather. Even so, you may find that over time your outdoor carpet tiles can use replacement, whether due to fading from the sun, too much moisture or a stain that just won't come out.
When that does happen, however, you don't need to fret because replacing outdoor carpet tiles is a snap! All you need to do is to pop out the old tile and put in a new one! If there is an adhesive backing, care should be taken to gently pry the adhesive off the floor beneath so the new tile can lay flat.
If the tiles are interlocking, care needs to be taken when removing the old tile from the adjoining tiles so they are not disturbed. It is a good idea to keep a few extra outdoor carpet tiles around in case you need to replace one or a few down the road. This way, you will not be scrambling to find a matching tile.