When it comes to buying a hedge trimmer to keep your landscaping looking neat and tidy, you have two basic choices – a petrol hedge trimmer (also known as a gas hedge trimmer) and an electric model.
While both have their advantages and disadvantages, a petrol hedge trimmer will provide you with more functionality than its electric-powered cousin, making petrol hedge trimmers the more widely purchased option for homeowners.
They will also provide you with more power, offering the perfect solution to tackle heavy-duty work.
If you are looking to buy a petrol hedge trimmer, you should first know what your different options are so that when you head to a store and see a display of petrol hedge trimmers, you can have a better idea of just what you need (and just what you don't).
This will make the process of buying a petrol powered hedge trimmer a much easier task.
Things to Consider When Buying a Petrol Hedge Trimmer
#1 Horsepower
A petrol hedge trimmer is only as powerful as the horsepower of its engine. Although petrol hedge trimmers are generally more powerful than electric models, their strength and power will be determined by how many horsepowers the engine is. The higher the number, the more powerful the trimmer will be.
#2 Fuel capacity
Petrol hedge trimmers are the right option for those needing more high powered trimming capabilities, since hedge trimmers run on petrol rather than electricity will provide more power. If you plan on doing a lot of cutting, you should look for a model with large fuel capacity.
If you're just using it for an occasional light trimming, you can probably opt for a model with a smaller fuel tank.
#3 Blades
Most petrol hedge trimmers will have double reciprocating blades, but different models will come with different sized blades. As a general rule, models with longer blades will provide you with more versatility for what you can cut with the trimmer.
Keep in mind, however, that sometimes bigger is not always better. If you have a hard time handling the size of the trimmer, you may be better off going with a petrol hedge trimmer with smaller blades.
#4 Handles
All trimmers have handles that are used to hold the trimmer while in use. Look for a model with rotating handles so that you can position your hands in the most comfortable way possible. This is especially useful if you use the machine a lot, so you can change the angle of your hands to avoid fatigue brought about by prolonged use.
#5 Locks
Petrol hedge trimmers should have trigger locks to keep anyone from activating the blade by accident. This is an important safety feature, and is most especially critical to have if you have children in the house.
#6 Starter
Petrol hedge trimmers are not quite as easy to start up as electric powered models (in which you simply push a switch after plugging it in). Look for petrol hedge trimmer models with easy-start mechanisms, which should make starting the trimmer up as easy as pushing a switch, just like an electric model.
#7 Performance features
There are a number of other features you should look for when purchasing a petrol hedge trimmer.
For example, an anti-vibration feature will keep the engine running better, longer by reducing the amount of fatigue on the engine caused by vibration of the blades. Some models will give you the option of directing the exhaust in any direction you want, so you are not breathing in the fumes while working. There are other features to look for as well, but these are two of the more common ones.
Conclusion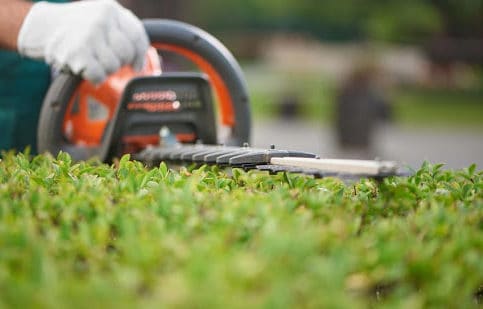 Once you have decided which features are most important to you, you can look for petrol hedge trimmers on sale at home improvement stores, tool centers, big box stores and even online.
It is best to stick with a reputable brand of the trimmer, but be sure to compare petrol hedge trimmer prices among top brands before making your final purchase. This will ensure that you wind up with a quality trimmer without it having to cost you a fortune.
Be on the lookout for petrol hedge trimmer sales or discount coupons that offer a percent discount during certain times of the year. Spring and fall are the most popular times to purchase petrol hedge trimmers, so sales are most likely to occur during these times.
One option you have to keep costs down is to buy a reconditioned petrol hedge trimmer rather than a new model.
While shiny new petrol hedge trimmers may be enticing, you can often buy the same model that has been reconditioned and functions just as well for a fraction of the cost, or you can opt to spend as much as you would've on a new model and buy a higher quality petrol hedge trimmer than you otherwise could've afforded. Either way you will wind up with the functionality you need to keep your landscaping neat and well-trimmed.