If you've been considering installing a pool in your backyard, then chances are you've been debating between the benefits of inground pools as compared to above ground swimming pools.
Installing an inground pool is a major undertaking and although there are many benefits to inground swimming pools, they are not necessarily the best choice for everyone.
INGROUND POOLS – ARE THEY RIGHT FOR YOU?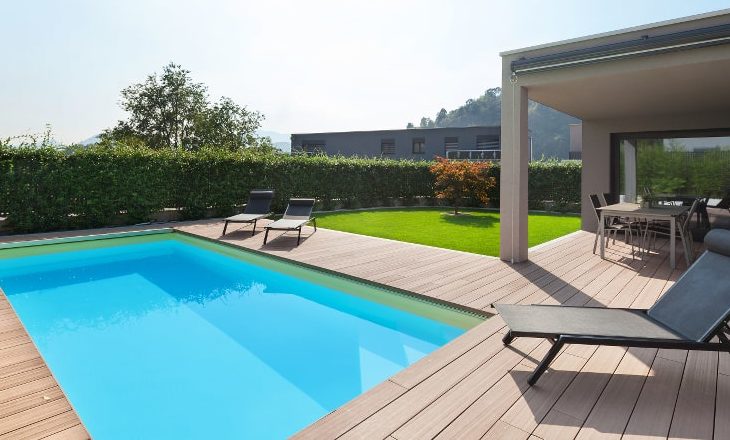 So, how do you decide if inground pools are right for you? There are a few major factors to consider before taking the plunge and deciding to install a pool. Here are some of the most major factors to consider:
#1 Cost
Probably the biggest consideration is the cost of inground swimming pools. Installing the pool is no small job, and doesn't come with a small price tag.
Of course, the price can vary dramatically depending on the size of the pool you choose, the work that has to be done to the existing space in order to install the pool, the style, design, materials and other options. But even the least expensive inground pool comes with a pretty hefty price tag, so it is best to get an idea of what inground pool prices are before you get your heart set on a pool.
#2 Space
Inground pools require quite a bit of space. Even small inground pools need enough room for not only the size of the pool, but specified clearances around the pool. Many pools have a deck or patio space around them. Pools also need a fence or other protective element around them so it is important to make sure you have the space for that as well and that you comply with any local ordinances or regulations.
#3 Maintenance
An inground swimming pool requires a lot of maintenance. That maintenance requires a good deal of time to complete. It also costs a lot of money, above and beyond the cost of inground pool installation itself. Maintenance items such as vacuums, cleaning devices, and chemicals are needed.
If you live in an area where the pool does not remain open all year round, the pool must be opened and closed at the beginning and end of each swimming season. This process takes some work, or a professional pool company can handle the task for you.
#4 Design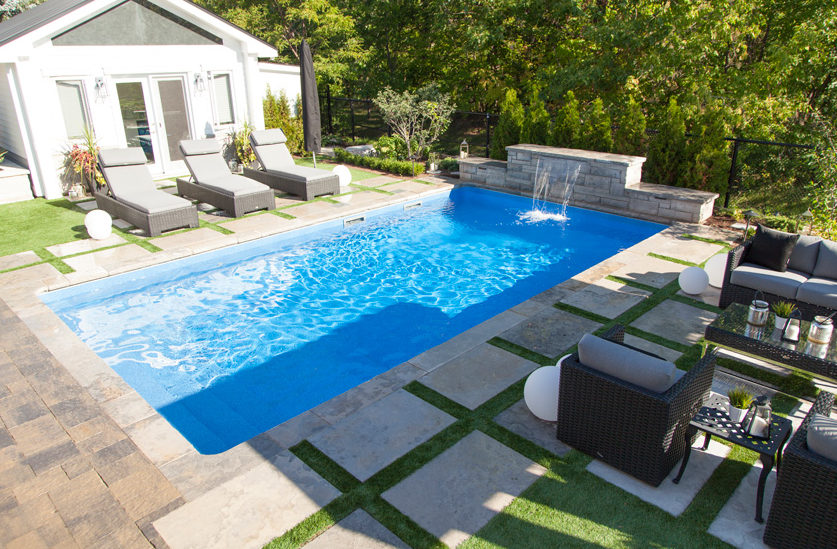 Although inground pools can be an attractive addition to a backyard space, it is best to consider a variety of inground swimming pool designs to see how they will best fit into your outdoor décor. By considering different inground pool designs, you will be able to select a pool that works best with your space while remaining within your budget.
#5 Use
Considering the cost of inground pool installation and maintenance.
As well as the space that the pool takes up, the amount of use that the pool will get should factor in as a consideration when deciding if an inground pool is right for you. If the climate allows you to use your pool year-round, rather than for just a few months a year, you will get more enjoyment from the pool and probably also a better return on investment (ROI) when it is time to sell your home.
Installing inground pools is a major decision and one that should be considered in light of a number of variables.
There are numerous benefits to installing an inground pool, but if an inground pool is not in your future, due to cost or space considerations, or other factors, then you can still reap the benefits of having your own pool by considering other options, such as semi inground pools or above ground swimming pools.
ABOVE GROUND SWIMMING POOLS – PROS AND CONS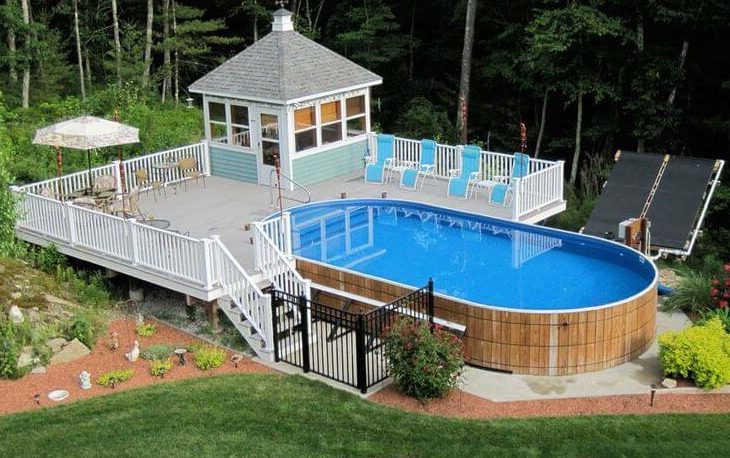 There is nothing like having a pool to enjoy in your own backyard. Pools offer loads of fun and a great way to cool off on a hot day. If you are planning on installing a swimming pool in your backyard, then the first decision you need to make is whether you want to install an above ground swimming pool or an inground pool.
There are pros and cons to choosing above ground swimming pools, as well as inground pools, so each should be considered prior to make any other decisions regarding your pool installation.
Pros:

Price – Above ground swimming pools are a far more economical option than a pool that is installed in the ground.
The price of an above ground swimming pool, however, can vary considerably based on such factors such as the size, materials, functionality and manufacturer so you will still have a wide price range to choose from. But no matter what type of above ground swimming pool you choose, you can be sure that it will far less expensive than any inground pool.
Space – While there are many sizes available when it comes to an above ground swimming pool.
Iif you are short of space in your yard, any type of above ground pool will take up less space than an inground pool. If you're really short on space, there are even inflatable above ground swimming pools that can just be blown up when you want to splash around and can be deflated and stored away when you're not in a swimming mood.
Small above ground swimming pools can also be set up more permanently or you can select a larger model if you have space.
Flexibility– When you make a decision to install an inground pool, you will have the pool for as long as you live in your home, even when you tire of the maintenance or no longer want to use it. When you are no longer in need of above the ground swimming pools, they are easily disassembled and removed.
Maintenance – Swimming pools above ground require much less maintenance than those in the ground.
They need to occasionally have the water topped off, will need to be skimmed if debris gets in them, and will require chlorine or other cleaning treatments if the water remains between uses, but they will not require the extensive maintenance that inground pools require.
Installation – Above ground swimming pool installation is a snap compared with inground versions.
In some cases installation can take a few hours to a few days at most, compared to weeks of intensive construction for inground pools.
Cons:

Aesthetics – Above ground swimming pools do not offer the beauty and ambiance that their in-ground counterparts can.
They are more noticeable, since they sit above the ground, and do not blend into the backyard décor as easily. Above ground swimming pool decks can be installed, however, and by installing the decks around the pool, the space around the pool becomes more usable and attractive.
Size – Even the largest of above ground swimming pools can't provide the swimming space that inground pools can.
Another factor is that the pools maintain the same depth throughout, so there is no very shallow end for young children or a deeper end to allow for diving.
Permits– Be sure to check with your township or municipality because some locales do not allow above ground swimming pools to be installed in backyards, or if they do, they may have restrictions related to keeping the pool in your backyard.
As with any other major decision to be made, there are pros and cons to installing an above ground swimming pool in your backyard, but if you're not ready or able to take the plunge to install a pool in the ground, then an above-ground swimming pool may be the perfect solution. And, adding a few pool toys is sure to add to the enjoyment!