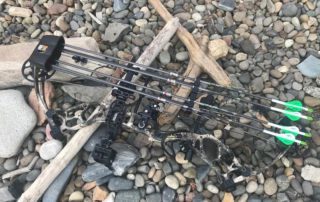 Earlier this year, I had a bad experience with my quiver. You can read about it, and
the bad experience I had here
.
After looking at several options and weighing my choices, I decided it was time to make the investment in a TightSpot Quiver.
Honesty
Since it's the best policy, I'm going to be straight forward with you –these things ain't cheap. Each of the last 2 quivers I've used cost around 1/3 the price of a new TightSpot.
Believe it or not, I used to have a TightSpot quiver. I sold it with one of my old bows when I upgraded a couple of years back. When the guy buying my bow offered me a great price for my old tight spot, I thought to myself,
"I can sell him this quiver, then buy another one for 1/3 what the Tight Spot cost me. I'll have a new quiver and can put the difference towards other gear."
It seemed like the miserly thing to do at the time. But, it was abad move. I've since owned 3 other quivers and have regretted letting the TightSpot go.
One showed signs of wear quickly, and wiggled on the bow. Another broke on me and left me hanging. Turns out that bowhunting quivers are one product whereyou definitely get what you pay for.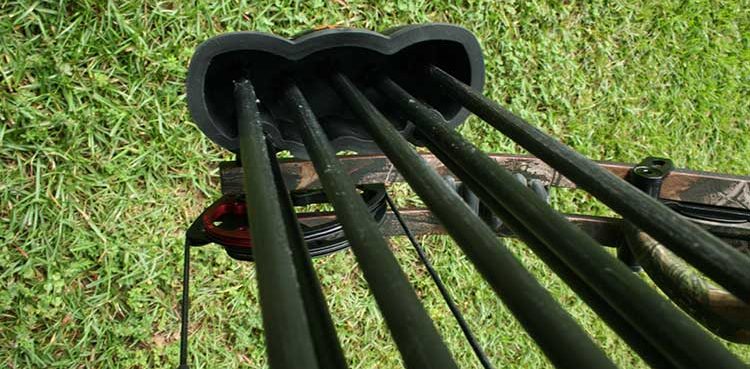 I ordered one of the TightSpot Quivers at Amazon. They had them in stock, ship fast, and had my new quiver out to me within a few days.
If you've never used them, I recommend you check out the next time you're looking to upgrade a piece of your kit. They carry top-of-the-line gear, have excellent customer service, and ship fast. What's not to love about that?
The New Tight Spot Quiver
I loved everything about my old TightSpot Quiver,except for the foam in the hood. It seemed as if the hood foam was an afterthought to an otherwise great design.
It was not very durable with broadheads, and the bottom portion fell out of the hood, and down around my arrows frequently while practicing with field tips. Permanent glue fixed the issue, but proved to be a problem when it was time for new foam.
The folks at TightSpot redesigned the hood and the difference is tenfold better.
The new hood uses a rubber insert that grips the tips of broadheads without any foam. There is nothing to rip, poke or fall out. It truly is a great improvement.
Now the hood is up to par with the rest of the high-end design displayed by the quiver.
High Quality
When you open the package and hold the TightSpot Quiver in your hands you can feel the quality.
It's rigid, well finished, and crisp to hold. The materials are just as good as the build.
When installed on the bow, you know you won't have to worry about every little bump and scrape along the way.
After having a quiver break on me, durability and quality are very important considerations. I'm extremely pleased with the quality of this new Tight Spot.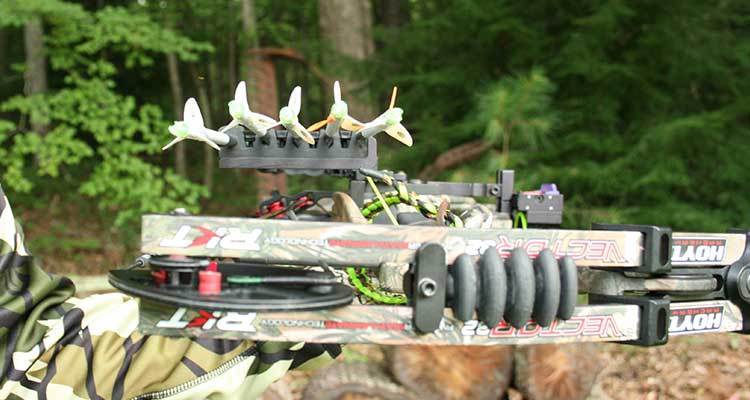 Balance
You can probably guess the magic of the TightSpot quiver from its name. The ultra-low profile design holds the arrows very tight against the bow.
This close fit helps improve bow balance both while shooting and while carrying. If I find myself belly-crawling along the ground, a balanced bow can mean more than you might think.
When I combine the tight fit of the TightSpot, with the perfect balance system on my Hoyt Vector 32's riser, it makes for an extremely balanced bow.
My bow actually feels steadier when the quiver is on, than when it's off. In a world where guys are considering taking their quiver off once in a stand to help balance, I'm glad it's not an issue with the TightSpot.
Designed by Hunters
It's obvious this quiver was designed by hunters.
Everything about the TightSpot (with the new hood insert) is well thought out, and designed with a purpose in mind.
It has a tight fit against the bow, rear arrow removal, adjustable tension & length, it's lightweight, and it's just simple.
There isn't anything about the design to complain about.
If you are looking for a quiver that will do more than simply notget in the way, andeven helpwith your bowhunting setup – you owe it to yourself to check into one of these.
Investment
With such a long list of "pros", I have trouble coming up with any "cons" with the TightSpot quiver.
The only obstacle I can see with the product is the price.
As with most things in life, high quality comes at a high price. The TightSpot is no exception.
Retailing at $149, most guys are going to lean towards the lower price point options. That's okay. The TightSpot is not for everyone.
If you're struggling to buy your kid's gluten free crackers, you probably have no business buying yourself a TightSpot.
However, if you have some money toinvestinto a piece of gear that will last several years and prove itself over and over – the TightSpot fits the bill perfectly.
As with any "investment", we must weigh the return, and not use money that we need elsewhere.
Even at the top pricing in its market, the TightSpot is worthy of the cost, and I mean that as a great compliment.
I never once felt disappointed or "had" by my TightSpot quiver. The price is high, but the product is worth it.
If you have the resources to invest, you can get yours from Amazon as I did by clicking here.