With lots of different varieties of shapes, styles and materials, it is nearly impossible to find the
best longboard
.
Especially when there are several reputed longboard brands like Atom, Sector 9, Santa Cruz, Yocaher and Jaseboards make top-class longboards.
But you must have to choose the best one among them according to your riding style to avoid any unexpected occurrence in the mid-road and enjoy the longboarding with a super thrilling experience.
A good longboard provides you faster, easier and enjoyable longboarding experience. It should be budget-friendly also. You will get some longboards for sale in this buying guide.
Longboarding can be a better alternative to regular physical exercise and a cheap vehicle to go to nearby places. If you are passionate about longboarding and looking for a suitable longboard, then it is the best place to buy longboards comparing to any other online store.
Top 8 Longboards of Best Longboard Brands
We have selected 10 longboards on sale from the 8 best longboard brands. At first, we introduce the brand, then discuss a product that is under sale from each brand. To get the high-quality longboards on sale, you can go through the followingreviews.
1. SANTA CRUZ – BEST LONGBOARDS FOR CRUISING
From the very beginning of 1973, Santa Cruz Longboard Company starts its business. This company started its business with skateboards. At the initial time of their business, they sent lots of skateboards at different skateboarding events and got positive feedback.
After starting the production of the longboards, they received some feedback. They make durable and high-performance products both for starters and experienced skaters.
Santa Cruz skates Mahaska Rasta Cruzer skateboard is a 43.5 inches pintail-shaped skateboard for cruising. To make this board Santa Cruz uses all premium quality parts like a 9-ply maple wood deck, Bullet B150 Black Cutback trucks, 65mm/78A transparent green wheels and ABEC3 bearings.
It is a multi-color skateboard which is 43.5 inches long as a longboard so beginner longboarder can control the board easily.
This nicely designed board will give you a surf-like experience at the time of cruising. Very few longboard brands have this type of longboard.
Since Santa Cruz is one of the reputed longboard brands, so you can trust the quality of the product. Its Bullet B150 Black Cutback trucks ensure stable riding while cruising at a high speed.
It is one of the highly-rated boards on Amazon. In spite of being highly rated, this best budget longboard comes at an affordable cost.
Some customers have been using the board of Santa Cruz since this company first launch its skateboard. Clients are satisfied with the performance of the board. They think it is one of the best longboards for cruising.
Pros
High-performance wheels.
Premium quality trucks.
Surf-like cruising experience.
Reasonable cost.
Good for the heavier person.
Wide range of colors.
Made by an old and reputed brand.
Cons
Only well-suited for cruising.
2. ATOM – BEST LONGBOARD FOR DOWNHILL RIDING AND FREERIDE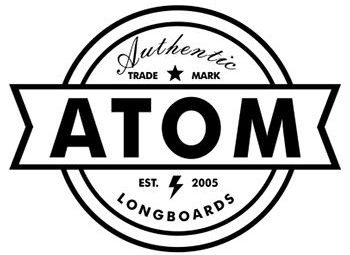 Atom is a skateboard longboard brand that was created by the company MBS about 10 years ago. They are supplying a vast collection of cool longboards at an affordable cost. High-quality products with aesthetic designs make them a reliable longboard company. This brand is most popular among the top 10 longboard brands.
Though the longboards of this brand are suggested for beginner longboarders all level riders are satisfied with their longboards. There are some boards on sale of this company. If you have decided to buy a longboard of this brand, then you can select the board which is discussed below. On Amazon, it is one of the best discount longboards.
This longboard includes some outstanding features like Reverse kingpin trucks and perimeter shape to allow you to get the exciting experience of downhill riding. This drop-through longboard has a fully maple laminated deck, super quality 80s grip tape, urethane wheels and ABEC 9 bearings. Those peoples looking for affordable longboards and the best drop through longboard; it can be their first choice.
This 41-inches drop through longboard comes with a perimeter shape with 9.5 inches turning leverage. Thus, you can get rid of the fear of unexpected falling and wheel bite.
Its high-quality ABEC 9 bearing is very helpful to ensure comfortable and smooth riding. Some of the expensive longboard companies use this bearing.
The reverse kingpin trucks of this cool longboard tend to keep the board close to the ground so that your sliding and carving experience becomes more enjoyable.
If you check out the top brands of the longboard on the internet, you must find the name of this brand in the top ten longboard brands. The overall experience of most of the customers is quite satisfactory.
Pros
Simple and elegant design.
Smooth maneuverability.
Easy to carry.
Very fast.
Durable and stable.
Affordable price.
Cons
A little bit of squeaking sounds on the trucks.
3. YOCAHER

Since 1975, they have been remaking their longboards to upgrade their quality.
If you are looking for good longboard brands right now, then this company can satisfy you. Their artistic and creative longboards are characterized by different riding styles such as drifting, sliding, carving, cruising and much more. Though there are several
Their artistic and creative longboards are characterized by different riding styles such as drifting, sliding, carving, cruising and much more. Though there are severalgoodlongboards for sale of this brand, here is one longboard review of this brand.
Yocaher is one of the best brands that produce really high-quality longboards. This cool longboard is 41.25 inches long and made of 9-ply Canadian maple. It has HD7 trucks, ABEC 7 bearings, Black Widow 80A Black Grip tape, 180 mm hanger, high concaved deck and Q-Ball 70 × 52 mm wheels with 78A hardness. This longboard is made both for expert and beginner longboarders.
You can easily control this 43.5 inches long drop-down longboard. Its hard deck keeps your board stable while cruising at high speed.
The shock and stain absorbing 70 x 52 mm Q- Ball wheels make your skating easier.
Like most of the high-quality and best budget longboards, this board includes ABEC7 chrome bearings. You may find most of the high-performance longboards include this bearing.
There are more than 336 customer reviews on Amazon and lots of people rated this product above 4 stars. The people who like to have durable and longboards of best brands, most of them prefer Yocaher longboards. Some of them give their comments after using it for 2 to 3 years.
Pros
High-quality ABEC7 bearings.
Comes fully assembled.
HD7 heavy-duty trucks.
Q-ball wheels for high speed.
Sturdy 9-ply maple wood deck.
Cruise at high speed with stability.
Cons
Sometimes deck may bubble up.
4. SECTOR 9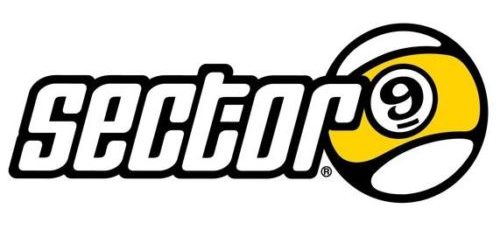 Qualitative materials and creative design make Sector 9 longboards popular. They produce high-quality longboards since 1993.
This company produces various types of longboards for each type of riding style. They provide unique design longboards for cruising, down hilling and carving. For the tricks lover skateboarder, their boards are perfect. They not only produce longboards but also produce the parts of the longboard. We suggest buying the longboards for sale of this skateboard company.
For the tricks lover skateboarder, their boards are perfect. They not only produce longboards but also produce the parts of the longboard. We suggest buying the longboards for sale of this skateboard company.
When the top 10 longboard brands are your preference, you can choose this 23 years old brand. It is a 36 inches longboard which is made by sector 9. This board includes gullwing sidewinder trucks, 69mm/80A wheels, ABEC 5 bearings and 7-ply maple wood concave deck.
There are some important information about this board-
This cool longboard comes with a 7-ply maple wood deck to make the deck sturdy. The benefit of the maple wood deck is that it helps to resist the temperature changes while skating at high speed.
Since it is 36ʺ long and 9ʺwide, so you can keep your feet safe at the time of downhill riding.
The gullwing sidewinder trucks of this drop through longboard are helpful to generate high speed by its double-pivot system. Very few longboard brands include these gullwing sidewinder trucks. It makes small radius turns and slides smoothly.
80A durometer hardness rating of the wheels is the perfect combination of hardness/softness scale so it is good for drifting and sliding. The size of the wheels assures fast acceleration.
Though there are manylongboards on sale on Amazon most of the customers like this one. You will get more than 8o customer reviews on Amazon and the average rating is highly satisfactory. This is the highly rated board of this longboard buying guide.
You will be glad to know that almost all users of this product rated it 5 stars. They said that it is perfect for sliding, carving, cruising and drifting.
Pros
Aesthetic design.
Provide extra stability.
Concaved deck ensures a better grip.
Best for sliding, drifting and carving.
Lightweight.
Cons
ABEC 5 is not a top-rated bearing.
5. RIMABLE

By searching on the internet, you must find it in the best longboard brands 2021.
They produce longboards regarding the riding surface and riding action. You will feel secure at the time of riding at a high speed. The skater can sit on the deck while they are going dropdown. Because of its lower center of gravity, the possibility of falling off the skaters is nearly zero. It is amusing to skating with the Rimable longboards.
The skater can sit on the deck while they are going dropdown. Because of its lower center of gravity, the possibility of falling off the skaters is nearly zero. It is amusing to skating with the Rimable longboards.
There are a couple of longboards of this brand under sale. If you are questing for a good longboard brand as well as a longboard on sale,then this brand can be your ultimate choice.
This 41 inches longboard offers 75x51mm PU wheels, 9-ply full maple laminated deck, ABEC-11 bearings with high-speed lubricant and drops through 7-inches 180 aluminum trucks. The low platform of the board also allows you to steer the board at high speed.
Some essential information about this board is following:
The 9-ply maple wood makes the deck stiff and sturdy. If you are a heavyweight person, then this board can easily support you. Its durable maple laminated deck helps you to ride fast without any wheel bite.
This board includes the 7-Inch 180 aluminum trucks which prevent flying off the board when you want to steer the board at high speed. The performance of its ABEC 11 bearings with high-speed lubricant is 20 times better than the regular bearings.
The 41 inches size of this drop-through longboard is good for taking speedy and quick turns.
The price of this board is neither cheap nor so expensive. You can buy this board at a reasonable price.
You will get more than 125 customer reviews of this product on Amazon. Most of the customers assign 5 stars to this product. Customers said that they spent their money on the right longboard.
Pros
Wonderful graphic design.
Great performance at high speed.
Easy to maneuver.
Ensure comfortable riding.
Cons
Wheels become dirty quickly.
6. QUEST –BEST LONGBOARD BRANDS FOR BEGINNERS
Quest is a brand that makes the best quality and cool longboards considering the need for all levels of skaters. Its name 'Quest' suggests that the quest for long-lasting and eco-friendly materials to make longboards.
When they started producing longboards, they just made the longboards of the basic design. Now they are producing more qualitative and superior structural boards.
The popularity and sales of these boards are increasing day by day. There are severallongboards for the sale of this brand. The description of one of them is given below-
Quest Super Cruiser longboard is a 44 inches board that is well-suited for different riding styles like carving, sliding and cruising. This one has 70 × 51mm wheels with 80A hardness, ABEC 5 bearings, reverse kingpin trucks and kicktail.
Its bamboo and maple wood deck is stiff but there is some flex. You can get rid of the stress on the knees and ankles because of its flexibility.
Its kick tail helps to keep the board stable, so you can steer it around your crowded city.
Its multi-ply hardwood maple and beautiful Artisan bamboo deck make the board spectacular as well as durable. This 44
inches long and durable longboard comes at a reasonable price.
The durability and spectacular design of this board are hardly found in most of the boards of the popular longboard brands.
You can get rid of wheel bite if your longboard includes wide trucks. This longboard has 7-inch ruggedaluminum trucks.
People, who are looking for high-quality longboards on sale might like this board. It is one of the best selling and most popular longboard among the skateboarder. The customers of the longboard are overall happy with the board. Maximum customers like it because of its low cost and durability.
Pros
Maple wood and artisan bamboo deck.
Long lasting.
Kicktail ensures stability.
Cheap cost.
Catchy design.
7. KROWN

The Krown is a prominent maple and bamboo constructed longboard producing company. The people who look for sturdy, user-friendly and durable longboards; choose krown longboards. They produce good but cheap longboards.
For a few years, they are supplying various colors, designs and sizes of boards. Their popularity is increasing day by day because of their services, specific products, extraordinary promotions and sales.
You will get all additional parts of these boards in the market. There is a various range of the price of their longboards. You can check out thelongboards on the sale of this brand. Here we are discussing one of the best longboards for sale of the Krown brand.
The Krown Maple Pintail Longboard comes with stylish looking 43-inch Canadian Maple deck, 6-inch lightweight silver trucks and 65 mm wheels with 78A hardness.
Its deck is covered with black grip tape. Its 65mm wheels are helpful for speedy downhill riding. This bidirectional longboards weight is only 6 pounds.
Here is some important information about this cool longboard:
Everyone can ride on it whether you are a beginner longboarder or expert because it is easy to steer and control. You can easily make the turn, trick and slide with the sturdy deck of the board.
Though it's big enough but yet it is a lightweight longboard. So you can carry this 6 pounds board anywhere.
Its Canadian Maple deck is the perfect combination of rigidity and flexibility which makes the riding experience more fun since the deck is more stable.
You are getting this high-quality, remarkable featured board at a cheap rate. This is a cheap longboard for girls.
Customers of the Krown pintail longboard like this longboard because of its stability and flexibility. The starter skaters think that it is very easy to learn skating with this board. This is one of the cool longboards of this longboard buying guide.
Pros
Fast speed as well as easy control.
Easy to carry.
Perfect stability and flexibility.
Less expensive.
Stylish deck.
Cons
A little bit bumpy.
Scratches the graphic after few months.
8. SCSK8 – BEST CHEAP LONGBOARD BRANDS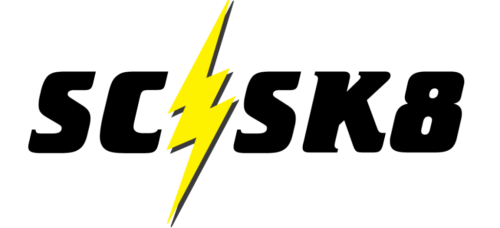 SCSK8 is the best brand on the longboard. They produce various types of action sports products.
Although this company produces different kinds of sports items their skating products are also very popular among skating enthusiasts. They make the skateboard and longboard both for beginner and experienced skaters.
If you are searching for good cheap longboards, you can find a board from this company. Here is the description of one of the best longboards from them that are for sale online.
This SCSK8 longboard offers ABEC 5 bearings, 70 mm large wheels, 7-inch aluminum trucks, kick tail and grip tape. As its deck is coated with grip tape, so it is easy to get the grip on the board. It is the cheapest longboard among the best longboards for sale on Amazon. All parts of the board are assembled with one and a half inches of hardware.
Here is a few important info about this best cheap longboard:
To stop suddenly or for doing tricks and slides, kick tail is a vital part of the longboard. Thus, this board includes a kicktail.
If you want to get better control as well as fast speed over the board, then large wheels with high-performance bearings are very important. In spite of being a cheap longboard, this cool longboard includes 70mm wheels and ABEC 5 longboard.
It is a great beginner longboard for kids since they need a more stable and easily maneuverable board. It is one of the best cheap longboards for girls.
To be honest, it is not a high-quality board. But its price isUNBELIEVABLE!!You are getting a medium-high quality board at a surprisingly low price.
Its price depends on the board size. This is a great longboard under 50. Many customers think it offers so many useful features at a cheap rate.
Pros
Cheap longboard.
Smooth ride on uneven roads.
Grip tape ensures a tight grip.
Easy to carry.
Comes fully assembled.
Cons
Trucks and wheels are too tight.
Who and When Need these Types of Products?
The people who love to take the experience of thrilling adventure, longboarding can be the best choice for them to get this feeling.
The best longboards are not only compulsory for the professional longboardersbut also for the longboarders who want to go to their college campus quickly or just wish to enjoy longboarding as fun and to pass the relax time.
If you choose a longboard from the top ten longboard brands, you can relax about their quality. Different types of longboards are available considering the specific requirements, style and personality of a person. You can also save money by selecting a longboard from this top 10 best longboard buying guide.
These buying guide not only contain information about longboards on sale but also have the best budget longboards.
What are the Benefits of this Typeof Longboard?
Now take a look to know what is the benefits of the longboards of this review.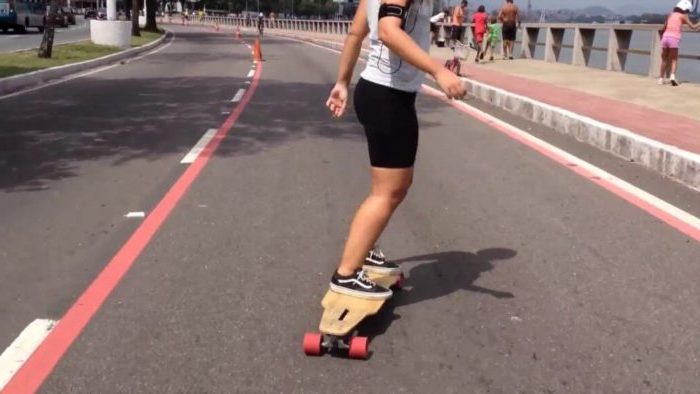 You can use your longboard on all kinds of terrain like on the alley, roads, downhill, dirt path and much more. But if you own a car you can just ride it on the road.
Most of the longboards are usable for more than ten years. But many longboarders change their longboards after two years because of upgrading their ride. So you can easily gain a profit by reselling used one after a particular time.
Longboards are preferable to skateboards not only for their different trucks but also for their soft and large urethane wheels. You can easily realize the feeling of longboard wheels over skateboards in your whole body and movement. It ensures smoother riding by absorbing all shocks of the road especially if you choose a longboard from the best longboard brands review.
Generally, longboards weight range lies within 15 pounds. So you can easily carry your board from one place to another place and enjoy longboarding with boundless freedom.
You can take the feeling of carving both on the downhill and flat surfaces with these longboards. With your longboard, you can just feel your every moment with great excitement and thrilling.
When you choose a longboard from the reputed and top class longboarding brands, you will obviously get the best product on the market.
Why Consider goodlongboard brands?

Now you know the benefit of the longboards in our review.
The next question is "Where can you buy a longboard?" To get the well-suited longboard, you can quest from the reputed longboard companies. There are lots of companies are available that are offering longboards in different styles and quality.
Among this crowd, you need to choose one that will match your style and also is a high-quality longboard. So the best way to select your one can be the best brands of longboards that ensure high-quality and excellent performance.
Here are some reasons for choosing the best brand of longboard:
⇒There are several reputed and top longboard brands. Those are producing longboards for many years even for decades. They gathered tons of experience in making longboards considering the demand of the customer.
⇒The longboards from the reputed brand as well as the best budget longboards provide better customer satisfaction. Because they are durable and high-quality.
⇒You can compare your longboard buying process with the buying process of a smartphone. When you are going to buy the first smartphone for you, you must choose the most popular smartphone brands like Samsung or Apple. You are choosing them because of their reputation in the smartphone market. The same reason is applicable for buying longboards.
⇒By choosing longboards from our review, you can save lots of time and energy as it helps to make the selection list narrow.
⇒Now there is a question considering the smaller but up and coming brands. Should you avoid smaller brands? Let us know an example. Although Toyota cars are popular among the people. But in the case of the electric car industry, Telsa motor cars have gained equal popularity in spite of being a new company. Thus, you can't avoid smaller and new longboard brands.
⇒We spent lots of time finding the longboards with the best features, costs and ratings. After the research, we realized that the longboards listed here from the top longboard brands got top ratings.
Frequently asked questions (FAQ)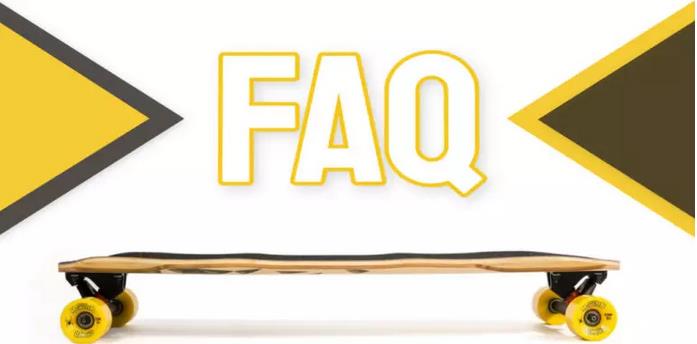 1. Can I customize my longboard?
Answer: Yes, you can customize your longboard with your preferable set of longboard parts.
2. Which foot should I put forward on the longboard?
Answer: You can put either left or right foot forward. But putting the left foot forward is called regular foot placement. If you put the right foot forward, then it called the goofy foot.
3. What is the right angle of placing the feet on the board?
Answer: You should put your feet at 45-degree angle.
4. Which board is perfect for a 200+ pounds rider?
Answer: If your weight is more than 200 pounds, then you should buy a strong construction longboard that is thicker with more layers of wood. You can also buy a longboard which is made of fiberglass or carbon fiber.
5. I am 6.2ʺ tall. What features should I look for in a perfect longboard for me?
Answer: A taller person has larger feet. So you should buy a longboard with 9ʺ to 10ʺ width.
Conclusion
It's totally up to you that which brand you like. But some longboard companies are producing longboards for a decade or more. So they know the choice of the skaters. They produce boards considering the skater's skill, the style of riding, etc. So, If you can choose your cherished board from this best longboard brand's 2021guide, then our efforts to provide the information about the best boards will be successful.