Vacuum sealing your food can undoubtedly increase its lifespan by anywhere from 2x to 5x. Whether you travel a lot or just want to store food for a long time, vacuum sealing is the perfect solution.
While there are quite a few machines that can help you do so, but food saver machines have become quite popular. The brand offers quite a few vacuum sealing machines. Even after knowing the brand, it can be challenging to choose the precise machine. That is because of the numerous options available.
Today, I will help you out by comparing 2 of its most popular vacuum sealing machines. I will compare Foodsaver fm5200 vs FoodSaver V4840. We will compare these on numerous parameters to help you choose the best one.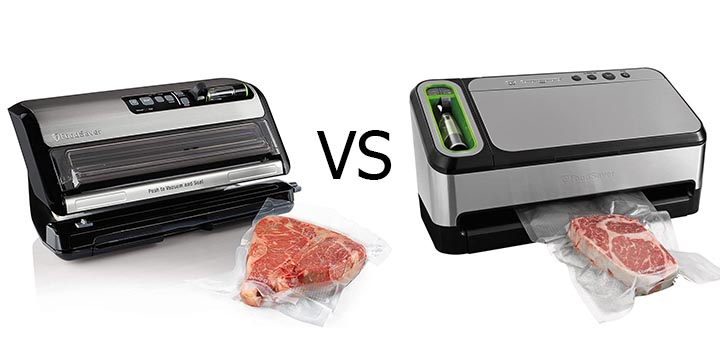 • Functionality
Foodsaver fm5200 has dual functionality. Firstly, it can seal the food, which is its main functionality.
However, it can work as an express bag maker as well. It ensures that the bag making steps are reduced by 50%. Consequently, the sealing process is not only quick cut but also convenient.
When you look at FoodSaver V4840, it is a standard food vacuum sealing machine. You can use it easily, but it does not reduce the bag making steps. Due to this very reason, it takes slightly longer as compared to the 5200 machine.
In this regard, the Foodsaver fm5200 is a winner.
• The number of sealing strips
Most machines have a single sealing strip.
The problem with a single sealing strip is that the sealing process is on the lower side. You cannot be 100% sure about the efficiency of the sealing mechanism as well. However, between these two machines, there is one with dual sealing strips.
Now is the time to understand how dual sealing strips make the machine better.
The Foodsaver fm5200 has dual sealing strips. The advantage of the same is that it is very precise. You can reach the optimal vacuum level quite easily. You need not worry about the air remaining inside. Simultaneously, the sealing procedure is quite quick due to the dual heat sealing strips.
On the other hand, the FoodSaver V4840 has a single sealing strip. While it can provide you with the acceptable level of vacuum sealing, you cannot use it for commercial operations.
If you want to use the vacuum sealing machine for commercial operations, you have to go with one having dual sealing strips.
In this regard, the foodsaver FM5200 definitely has an edge.
• Size
In today's world, we rely on a lot of appliances and gadgets. Therefore, our countertop is always filled with such gadgets. When buying other such gadgets, it is better to go with the compact ones.
The foodsaver FM5200 measures 9.3" x 17.6" x 9.6". It means that it will occupy little space on the countertop.
When you look at its peer, the countertop footprint of that machine is 11" x 20" x 12". The problem is that it not only provides fewer features but occupies more space on the countertop.
You have to consider this factor before making the buying decision.
• Automatic bag detection
There is, however, a feature in which FoodSaver V4840 excels as well.
The Foodsaver fm5200 does not consist of auto bag detection. You will have to check the sealing area. There is a viewing window for the same. However, if the bag roll gets over and you do not notice, there is no alarm for the same. Only when it does not seal the food, you will notice that the bags are over.
When you look at FoodSaver V4840, it consists of an automatic bag detection feature. In the absence of the bags, it will alert you. When you are in a hurry, you can rely on this bag detection feature to remind you.
In this aspect, you can be certain that this machine excels.
Verdict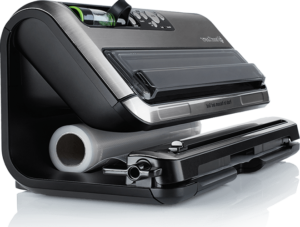 By now, you might be wondering who is the winner of the comparison Foodsaver fm5200 vs FoodSaver V4840?
I will answer this question once and for all.
The winner is Foodsaver fm5200. That is because of the 2 in one functionality of this food saver machine. When you combine that with the faster speed, it is easy to understand why this machine is a winner.
Moreover, it is suitable for personal and commercial applications, which certainly make it better than its peer.
In a nutshell, if you want to choose between these vacuum sealing machines, you should definitely go with Foodsaver fm5200.